Lockwood ends Heartbreak Kid's streak of 38 consecutive buckoffs
By : Justin Felisko
October 13, 2019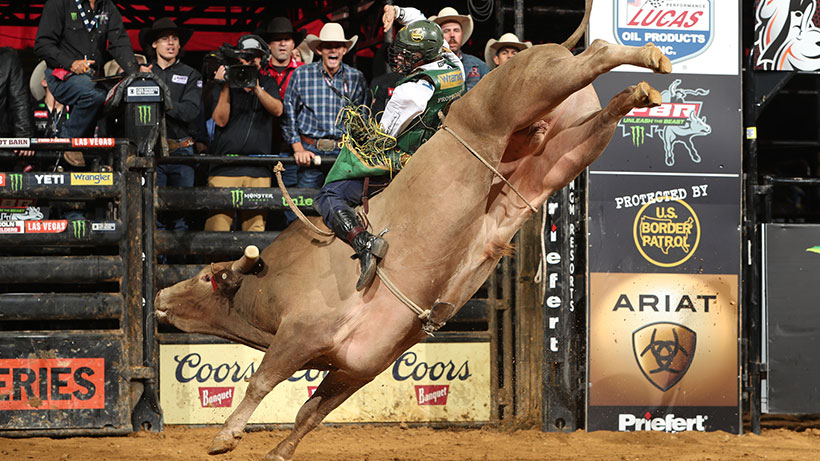 GREENSBORO, N.C. – Jess Lockwood leaned against the white wall just around the corner from the PBR sports medicine room inside Greensboro Coliseum.
Lockwood's right arm was a shaking mess of adrenaline and pain, and his white U.S. Border Patrol shirt had mud and dirt smeared all over it.
A massive bag of ice wrapped around the back of his neck was just one indicator of how close the 22-year-old came to breaking his neck Sunday afternoon.
At the end of it all, though, the risk of challenging the rankest bull in the PBR was certainly worth the reward for Lockwood on Sunday afternoon at the Wrangler Long Live Cowboys Classic.
Lockwood laid everything on the line in the championship round in Greensboro, North Carolina, with one simple objective.
The goal of winning a second World Championship was fresh on his mind when he stepped on top of the Can-Am cage and selected the 38-0 Heartbreak Kid.
"I don't want to go at this world title, pick something like Shownuff and be 90, and know that maybe if I was a little more I could've won the event," Lockwood said. "I want to freaking pick the biggest, rankest bull that's never been rode, that you're going to be the most on, to give myself the chance.
"I want to know I did everything in my power to try to win this world title."
Lockwood showed championship poise and skill when Heartbreak Kid turned away from his hand at 4.5 seconds, doing all he could to try and rip the fourth-year pro off his back, trying to make sure he would record a qualified ride.
The 2017 World Champion rider then had his gold buckle grit come crashing to the ground – all onto his head – once the 8-second buzzer sounded inside Greensboro Coliseum.
Heartbreak Kid's streak of 38 consecutive buckoffs on the premier series was over, but Lockwood's career-high 93.75 points could have almost been his last.
Once he let go of his bull rope, Lockwood crashed onto the cold, hard dirt headfirst.
There was no celebration for slaying the rankest the bull in the PBR and ending the second-longest buckoff streak in PBR history just yet.
Instead, there was immediate concern.
"When I landed I was like, 'I freaking broke my neck,'" a thankful Lockwood said following the second to last Unleash The Beast event before the PBR World Finals. "It hurt that son of a gun bad. But luckily it's just sore, and everything's good. I'll probably be walking around sore as shit, but I'll be fine."
Lockwood was unaware of how bad the landing looked to those in attendance or watching at home until he watched back the replay of his ride later in the evening.
He quickly understood why his mom, Angie, and father, Ed, had already reached out to Lockwood's friends to check-in.
"Wow, that did look pretty bad," a stunned Lockwood said.
The good news was that he avoided serious injury on Sunday afternoon.
Dr. Tandy Freeman diagnosed him with a cervical sprain, and Lockwood does not expect to get X-rays this week before the upcoming Cooper Tires Take The Money And Ride event in Nampa, Idaho.
Instead, Lockwood leaves Greensboro that much closer to becoming the sixth rider in PBR history to win multiple world titles.
Lockwood's 93.75-point ride on Heartbreak Kid was the highlight of his 3-for-3, second-place finish in North Carolina.
The Volborg, Montana, bull rider earned 400 points toward the world standings to cut Jose Vitor Leme's world lead to 321.66 points.
Leme went 1-for-3, bucking off Frequent Flyer in 7.68 seconds in the championship round.
Nampa is the final Unleash The Beast event until the 2019 World Finals begins on Nov. 6 in Las Vegas.
Both riders are expected to ride at the 2019 Pendleton Whisky Velocity Tour Finals on Nov. 2-3 in Las Vegas at South Point Hotel Casino & Spa.
"I'm sore. I freaking hit like a sack of shit," Lockwood said. "That didn't help the cause, but I got him rode. I'll take landing like a sack of shit and hurting for 93.75. An event win would've been sweet to put along with it, but (Cooper Davis) did his job all weekend, more so than me, so congrats."
2016 World Champion Cooper Davis knocked Lockwood out of the winner's circle by riding Chiseled for 92.75 points minutes following Lockwood's herculean performance. Coincidentally, Lockwood's previous career-best ride was a 93-point effort on Chiseled.
Davis commended Lockwood for ending Heartbreak Kid's historic streak with a heroic showing.
"I thought it was really great," Davis said. "I thought he could've been more points than he was. You look back at all the historical rides on Promise Land and things like that, they just don't even compare to these days. I would give him the notepad and let him write down whatever he wanted, honestly."
Lockwood knew he had to be a ton of points on Sunday to have any chance at winning the event or taking another chunk out of Leme's world lead, especially once he saw Leme ride ZZ Top for 87.25 points in Round 2 to qualify for the championship round.
Therefore, Lockwood asked his buddies Derek Kolbaba and Stetson Lawrence in the locker room which bull available in the championship round draft that he could be the most points on.
"Man, you've got to pick Heartbreak Kid," Kolbaba said.
Lawrence agreed.
The only thing was that the group did not expect Heartbreak Kid to turn back to the right like he did on Sunday afternoon.
"I knew Jess had it in him, especially (because) they moved (Heartbreak Kid) to the left," Lawrence said. "He's more rider-friendly and not so long out there and gets guys strung out. Me and Derek and a couple other guys told him to pick him in the short round. I didn't know he was going to go back around to the right, but he made a good right to get back down and over there. It worked out. It was a great ride."
Both Kolbaba and Lawrence were on the back of the bucking chutes for Lockwood's ride.
It did not take long before cowboy hats went flying in celebration.
"Oh man, it was rank," Kolbaba said. "That's a bull rider's bull ride right there, and I don't know what more you could ask for. He should've been two points higher. He frickin' rose up to it and damn sure did his job. I was excited. Shit, right when I heard the whistle, even before, I chucked my fucking hat because it was rank."
Stock contractor Jeremy Walker pulled Lockwood's rope for the matchup, and he could tell Lockwood had a different level of focus Sunday afternoon.
Lockwood had a precise plan.
"He sat back off his rope about six inches and just asked the flank man Joey (Hales) if he was good, and he said, 'Yeah.' He just slid and went, and let it happen," Walker said. "It was good. Both ways, up and down, kick, roll. It was a good bull. I don't think there was anything the bull could've done more to try to get him off, and I don't think much else Jess could've done to stay on there.
"Man, it was a lot of try. The two of them going at it. A lot of adjustments, a lot of moves. I mean, a rank bull, really. It was dang sure good."
2002 World Finals event winner J.W. Hart worked the CBS Sports Network broadcast and congratulated Lockwood in the locker room after the event.
Hart said it was the best ride he'd ever seen from Lockwood, but he was first thankful Lockwood was able to leave the arena under his own power.
"Scary," Hart said. "I don't give a shit how you ride. That's scary. That was good riding. That's good riding. I'm talking about both ways, in from your hand, back away from your hand.
"That's probably the best ride I've ever seen him make. It's pretty easy to say that, too, because that son of a gun was kicking, bucking and both directions into his hand. When they go back away from your hand, that's the difficult one to catch back up to, and he did it perfect."

Hart also loved Lockwood's approach to the championship round draft.
"He had the wherewithal before the draft to say, 'If I'm going to do this and make a run at it, I've got to pick one I can go win on,'" Hart said grinning. "And then not only to say that, go out there and draft him, and then in the interview after the draft he said, 'This is the kind I need to ride. I've got to ride these kind. I can live with myself with the outcome if I'm trying to win.'
"He said the right thing, he did the right thing, and then he made it all work for him. That's good. That's good."
Not to be lost either is that Sunday's performance also carried major world title implications for Heartbreak Kid.
The 6-year-old was marked a career-best 46.25 points to increase his World Champion Bull average to 45.41 points. Heartbreak Kid is now No. 4 in the World Champion Bull race. Smooth Operator is No. 1 at 45.81 points.
"It was pretty rank," Joey Hales of D&H Cattle Company said. "H.D. (Page) called it. He said the right guy would be 93 on him."
D&H Cattle Company may give Heartbreak Kid another out in Nampa before the World Finals.
Meanwhile, Lockwood says you can expect to see him in Nampa next weekend.
There is no time to let a sore or stiff neck stop him from trying to regain the world No. 1 ranking from Leme.
"It's so gosh damn close now that Nampa's a deciding factor in the world title," Lockwood said. "I'm happy. I did all I could (this weekend). All you can do is all you can do, so do all you can."
Follow Justin Felisko on Twitter @jfelisko