Swearingen sees opportunity to learn as Rookie of the Year race tightens ahead of Nampa
By : Justin Felisko
October 13, 2019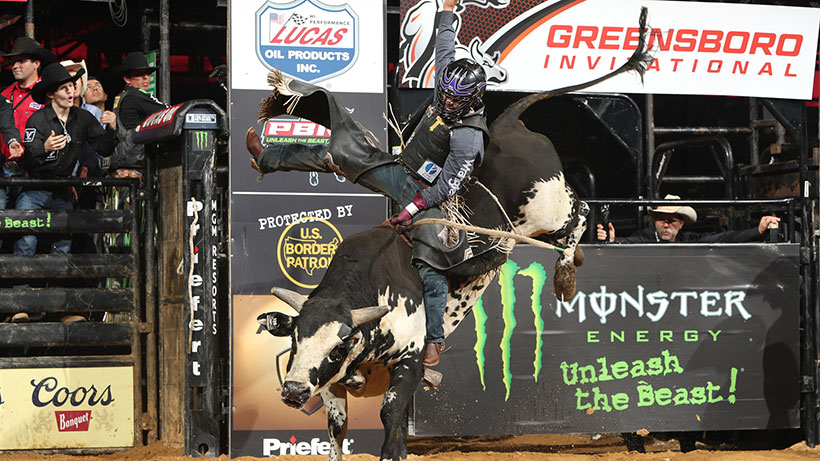 GREENSBORO, N.C. – Only 46.25 points separates the Top 4 rookies in the world standings with the 2019 PBR World Finals right around the corner, but that is not stopping the group from continuing to support and push each other.
It was during Round 2 of the Wrangler Long Live Cowboys Classic Sunday when Daylon Swearingen had fellow Rookie of the Year contender Mason Taylor offering him words of encouragement on the back of the bucking chutes.
Swearingen responded by riding Marquis Metal Works Dragging Up for 89.5 points to win the round and propel himself to a fifth-place finish inside Greensboro Coliseum.
"This is a great sport where we can be one, and everybody wants the best for their best friends," Swearingen, who was later bucked off by Cool Customer in 1.91 seconds in the championship round, said. "But when we climb down in there, we're fighting against the bull. We're not fighting against these other guys. I feel like it's kind of the way we're brought up, and the Western style, that we want to help everybody be the best they can be.
"I'm blessed to be part of this sport where we can do that."
Swearingen is sitting No. 12 in the world standings and third in the rookie race. The 20-year-old trails Rookie of the Year leader Dalton Kasel, who went 0-for-2 in Greensboro, by only 30.41 points heading into next weekend's Unleash The Beast regular-season finale – the Cooper Tires Take The Money And Ride in Nampa, Idaho.
Taylor, meanwhile, was the standout rookie in Greensboro as he went a perfect 3-for-3 to move up to No. 11 in the world and No. 2 in the rookie standings.
The 20-year-old capped his weekend by riding Hard Juice for 88.75 points in the championship round. Earlier in the weekend, Taylor rode Life as a Gangster for 81 points and Dang It for 87.5 points
Taylor picked up 280 points and now trails Kasel by a mere 21.25 points.
"I really ain't paying attention to no numbers," Taylor said. "I am back to where I don't give a damn what they run underneath me. I am going to ride anything or everything, or at least try to. I am going back to my old mentality. I don't give a damn what it is."
Fellow rookie Ezekiel Mitchell was in position to win the first event of his career after he began Greensboro with 84.75 points on Whiskey River and 84.25 points on Lefty. However, Air Assault took him down in 2.17 seconds during the championship round.
Lucas Divino (88 points on Millennium's Buck) was the only other rookie besides Taylor to record a qualified ride in the championship round. Divino (2-for-3) finished fourth overall.
The No. 6-ranked rookie is only 148.75 points behind Kasel.
The Rookie of the Year race may end up being as hotly contested as the world title race once the World Finals begins on Nov. 6 in Las Vegas.
All of the rookies have world title aspirations, and Swearingen believes this rookie race will help them all become more prepared to one day battle for a gold buckle.
"You see, to win the world, they're fighting," Swearingen said. "Just keeping the pressure off you. Pressure's what you put on yourself, so I'm not doing any of that. I feel like it'll help."
Follow Justin Felisko on Twitter @jfelisko