Mauney attempts to ride with potential broken leg; additional Greensboro injury updates
By : Justin Felisko
October 13, 2019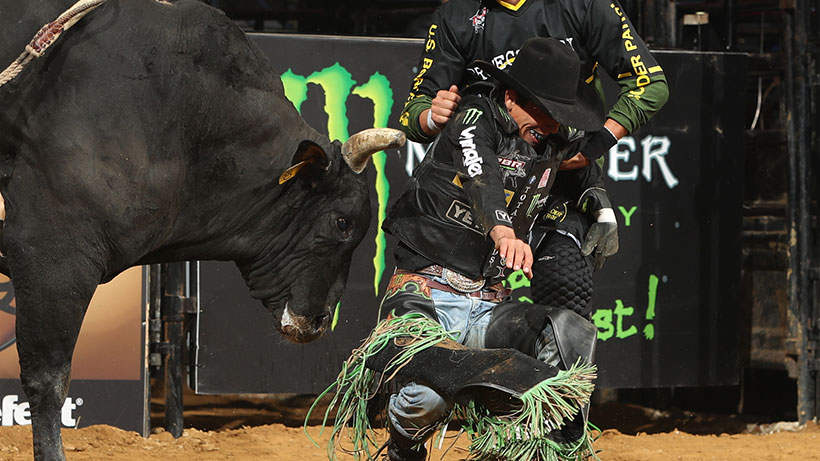 GREENSBORO, N.C. – It was just easier for two-time World Champion J.B. Mauney to toss the crutches to the side this weekend at the Wrangler Long Live Cowboys Classic than elect to sit out on Championship Sunday.
Less than 24 hours after Mauney was grimacing in pain inside the PBR sports medicine room with a possible broken left fibula, he decided he wanted to try to ride inside Greensboro Coliseum Sunday.
The decision was an easy one, the future Ring of Honor inductee said with a smile.
"Depends on how bad you want it," Mauney said. "If you don't want it that bad, go home. If you want it bad enough, stay and let it all hang out."
Mauney had a significant limp in his step, and there were times where it was obvious he was in quite a bit of pain, but the 32-year-old continues to show he has an unimaginable kind of pain tolerance week after week after week.
Toughness alone could not propel Mauney to a qualified ride on Sunday, though, as Flight Risk bucked him off in 5.09 seconds.
Mauney would rather know he gave it a go Sunday than play it safe, especially considering he was no stranger to the injury.
Back in January, Mauney broke his left fibula in another freak accident. He had just ridden Hou's Bad News for 88 points in Sacramento, California, before the bull clipped his left leg as Mauney tried to run to safety.
Dr. Tandy Freeman diagnosed Mauney with a possible broken left fibular Saturday night in Greensboro after his foot was caught in the chutes in Round 1 when Why Hell Ya jerked him forward, twisting his knee.
It was wrong place, wrong time for Mauney once again.
"That's about my luck this year," Mauney said. "If I didn't have bad luck, I wouldn't have no luck."
He competed at two events with a broken left fibula in the winter before taking a month off. When he returned to action, he won a record-tying 32nd event of his career by going 3-for-3 in Little Rock, Arkansas.
"When I broke it earlier this year, what made it so bad was it tore that knee up again too," Mauney said. "That was the leg being broke, plus the knee. I couldn't mash with my knee, but the knee don't feel that bad. So if that bone is broke, it's not a weight-bearing bone."
Mauney already has to undergo right shoulder surgery following the season to repair a torn rotator cuff, and he is also leaning towards getting his left knee, which has torn ligaments, repaired.
Simply put, it has been a laundry list of injuries for Mauney in 2019.
He has injured his groins, knees, ankles, wrist, forearm and ribs this season, not including the aforementioned significant injuries he is currently dealing with.
Regardless, Mauney is 29th in the world standings – 229.16 points ahead of No. 38 Cliff Richardson for the final World Finals qualification spot – with one regular-season Unleash The Beast event remaining before the Finals begin on Nov. 6 in Las Vegas.
Mauney is likely on his way to a 14th consecutive PBR World Finals.
He can smile about that rather than focusing on how pain has become a way of life for him this season.
"You get used to it after a while," Mauney said. "I've broke enough stuff, tore up enough stuff, and you don't know any different."
Mauney does not plan on getting X-rays this week in Texas. Nor does he plan on skipping the regular-season finale in Nampa, Idaho.
"I'll be there," Mauney said. "They can't do anything for it. I'm not going to let them cast it, so there's no point, really, for X-rays."
ADDITIONAL INJURY UPDATES
World No. 2 Jess Lockwood avoided a potentially serious injury Sunday following his 93.75-point ride on Heartbreak Kid. Lockwood ended the bull's streak of 38 consecutive buckoffs on the premier series, but wound up landing on his head following the dismount.
Dr. Tandy Freeman diagnosed Lockwood with a cervical strain, and Lockwood said he is OK Sunday evening and is planning on riding in Nampa at the Cooper Tires Take The Money and Ride.
Kurt Shephard will need to get X-rays on his riding arm following a 3.71-second buckoff against Colt .45 in Round 2 and had to miss the championship round.
Alan de Souza also missed the championship round after aggravating a shoulder injury when Pan Am reared up against him inside the bucking chutes.
Michael Lane missed Round 2 because of a left thumb injury he sustained during his Round 1 buckoff against War Cloud (5.32 seconds) on Saturday night.
Follow Justin Felisko on Twitter @jfelisko