LVCVA Road to Vegas: Lima refusing to give up on World Finals dream
By : Justin Felisko
October 12, 2019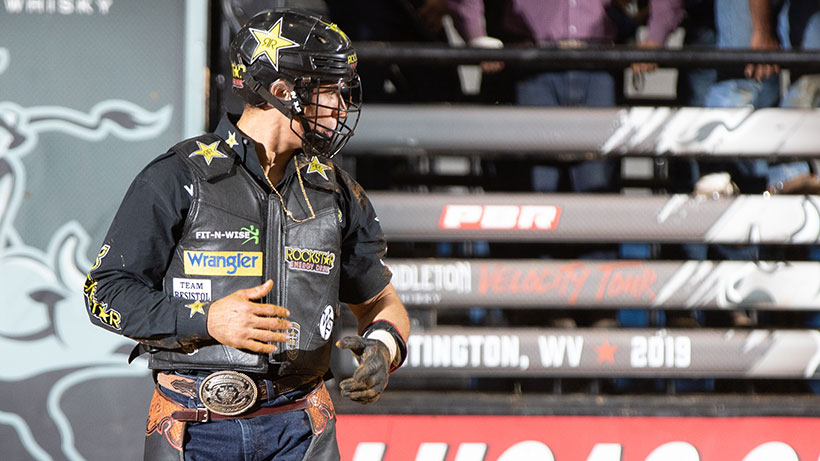 GREENSBORO, N.C. – Ramon de Lima stood up straight inside the locker room of the Greensboro Coliseum and moved his hands in a circular motion.
This is the life of a cowboy, Lima explained.
"It's part of your life, an athlete's life," Lima said with the help of Paulo Crimber translating. "Sometimes you're on the top and sometimes you're on the bottom. Last year I was fighting to be a World Champion. This year I'm fighting to be at the Finals."
The No. 43-ranked bull rider in the world standings was cut from the Unleash The Beast back in March after his 9-for-22 start to 2019 had him ranked No. 75 in the world standings.
Things only got worse for Lima when he broke his left clavicle on April 13 at the Pendleton Whisky Velocity Tour event attempting to ride I'm Legit Too (3.24 seconds).
Lima sat out three months before returning to competition at the Calgary Stampede only to aggravate the injury once again in his 3-for-5 performance north of the border.
The 28-year-old then had to miss an additional eight weeks of time until he finally returned to competition on Sept. 4 in Window Rock, Arizona.
"It was like 12 weeks off, and then I went back in Calgary and had to take another eight weeks after that," Lima said. "On the first day in Calgary, I hurt it again. And on the second day I rode my bull with it like that, and after that it was just hurting too much."
Lima started slowly in his return in September, going 2-for-7, and admitted he was battling his mind.
Ramon de Lima is riding the good vibes wave tonight in Greensboro! After winning the Velocity Huntington event last weekend, Lima picks up 83.5 points in Round 1. pic.twitter.com/WB8SK1medq

— PBR (@PBR) October 13, 2019
"I was afraid I'd hurt it again," Lima said. "I was not confident 100% in it."
Lima's confidence has since reemerged, and he has caught fire with less than a month until the 2019 PBR World Finals begin on Nov. 6 in Las Vegas.
Lima rode Newt for 83.5 points Saturday night in Greensboro, North Carolina, to finish Round 1 of the Wrangler Long Live Cowboys Classic in sixth place.
The 28-year-old has ridden eight of his last nine bulls at all levels of competition to surge to No. 43 in the world standings after being ranked 108th only four weeks ago.
Lima, who finished 2018 ranked eighth in the world standings, has jumped 61 spots in the world standings. He recently won the Huntington, West Virginia, Velocity Tour event last weekend to move up to No. 2 in the Velocity Tour standings.
He trails No. 37 Colten Jesse by 146.66 points for the final World Finals qualification spot.
Kurt Shephard was the only other rider outside of the Top 37 to record a qualified ride Saturday night.
There were 10 total rides in Round 1.
Shephard covered Trouble Maker for 82.5 points for an eighth place finish, but he picked up zero world points.
The No. 41-ranked rider trails Jesse by 101.66 points.
Lima has drawn Biggin (1-0, UTB) for Round 2 Sunday in Greensboro, while Shephard will look for 8 seconds against Colt .45 (4-2, UTB).
The conclusion of the Wrangler Long Live Cowboys Classic airs Sunday at 6 p.m. ET on CBS Sports Network, as well as at 1:45 p.m. ET on RidePass.
"I'm very focused," Lima said. "I think I can make the Finals if I am going to be riding like I am, back where I'm at, my riding percentage. If I get some good bulls, I'll be okay."
Follow Justin Felisko on Twitter @jfelisko