Lockwood in driver's seat to shake up world standings on Championship Sunday in Greensboro
By : Justin Felisko
October 12, 2019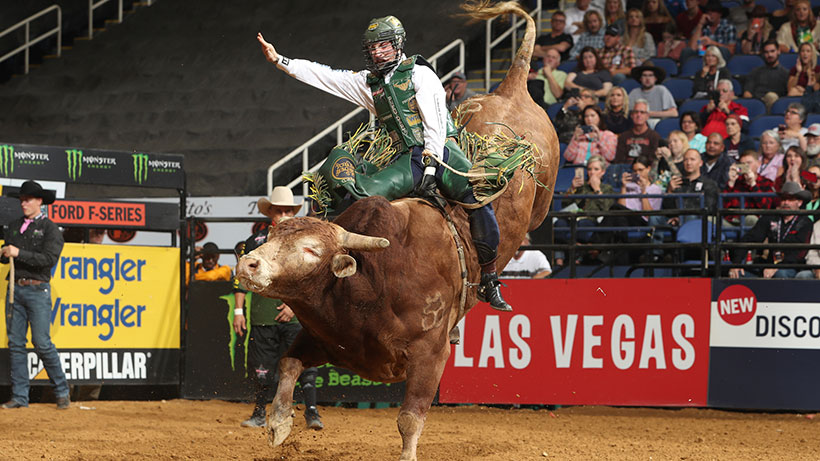 GREENSBORO, N.C. – It's almost like déjà vu all over again on the Unleash The Beast.
Three of the Top 4 bull riders in the world standings bucked off in Round 1 for the second week in a row.
This weekend, though, the World Champion contender in the driver's seat at the Wrangler Long Live Cowboys Classic is Jess Lockwood.
The No. 2-ranked rider in the world standings finished second in Round 1 by riding Red Solo Cup for 87 points.
Lockwood was excited for the matchup at the start of the week when he learned Red Solo Cup used to be owned by Ehlers Bucking Bulls, which is based out of North Dakota.
The Ehlers are family friends of the Lockwoods.
"It felt good," Lockwood said. "I grew up getting on that guy's bulls. They've been family friends for a while. He's from North Dakota, probably about three or four hours from where I am. He texted me this week and said, 'You've got one of ours.'
"So I knew he was a good bull, coming from them. All their stuff is awesome. So yeah, that bull was good. I kind of almost made it hard on myself. I just kept sliding off my rope and made me work hard, but it worked out. I had to get tough towards that whistle. I could hear myself grunting."
Lockwood heads into Championship Sunday at Greensboro Coliseum with the opportunity to significantly shake up the World Championship race if he were to pick up a fifth event victory.
Silent Night bucked off world leader Jose Vitor Leme in 4.79 seconds, making it two straight weekends in which Leme failed to cover his first-round bull.
Earlier in the evening, No. 3 Chase Outlaw nearly rode Fearless (7.2 seconds) and No. 4 Joao Ricardo Vieira lasted only 1.86 seconds on Sambuca.
Lockwood said getting that first bull down is a relief.
"Oh yeah, it's reassuring," Lockwood said. "Coming into the second day knowing you have a shot to win the whole event – even when you buck off you've got to come into it like that too, because guys can buck off, just like last weekend – but it's a good feeling."
Lockwood gained 60 points toward the world standings, and he trails Leme by 611.66 points heading into Championship Sunday.
The Volborg, Montana, bull rider has gained 420 points on Leme in one week after beginning Minneapolis last weekend 1,031.66 points behind.
Lockwood takes on Honky Tonk Flame (1-0, UTB) in Round 2.
Fans can watch all the action on CBS Sports Network beginning at 6 p.m. ET, as well as on RidePass at 1:45 p.m. ET.
Lockwood is not competing at the Rapid City, South Dakota, Pendleton Whisky Velocity Tour event, so he now has four more Unleash The Beast rounds to regain the world No. 1 ranking before the Velocity Tour Finals begin on Nov. 2-3 at the South Point Hotel Casino & Spa.
"It's time to get tough," Lockwood said. "At this time of the year, everyone's getting beat up, everyone's sore, and you're ready to go out and finish it and just freaking be home with family and say, 'It's time to relax.' But you can't do that until after the Finals, especially in a world title race. So it's constantly reassuring yourself that you've got to freaking love to be here, and you'd better plan on winning, because if you don't, there's no reason to show up."
Follow Justin Felisko on Twitter @jfelisko