Heartbreak Kid continues pursuit of history with 38th consecutive buckoff
By : Justin Felisko
October 12, 2019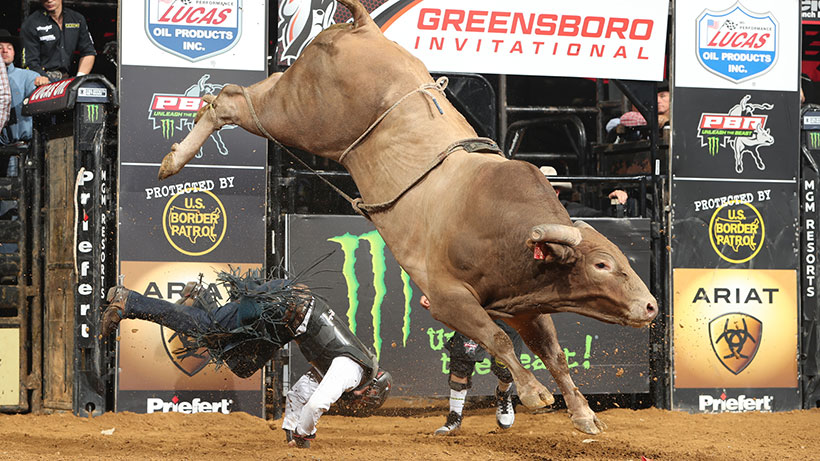 GREENSBORO, N.C. – Joey Hales is always nervous when tasked with hauling the bovine superstars of D&H Cattle Company.
Those nerves are a little bit higher this time of year with less than a month until the 2019 PBR World Finals in Las Vegas.
"I'm always nervous," Hales said on the back of the bucking chutes inside Greensboro Coliseum. "I don't want to let Dillon and H.D. down."
The Pages trust Hale, though, and that is why they are confident with letting the Michigan native take their bulls to Unleash The Beast events, including this weekend's Wrangler Long Live Cowboys Classic.
One thing Hales does not have to worry about is seeing Heartbreak Kid's consecutive buckoff streak come to an end.
H.D. Page told Hales to only worry about the bull being enough for a rider to win the round on, and not stress about the second-longest buckoff streak in PBR history coming to an end.
"H.D. really calmed me down on that a lot," Hales said. "He said, 'Moving that bull over to the left, the right guy gets him, he's going to ride him.' He said, 'So don't worry about that record. Worry about the bull being 93.'"
That night was not Saturday.
3⃣8⃣ IN A ROW! Heartbreak Kid is closing the gap on the longest buckoff streak on the premier series.
Tune in NOW to see Round 1 of Greensboro on RidePass. pic.twitter.com/xxEXHOg10n

— PBR (@PBR) October 12, 2019
Bucking out of a left-handed delivery for the first time on the Unleash The Beast, Heartbreak Kid looked just as difficult on Saturday night and the 6-year-old bovine athlete bucked off Shay Marks in 2.22 seconds.
"That bull really bucked, and got the best of me," Marks said. "I just kind of didn't leave there too fast, and then when he turned back he got me."
Heartbreak Kid (38-0, UTB) is now five buckoffs away from breaking three-time World Champion Bull Bushwacker's all-time record of 42 consecutive buckoffs on the premier series.
The 2019 World Champion contender was marked 45.75 points in Round 1, which raises the No. 5-ranked bovine's World Champion Bull average to 45.22 points.
"Oh boy. He was outstanding today," Hales said with his eyes wide with excitement. "I was real happy with Heartbreak Kid over there. We had bucked that bull at a pro rodeo out of the left, and he was outstanding like that."
The 2019 World Champion Bull will be the bull with the highest average bull score from their top eight regular-season outs and two outs at the PBR World Finals.
Smooth Operator leads the World Champion Bull race with a 45.81-point average.
Heartbreak Kid will take his streak of 38 consecutive buckoffs into Sunday's championship round at Greensboro Coliseum. All Heartbreak Kid needs is another 45-point score or higher to raise his World Champion average.
Fans can watch the conclusion of the Wrangler Long Live Cowboys Classic on CBS Sports Network at 6 p.m. ET. RidePass will have coverage as well beginning at 1:45 p.m. ET.
"I don't know if it's too late or not (to get into the title race)," Hales said. "If it ain't too late, I do think we have a shot at it. We've got to get through the Finals first."
FEARLESS AND COOL CUSTOMER MARKED 44.25 POINTS
Hales would have liked to have seen better scores for Fearless and Cool Customer.
Fearless, the No. 3 ranked bull in the world, was only marked 44.25-points for dispatching No. 3 rider Chase Outlaw in 7.2 seconds.
Meanwhile, Cool Customer also earned only 44.25 points for 1.82 seconds of work with Cooper Davis. Davis was awarded a re-ride after he did not nod for the gate, and he went on to win Round 1 with 88 points on Newsom.
Fearless and Cool Customer will also be bucking in the championship round on Sunday.
"I thought a couple of those other bulls, like Cool Customer and Fearless, I thought they were better than what they marked them, for sure," Hales said.
Follow Justin Felisko on Twitter @jfelisko