Normally quiet Teel "fired up" about possible opportunity to ride for Team USA
By : Justin Felisko
October 11, 2019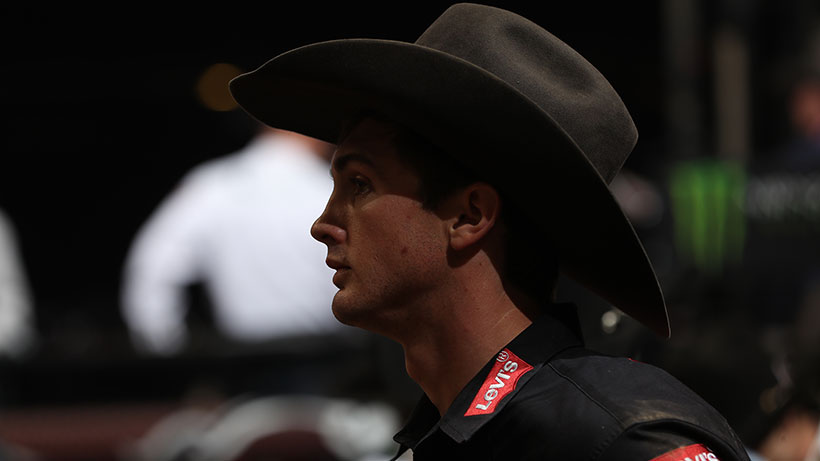 GREENSBORO, N.C. – Cody Teel glanced around the table at the Metropolitan Grille in Springfield, Missouri, last month and the emotions of the 2019 WinStar World Casino and Resort Global Cup USA, presented by Monster Energy, began to overcome him.
There is a unique feeling that comes over all of the riders who put on their nation's colors during the annual Global Cup competition.
There is pride.
There is heartache.
There is excitement.
There are nerves.
For two days of competition, bull riders from Australia, Brazil, Canada, Mexico and the United States put everything on the line for their native land.
Teel has not forgotten the pit in his stomach when Team USA came up one ride shy of defeating Team Brazil this past February.
The 2012 PRCA champion did his part on Championship Sunday when he rode Gambini for 87 points in the long round to help begin the Eagles' rally cry.
However, Cochise later bucked Teel off in 5.92 seconds when he had an opportunity to put the Eagles back on top in the final bonus round.
"It was experiencing the highest of highs and the lowest of lows all in one day for me," Teel recalled. "I was able to contribute some rides that week, and also coming up short in the last round to potentially win the whole deal for us. It is such an emotional deal. You are so invested, and you want to win so bad. For your team, yourself, your country. A lot goes into it, for sure."
The nine other riders at the Team USA Eagles luncheon held by coaches Justin McBride and J.W. Hart last month could hear those emotions in Teel's voice as he addressed the group.
Also in attendance were Cooper Davis, Jess Lockwood, Chase Outlaw, Derek Kolbaba, Cody Nance, Matt Triplett, Mason Taylor, Brennon Eldred and Dalton Kasel. Other riders in consideration for the 2020 squad – Daylon Swearingen, Ezekiel Mitchell and Sage Kimzey – were unavailable.
McBride and Hart summoned the group to a luncheon last month to set the tone for the upcoming Global Cup and to let the group know what they will be looking for when it comes time to make their six-man roster selection.
When it comes to the importance of the Global Cup, McBride and Hart wound up not having to say much at all.
The group of American riders at that table very much know what is at stake next February at AT&T Stadium.
In fact, Teel, who is one of the quieter and more low-key riders on the Unleash The Beast, made it a point to speak to the group during the lunch.
Teel not only experienced the lowest of lows losing to Team Brazil, but he was also a last-minute addition to the injury-riddled 2017 Team USA squad that won the inaugural Global Cup title in Edmonton.
"I don't say much, but when it comes to the Global Cup, I have a different kind of feeling," Teel said. "We were all talking about it, and everyone agrees how much of a different feeling you get compared to any other event. World Finals. Anything. This event is just different.
"You really can't understand that feeling until you have been in that position or are a part of something like that. I know I didn't really. After Edmonton, the first Global Cup I was a part of, it was way more than I expected. That feeling of being on that team. That camaraderie. Being such an individual sport, coming there as a team is really refreshing. It is a lot of fun. I am fired up. There are others counting on you. Your coach is counting on you. It is not just yourself."
McBride grinned when asked about Teel's comments to his fellow Americans.
"He kind of came out of the blue and started telling them about it," McBride said. "That was a cool thing to see."
RELATED: McBride talks upcoming Global Cup USA
2016 World Champion Cooper Davis, who has served as the Eagles captain at all three Global Cups, has known Teel since long before he made his premier series debut in 2017. The two are both Texas natives and qualified for the Wrangler National Finals Rodeo together in 2013.
Davis said he was not too surprised to hear Teel voice his opinion in Springfield.
"Teel is pretty quiet and reserved, but if you get Teel fired up and believing in something, he is pretty outgoing about it," Davis said. "He is just as fired up about it as I am, Chase (Outlaw), whoever. He dang sure pulled his weight in the last one and he pulls his weight."
Davis and Teel are also sitting fifth and sixth in the world standings heading into this weekend's Wrangler Long Live Cowboys Classic.
Teel has drawn Heartless (2-4, UTB) for Round 1 (6:30 p.m. ET on RidePass) and is 3,633.33 points behind world leader Jose Vitor Leme.
"He is not a guy that scares a bunch of people when he gets on because he is not always a bunch of points, but he is going to stay on and do his job," Davis said. "There are very few spots that I think should be open (on Team USA) because Teel, to me, is a guy I want there every time. Chase Outlaw is a guy I want there every time. I am not going to say there is not many guys I don't want to be on the team, I wish everybody could be to get the experience, but I feel like those are the people I want there.
"They felt that losing feeling. Just as Teel has. Chase has. We don't like to lose."
Following Greensboro, the last Unleash The Beast event before the PBR World Finals is the Cooper Tires Take The Money and Ride in Nampa, Idaho, on Oct. 18-19.
The 27-year-old has zero points in the Velocity Tour standings and is currently not qualified for the Pendleton Whisky Velocity Tour Finals on Nov. 2-3 at the South Point Hotel & Casino.
Therefore, Teel will head to Rapid City, South Dakota, for the Pendleton Whisky Velocity Tour regular-season finale.
Historically, any rider within 2,000 points of the world No. 1 ranking at the start of the World Finals has a realistic opportunity at winning the world title.
However, one rider can earn a maximum of 3,300 points at the Finals if they were to win every round and the event average.
"There is still time," Teel said in Minneapolis. "The main deal is I just need to stay on every bull. One bull at a time. I just need to take care of business.
"You just try to make the most of every bull. Don't waste good opportunities when you have them."
Follow Justin Felisko on Twitter @jfelisko