9-year-old Molly Steffl shares inspirational story, Outlaw shaves his head in show of support
By : Justin Felisko
October 06, 2019
MINNEAPOLIS – You could have heard a pin drop on Saturday night at the Target Center when 9-year-old Molly Steffl walked into the locker room.
Immediately, the 36 bull riders competing at the Minneapolis Invitational put down their bull ropes, turned off their music and quickly formed a circle around the courageous little girl.
Molly has become known both locally and nationally as she continues to share her inspiring story of perseverance with others.
The 9-year-old was born with a cleft lip and palate, which led to her experiencing traumatizing bullying by her peers in preschool. Molly was later diagnosed with alopecia, an autoimmune disorder that usually results in unpredictable, patchy hair loss, when she was 5 years old. Doctors believed this was a stress reaction to the bullying, and the disorder became so severe last year that all of her hair fell out in five weeks.
Regardless, Molly continues to show strength and courage in her quest to raise awareness against bullying.
Molly was informed earlier this week that she would be honored during Round 2 of the Minneapolis Invitational, and she was willing to give a pep talk to the best bull riders in the world before the start of the competition.
"You may think that we don't have a lot in common, but I think we do," Molly told the bull riders after sharing her backstory. "It takes a lot of bravery and strength to take on bulls, and bullies. I've learned that courage and strength means a lot to take on any challenge. If I believe in myself and be me, nothing or no one can take me down. My parents say I have a lot of grit. It seems like you guys have a lot of grit too, because, I mean, you ride bulls. That's crazy!
"I'm inspired by you and what you do. When you go out in the arena tonight, I want you to be yourself, carve out courage and ride that bull! I'll be cheering for you. Yeehaw!"
World Champion contender Chase Outlaw was intently listening to Molly's speech from the back corner of the locker room.
The No. 3-ranked bull rider in the world is fighting for a World Championship, and he has been praised for his own toughness after bouncing back from severe wreck in Cheyenne, Wyoming, last season that shattered more than 30 bones in his face.
However, Outlaw says Molly is the true definition of toughness.
"To go through that, what kids go through today, to have to deal with all that, it's pretty rough," Outlaw, a father himself, said. "Her speech was pretty damn good. It was really good."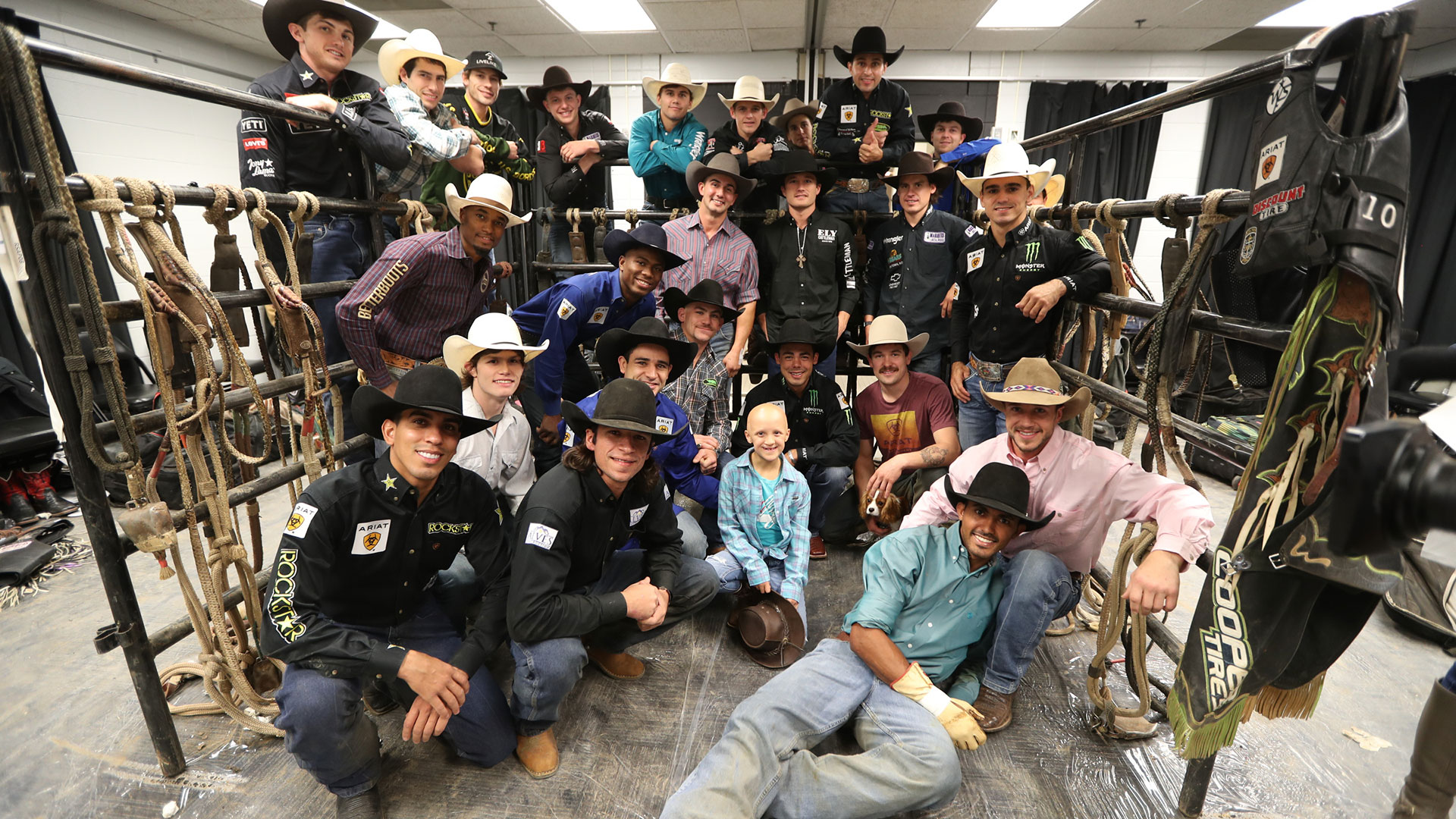 Following her pep talk, Outlaw walked over to Molly and extended his hand.
Outlaw then proceeded to take off his cowboy hat with a smile, running his hand over his freshly shaved head.
"Hey Miss Molly, look at my hair," Outlaw said with a grin.
Molly was shocked.
"Nice haircut!" she exclaimed.
Outlaw had shaved his head completely bald earlier this week when he was told Molly would be attending the event as a Be Cowboy honoree.
"She ain't gonna be the only bald one in the locker room," Outlaw said.
Molly later said Outlaw's gesture made her feel even more welcomed by the PBR family.
"Yes! It's cool!" she exclaimed. "I feel like that I wasn't alone and that I have my own little community with me and people that have a little bit of hair or no hair. And it means a lot to me to hear that people are happy with themselves without having a lot of hair or no hair."
The inspirational fourth grader was honored in arena during a competition break, interviewed on RidePass and featured on CBS Sports Network. Additionally, the PBR athletes signed a "Leave the Bullying to the Bulls" t-shirt for her.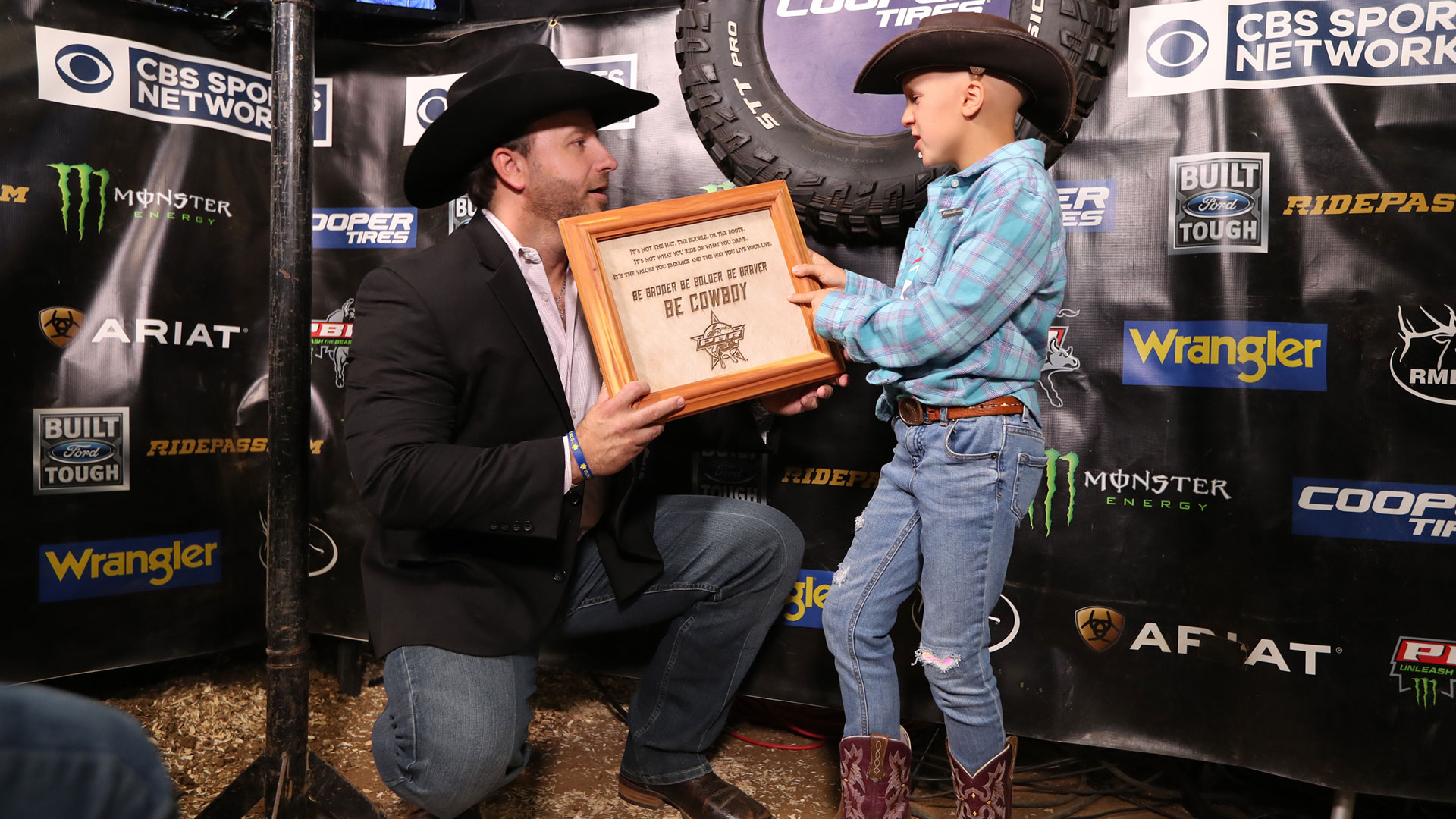 "There's so many cool things here, I don't have words for it!" Molly said. "It's just amazing! All these guys are just so nice. I would think that they would be panicking all over the place, trying to get their stuff together. But they just sit there talking, relaxing, doing what they do."
Outlaw is also familiar with alopecia.
One of his friend's daughters back home in Arkansas has the disorder.
"When I was reading about it, and was planning on meeting Molly, I was like, 'Hell, I am going to shave my head. I need a haircut anyways.'
"Us here can help turn her around. You never know, something like this can change their whole life around and it can stick with them their whole life."
Molly's parents, Abbey and Chris, her brother, Haven, and their grandparents, Bob and Kathy Lushanko, joined Molly for the bull riding and exclusive behind-the-scenes tour with RidePass host Matt West.
No one in the family knew Outlaw had shaved his head before they arrived at the arena.
"We didn't know that at all," Abbey said. "That's incredible. I mean, what a guy. The people here are so kind-hearted and warm. What I've learned is people like Chase Outlaw and this experience is the best medicine that Molly can ever have. There's no cure for alopecia. There's no good medicine, but this is, unconventionally, the most amazing – what Chase did is the most amazing medicine that you could ever have for a girl like that."
Abbey said the timing of this weekend is also special because a year ago Molly was truly struggling with her hair loss and her confidence.
"It's incredibly moving, and it brings me back to a year ago, because a year ago we were in a very difficult, sad, dark place," Abbey said. "And so this is kind of like our year anniversary from when Molly lost her hair, and to see her be so proud of who she is, and to see her be here and with Chase Outlaw, who shaved his head, is just a full circle, moving, amazing moment. I had no idea. It blows my mind."
Molly's father, Chris, had tears in his eyes when he saw Outlaw take off his hat.
He was in disbelief that one of the riders would be willing to shave his head to show support toward his daughter.
"Well, to be honest, it made me a little bit emotional," Chris said. "You see these guys, and they're strong, tough guys, but they've got a soft spot for kids. And Chase is a class act. You could tell that he took to Molly right away, and that means a lot to my daughter. I appreciate it so much.
"He's a gracious guy, and what he thinks was a small thing to do was a very big thing for Molly, and I'm sure she'll appreciate it for a long time."
Outlaw was not alone in his support of Molly either.
Junio Quaresima was so moved that he made sure to find Molly later in the evening to give her his 2016 PBR Brazil Finals qualifier belt buckle from Barretos and his belt.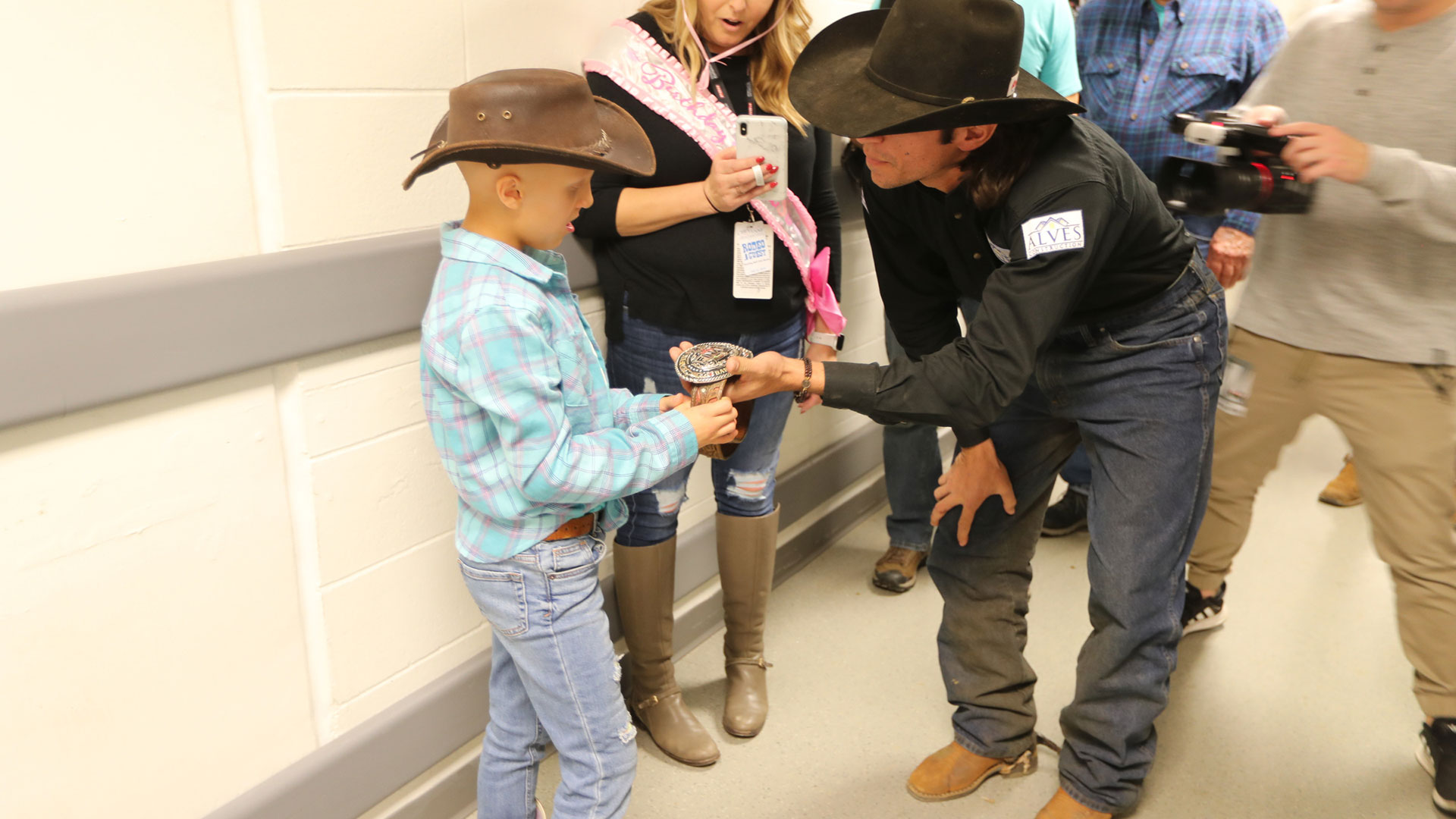 "I just felt it in my heart to give it to her, but I didn't want to give it in front of everybody," Quaresima said with the help of Paulo Crimber translating. "That's why I gave it to her. I've never gone through it, but I've always seen people get bullied. It's not a good thing."
2012 PRCA champion Cody Teel and his wife, Kaitlin, made Molly a care package this week that included the Dr. Seuss book, "Oh, The Places You'll Go!" and one of his old riding gloves.
"I really admire her personality, her attitude towards everything, how she handles it," Cody said. "She'd be a good bull rider with that kind of attitude, handling adversity and just making the most of life. I really admire that in her at such a young age."
Molly had one final message for those who want to be bullies in this world.
"I want them to know that it just doesn't get you anywhere," Molly said. "Just don't do it. It just makes life harder. It could make life harder for you, and if you come from a hard background, don't take your anger out on kids or grown-ups or teenagers or whatever.
"I don't know how to say this, but just be kind, and being kind, making other people happy, will make you happy. Instead of being all crabby and rude and just in people's faces. That will make you feel good when you do it, but after you do it, you're just going to be like, 'Oh man, what did I do? I messed up so bad.' Just don't do it."
Follow Justin Felisko on Twitter @jfelisko