Team Australia hopeful Mellers takes five different flights to make Unleash The Beast debut
By : Justin Felisko
September 25, 2019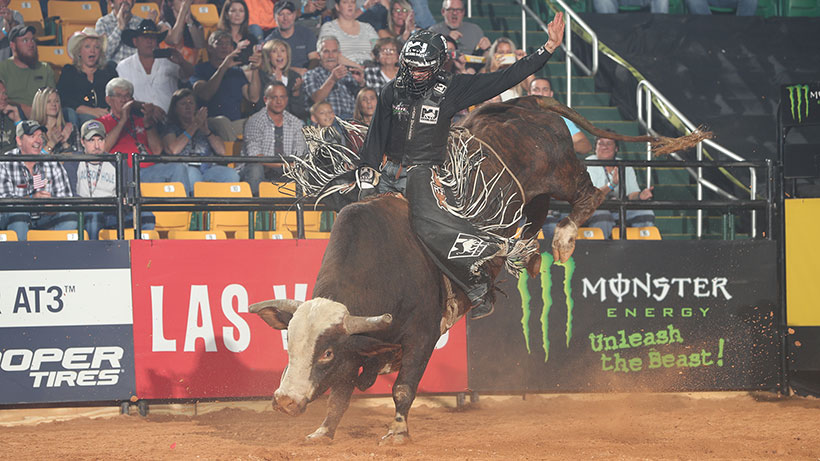 PUEBLO, Colo. – 2018 PBR Australia Rookie of the Year Lane Mellers had been waiting 10 years for the opportunity to hop aboard a plane, make the journey to the United States and debut on the PBR premier series.
Therefore, it was a no brainer for him to head immediately to Mount Isa Airport Thursday morning once he learned he had a spot in the draw for the U.S. Border Patrol Invitational in Fairfax, Virginia.
Just how quickly did he begin his five-flight journey?
In less than two hours.
The Mundubbera, Australia, native had to take five different flights to make it to Virginia in time for this past weekend's Unleash The Beast event.
Mellers had competed recently at a rodeo in Mount Isa and was staying at a friend's place when he received word of his chance to make his Unleash The Beast debut in Virginia.
The 20-year-old quickly grabbed his gear bag and headed to the airport. The biggest problem was that Mellers did not have his passport with him and he could not head straight to America.
"Before I even replied to the call, I was already in the car and on my way to the airport," Mellers said. "I just had to get my passport and turned right back around."
Therefore, Mellers flew from Mount Isa to Brisbane, and onward to Rockhampton, so that he could head home to grab his necessary passport.
Mellers flew back to Brisbane from Rockhampton, eventually catching a direct flight to Los Angeles International Airport with the assistance of his aunt, who is a flight attendant for Virgin Australia Airlines. From there, Mellers took a direct flight to Ronald Reagan International Airport, where he then caught a ride to the Fairfax Marriott at Fair Oaks hotel in Fairfax, Virginia, around 1 a.m. Saturday morning.
"I have been watching PBR since I was 10 years old," Mellers said. "This is where I always wanted to be. When that call came, I was coming."
Mellers did not waste the opportunity in Round 1 Saturday night as he rode One Hung Low for 83.75 points for the first ride of his career.
Harold's Genuine Risk ultimately bucked Mellers off in 3.9 seconds in Round 2, and he failed to qualify for the championship round.
Regardless, Mellers still left a good impression on many in Fairfax.
Team USA Eagles assistant coach and 2002 World Finals event winner J.W. Hart said throughout the weekend that he was impressed by Mellers' commitment to make it to the U.S. following the last-minute draw spot.
"He gets on five different flights to get here. That is the desire and the want to be at this level that it takes to have success at this level," Hart said. "The guys that look at it and go, 'Eh' (and turn down a draw spot), it's like a college football players getting a chance to go play for the Dallas Cowboys for the weekend going, 'Eh, I don't think I want to.'
Mellers nearly missed Championship Sunday because of his travel sagas, though.
Clearly a little bit exhausted from the journey, he slept through his alarm clock Sunday in Fairfax and did not arrive at EagleBank Arena until about 30 minutes before rider introductions.
Laughing, Mellers said, "Hey, at least I made it in time."
The only Aussie competing in Fairfax looked relaxed among some of his childhood heroes like two-time World Champion J.B. Mauney.
Mellers then spent some of Sunday evening hanging out with Chase Outlaw, Brennon Eldred, Dalton Kasel and some other cowboys at the Fairfax Marriott.
"It was unreal being able to ride against J.B. today, but you have to put that to the side," Mellers said. "You have to deal with nerves at every level whether it is riding against them boys that I watched in Australia or riding against these boys."
Mellers began riding calves when he was 10 years old, winning a little less than $7 at his first youth rodeo competition. He quickly began to progress through the ranks and went on to win the 2017 Junior Bull Riding Championship in Australia's National Rodeo Association.
Mellers would turn 18 on May 1, 2017 and make his PBR Australia debut just about three weeks later at the annual event Rockhampton.
While Mellers' father, Adam, was not a bull rider, he was in fact a talented show jumper. According to Lane, his dad competed at the FEI Show Jumping World Cup.
Lane has three brothers, and his younger brother, Nash, is 13 years old with dreams of one day riding in the PBR. Their uncle, Kerri King, is a stock contractor in Australia as well.
This weekend was Lane's first premier series event, but it was not his first time in the United States.
Mellers spent a semester last year at Western Texas College in Snyder, Texas, before returning to Australia.
"I found I was making more money going to PBR'S and college wasn't working for me," Mellers said.
Mellers returned to Australia from Fairfax on Monday. He plans on finishing out the PBR Australia season and trying to make a late push at the 2019 Australian championship.
The No. 7-ranked rider in PBR Australia is competing at this weekend's PBR Australia Monster Energy Mackay Invitational and has work cut out to overcome the 2,208.33-point deficit between he and No. 1 Aaron Kleier.
Mellers does not plan on returning to the U.S. unless he gets another spot on the Unleash The Beast, but his goal is to make a larger run on American soil in 2020.
"I would definitely like to come over, but I just had to get some good grounding and know a few fellas here in the U.S. first," he said. "I will finish up the PBR Australia and then I will come over here and do a good stint next year."
A strong finish to 2019 may go a long way toward Mellers being a sleeper pick for Team Australia coach Troy Dunn.
Dunn has full control over his seven-rider roster for the upcoming 2020 WinStar World Casino and Resort Global Cup USA, presented by Monster Energy, on Feb. 15-16 in Arlington, Texas.
Mellers would love the opportunity to ride for Dunn in the international showcase.
"That is definitely what I am aiming for because there is no bigger deal then representing your country," Mellers concluded.
Follow Justin Felisko on Twitter @jfelisko