Potential Team USA Wolves stop by PBR Sport Performance Center as injuries begin to pile up
By : Justin Felisko
September 19, 2019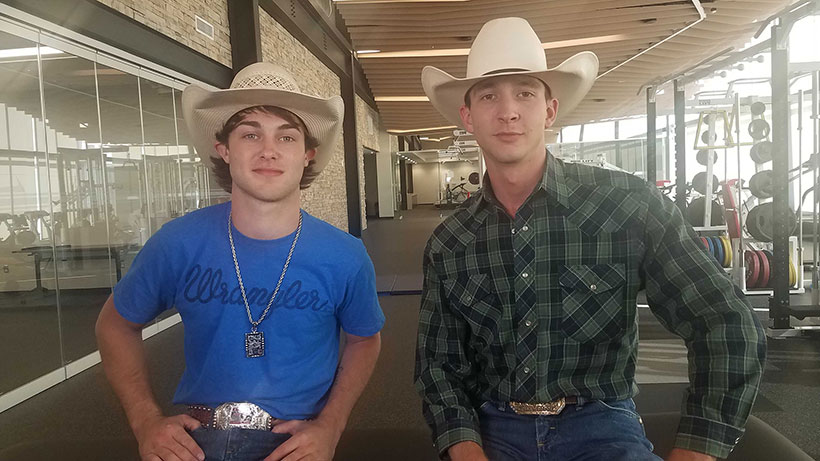 PUEBLO, Colo. – It's a good thing there is still almost five months until the next PBR Global Cup.
If the 2020 WinStar World Casino and Resort Global Cup USA, presented by Monster Energy, were taking place this weekend, let's just say the Team USA Wolves would be a in a load of trouble.
Five of the top candidates to ride for the Wolves are currently out of competition because of injuries – No. 10 Ryan Dirteater (broken ribs, collapsed lung, lacerated liver), No. 18 Cody Jesus (torn left groin), No. 19 Stetson Lawrence (herniated disc in his back), No. 29 Cannon Cravens (broken left leg) and No. 33 Colten Jesse (reconstructive right shoulder surgery).
"I didn't know that. Damn," Jesse said Tuesday from PBR headquarters.
Cravens was shocked as well, "Damn, dude."
Jesse responded, "Shoot, we going to come back fresh."
Cravens smiled. "Yeah, we will be fresh for sure."
Jesse then reiterated, "That ain't no joke. They better watch out."
The two potential Team USA Wolves riders stopped by the PBR Sport Performance Center on Wednesday to rehab their injuries under the watchful eye of PBR Director of Sports Medicine Rich Blyn and Executive Director of the PBR Sport Performance Center Antwon Burton, as well as members of Burton's team.
Cravens and Jesse are expected to be healthy for the Wolves – if they are selected to the team by head coach Ted Nuce – for the upcoming Global Cup, but their statuses for the 2019 PBR World Finals remain highly questionable.
It is also possible Cravens, and especially Jesse, could be bumped from a World Finals qualification spot with four Unleash The Beast regular-season events and four Pendleton Whisky Velocity Tour regular-season events left on the calendar before the Finals begin on Nov. 6.
As of today, the Top 37 riders in the world standings will qualify for the 2019 PBR World Finals. No. 20 Aaron Kleier is ineligible for a Top 35 World Finals qualification spot because he turned down a UTB draw spot this season, but he can ride at the World Finals if he were to qualify through the Velocity Tour Finals. Meanwhile, No. 22 Silvano Alves is expected to be out three to six months because of a ruptured kidney.
Cravens has been out of competition since breaking his leg at the Vinita, Oklahoma, Touring Pro Division event on June 22 when he was stepped on by Lefty. The 19-year-old had to get a steel rod and four screws inserted into his leg.
The Porum, Oklahoma, native is only three months into his six-month recovery.
"They just want me to get it stronger," said Cravens, who has not attended physical therapy since the injury. "Rich said there is really no need to come back before the Finals. I am not going to break my leg again, but I could tear my groin or something like that because everything is so weak on that side."
Jesse has been out of competition since he dislocated his shoulder on May 17 while riding Total Feed's Bushwacked.
It has only been a little more than three months into Jesse's recovery since Dr. Tandy Freeman repaired his shoulder in June.
"I went to Dr. Tandy (Freeman) a few weeks ago, and he said the range of motion looks good, but it is not just the range of motion," Jesse said. "I still need a little more range of motion and I also kind of need to strengthen my shoulder back up.
"It is a hurry-and-wait kind of deal. If I return at all this year, it would be at the Finals. Right at five months would be the Finals. That is what me and Rich talked about yesterday on our flight from Denver to Pueblo. I go back to Tandy in the middle of October, so I will know more by then. We will just see how realistic it is. It is frustrating, but he told me it was probably a six-month deal when I got the surgery."
Jesse has been going to physical therapy twice a week at home in Oklahoma.
Blyn spent time with Jesse on Wednesday working on the 2018 PBR World Finals qualifier's range of motion with mobilization therapy, as well as eccentric exercises.
"Upon initial evaluation, he was a little stiff in his shoulder," Blyn said. "I did some manual therapy with him and some mobilization techniques with his scapula, which is one of the things. The scapula needs to work in ratio. For every three degrees the shoulder moves, the scapula moves two degrees. It needs to work in that combination in order to have a smooth range of motion."
Blyn said that Jesse has a better chance at riding at the Finals than Cravens.
It is not uncommon for riders to come back faster from reconstructive shoulder surgery than the recommended six-month window. In 2017, two-time World Champion J.B. Mauney returned in less than four months from career-threatening reconstructive shoulder surgery.
"Colten is about right where he should be at this stage," Blyn said. "He has been doing some rehab and he has been doing pretty good. The problem with him making the Finals is he is probably only going to be about four and a half months post-op, which puts him at a little bit of a risk to try to come back to the Finals, even if he was to make it.
"But he is solid. He is exactly where he should be. He has done all the right things so far."
Jesse said he will ultimately follow the guidance of Dr. Tandy Freeman, Blyn and the PBR sports medicine team.
"It definitely can happen," Jesse said of a return in Las Vegas. "And if it doesn't, that is fine with me, too. I will have my injury exemptions and come back for New York and start off fresh."
Blyn taught Cravens upwards to 10 different exercises he could do at home in Oklahoma to help strengthen the muscles and ligaments in his left leg and lower body.
"We showed him some things," Blyn said. "We told him that he needed to really get into therapy. The doctor was happy with the way the bone is healing. The doctor also recommended he go to therapy. He needs to be strong. What I tried to explain to him today, while the bone may be healed, the structures that support the leg and the bone are not ready to go yet. They may not be ready by the Finals. Certainly, by the Global Cup they should be ready. The significance of rehabbing is not that the bone is at risk, but you are at risk for a lot of other issues if you don't get strong. You have nothing protecting you."
Cravens said he is looking at his time away from the sport as a chance to make preparations for the birth of his son in November. Cravens' girlfriend, Taylor, is due on Nov. 20.
"That is why I am not worried about it," Cravens said if he ends up not being able to return in time for the Finals. "I think this happened for a reason. I have a lot of stuff to take care of around the house."
SCOUTING TO BE IMPORTANT AT INDIAN NATIONAL FINALS RODEO
With injuries beginning to ramp up for the Wolves, it is likely Ted Nuce will keep his eye on what happens in October at the 44th annual Indian National Finals Rodeo in Las Vegas.
It was announced on Wednesday that fans can watch all of the action from the INFR live on RIDETV and RidePass on Oct. 22-26.
Follow Justin Felisko on Twitter @jfelisko