Fairfax draw: Whitehorse draws on past experience as World Finals looms; Bad Touch looking for 34th consecutive buckoff
By : Justin Felisko
September 18, 2019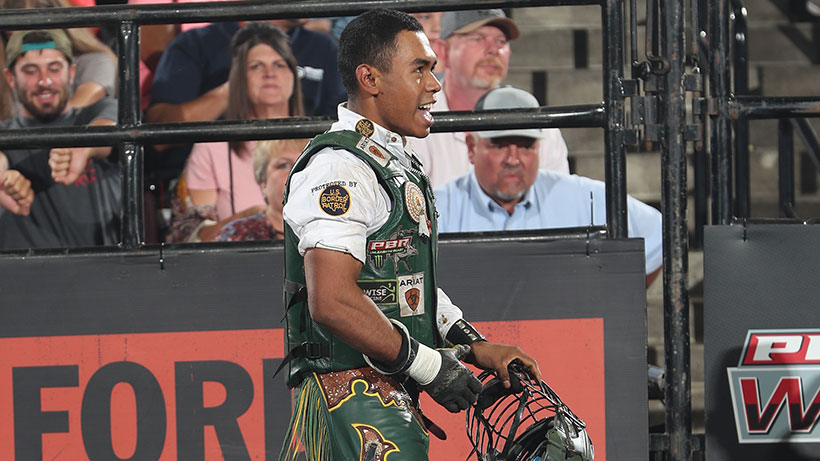 PUEBLO, Colo. – A young and inexperienced Keyshawn Whitehorse would have likely been rattled by the thought of being in the cutline conversation for the 2019 PBR World Finals.
However, the 2019 version of Whitehorse is much more prepared for the ebbs and flows of a PBR season. The peaks and valleys will always be there, but Whitehorse takes pride in the fact that he has made the PBR World Finals before and has a Rookie of the Year buckle on his belt as a reminder of his talents.
"At times of struggle and stuff, you start to doubt yourself, but you look back at times when you have had success and regain that confidence," Whitehorse said.
The 2018 Rookie of the Year broke through with a 2-for-4 showing last weekend at the PFIWestern.com Invitational in Springfield, Missouri, to give himself some breathing room in the world standings.
Whitehorse overcame two buckoffs to begin the three-day event by riding Anthrax for 85.25 points Sunday in Round 3 and then covering Texas Comfort Air's First Blood for 88.25 points in the championship round.
The ride was only the second championship round qualified ride of Whitehorse's premier series career, and his first since February 18, 2018 when he rode Gambini for 88 points.
"I am here for a reason," Whitehorse said. "I am one of the best in the world. Right now, the standings might not now show it, but I do know my potential. It is limitless. So this is just me getting ready for the Finals. Have my mind right. Game tight."
Whitehorse earned 105 world points in Springfield to move up three spots in the standings to No. 28. The McCracken Springs, Utah, rider now sits 270 points ahead of the 2019 World Finals cutline heading into this weekend's Fairfax Invitational.
The 22-year-old has drawn Back In Black (1-1, UTB) for Round 1 Saturday night at EagleBank Arena.
RELATED: Fairfax Round 1 daysheet
Fans can watch Round 1 exclusively on RidePass beginning at 6:30 p.m. ET.
Whitehorse received some advice from five-time PBR World Finals qualifier and RidePass analyst Colby Yates in Springfield.
Yates watched about 30 of Whitehorse's rides and explained that he believed Whitehorse simply needed to slow things down instead of trying to fight a bear or ride a dinosaur.
"He has the hardest work ethic of any bull rider in the Top 35 right now," Yates said. "You just fight so hard. You are trying so hard. His moves are times 10. He is moving too hard, and his free arm gets behind him. He just needs to calm down and focus and let the bull come to him."
Whitehorse explained that he appreciated the feedback and took the advice to heart.
"It is very helpful," Whitehorse said. "This whole season I felt like I have been just trying to do it myself and try to say, 'I know this,' and not really ask too much for help. Sometimes you have to humble yourself and say, 'Alright, I need some help.'
"Asking him really worked for tonight. I am going to take that, learn from it and keep moving forward. These are our peers, and they help us out, and they have been here before us. They know a lot and (you can) take this knowledge and keep building off it."
INJURIES OPEN THE DOOR FOR RIDERS TO GET BACK INTO WORLD FINALS RACE
There are 10 Top 35 riders not competing in Fairfax, which opens the door for riders attempting to make the World Finals.
Not competing in Fairfax are No. 10 Ryan Dirteater (broken ribs, collapsed lung, lacerated liver), No. 18 Cody Jesus (left groin), No. 19 Stetson Lawrence (back), No. 20 Aaron Kleier (declined UTB spot), No. 22 Silvano Alves (ruptured kidney), No. 23 Cody Nance (sprained left sternoclavicular joint), No. 25 Joe Frost (broken right leg), No. 26 Cannon Cravens (broken left leg), No. 33 Colten Jesse (reconstructive shoulder surgery), and No. 35 Brady Fielder (declined alternate spot).
Nance is primarily out of competition because of a sprained left sternoclavicular joint, but he told PBR.com via text message Tuesday, "What's not sore?"
When you include re-rides, Nance attempted seven bulls last weekend inside JQH Arena.
Lawrence is hopeful he will be back in time for the Minneapolis Invitational on Oct. 4-5 after an MRI this week revealed he has a herniated disc in his back.
Kleier is ineligible for a Top 35 World Finals qualification spot, but he can ride at the World Finals via the Velocity Tour Finals. Meanwhile, Alves is expected to be out three to six months.
Therefore, the current cutoff line for the World Finals with four Unleash The Beast events remaining is the No. 37 position in the world standings.
Scottie Knapp is holding the No. 37 ranking after missing Springfield because of a separated right shoulder.
Knapp will look to increase his chances of qualifying for his second career World Finals when he takes on Blaze (0-0, UTB). Knapp last appeared at the season-culminating event in 2010.
There are eight riders below Knapp competing in Fairfax who are looking to push themselves back into the World Finals – No. 40 Michael Lane (20 points behind Knapp), No. 43 Junio Quaresima (-127.5 points), No. 47 Brady Sims (-192.5 points), No. 61 Dener Barbosa (-297.5 points), No. 72 Alex Cardozo (-352.5 points), No. 81 Lonnie West (-390 points) and No. 210 Fabiano Vieira (-567.5 points).
Cardozo is making his 2019 UTB debut courtesy of his Velocity Tour win on Sept. 7 in Peoria, Illinois. Cardozo won the event with 86 points on Peep Show in the championship round after qualifying for the final round via buckoff time.
It has been more than two years since Cardozo last competed on the premier series – May 12, 2017 at Last Cowboy Standing. The 29-year-old is 7-for-54 in 24 UTB career events.
Cardozo has a rematch against Freakin Wicked (2-2, UTB) in Round 1. In their prior matchup, Cardozo was bucked off by Freakin Wicked in 6.14 seconds at the 2018 Huntington, West Virginia, Velocity Tour event.
UPDATE: No. 41 Kurt Shephard withdrew from Fairfax Wednesday afternoon after accidentally slicing his thumb with a hoof knife. He has been replaced in the draw by No. 53 Lane Mellers. Mellers is a fellow Australian and will be making his UTB debut. The 20-year-old is 20-for-52 this season at all levels of competition in Australia and Canada. Mellers has posted back-to-back, second-place finishes in Australia.
BAD TOUCH TO BUCK IN THE CHAMPIONSHIP ROUND
Unheralded buckoff artist Bad Touch is back to bring wreckage to the top bull riders in the world on Sunday afternoon.
Bad Touch heads into the championship round with a 33-0 record on the PBR premier series. The 9-year-old's consecutive buckoff streak now sits as the fifth longest in PBR history.
Heartbreak Kid leads active bulls with 36 consecutive buckoffs on the premier series.
CAN LEME MAKE IT 3 STRAIGHT UTB WINS?
World leader Jose Vitor Leme has the second-largest lead of any world No. 1 bull rider this season.
Leme takes an 821.66-point advantage over No. 2 Jess Lockwood into Round 1 Saturday night. It's the largest lead for a world No. 1 since Lockwood led Joao Ricardo Vieira by 967.5 points before he broke his collarbone on Feb. 9 at the Global Cup USA.
RELATED: Leme knows title race is far from over
The 23-year-old has drawn Cut The Cord (35-13, UTB), while Lockwood is slated to face Biggin (0-0, UTB).
Leme has won back-to-back UTB events, as well as a Pendleton Whisky Velocity Tour event in Window Rock, Arizona, to pick up 1,620 points in a span of 11 days.
ROUND 1 REMATCHES
Cardozo vs. Freakin Wicked (6.14 seconds in Huntington, West Virginia in 2018)
Alisson de Souza vs. Stunt Man Ray (85.75 points in Green Bay)
Junio Quaresima vs. Smooth Highway (2.75 seconds in Albuquerque, New Mexico)
Marco Eguchi vs. Zaccheaus (84.75 points in Duluth, Georgia).
Follow Justin Felisko on Twitter @jfelisko