Vieira and Lockwood's Springfield performances latest examples of how tight world title race is heading into Fairfax
By : Justin Felisko
September 16, 2019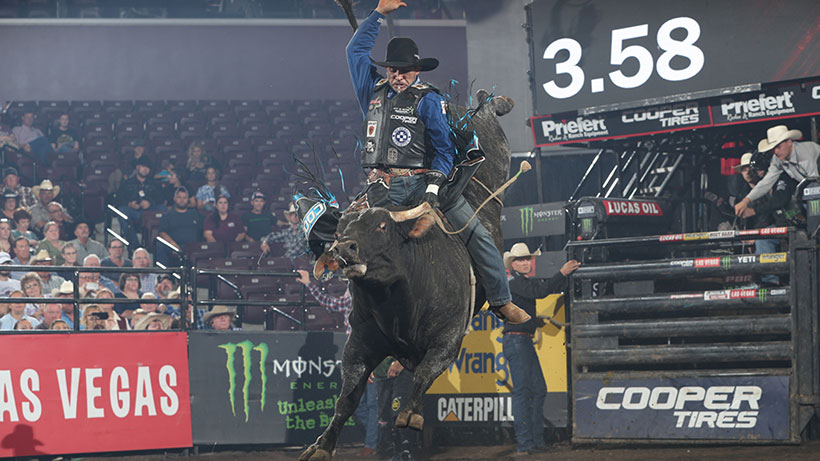 SPRINGFIELD, Mo. – 2017 World Champion Jess Lockwood made his way to the scoring and timing computer at JQH Arena and looked at the world standings.
821.66 points.
That is the deficit between Lockwood – the No. 2-ranked bull rider in the world – and world leader Jose Vitor Leme heading into the final four regular-season Unleash The Beast events before the 2019 PBR World Finals after Leme won his second consecutive event this weekend.
"Jose got how many points?" a surprised and impressed Lockwood asked.
The difference between the top two bull riders in the world was in many ways the difference of one ride in Springfield, Missouri.
Leme rode Rusted Metal for 85.5 points in Round 3 Sunday to head into the championship round in fifth place, while The Hard Stuff bucked Lockwood off in 3.21 seconds, sending him into the championship round in seventh place.
Lockwood did his job as best he could in the championship round by riding Budakon for 87.75 points, but he then had to sit back and watch his world title challenger Leme ride Biker Bob for 92 points to position himself for a huge three-day event win with four riders remaining.
"That bull's usually better, dang it, and he just didn't have his regular day," Lockwood said after riding Budakon. "But I did all I could do, and I rode him, and I finally finished and stepped off on my feet. So finished strong, I guess."
J.B. Mauney, Claudio Montanha Jr., Alisson de Souza and Ezekiel Mitchell all bucked off in the championship round to give Leme his fourth UTB event win of 2019.
Lockwood finished 2-for-4 and in fifth place at the PFIWestern.com Invitational, which included a sensational 93-point ride on Chiseled to win Round 1 on Friday night. The 21-year-old also won the 15/15 Bucking Battle at JHQ Arena with a monster 91.25-point effort on Hostage Saturday night.
In total, Lockwood was 3-for-5 for 350 world points in Springfield.
Leme was just one bull better, going 4-for-5 for 720 world points.
The difference?
370 points.
It is the latest example of just how close the 2019 world title race is, even if the gap between the top two riders in the world is the largest since Lockwood led Joao Ricardo Vieira by 967.5 points at the time of his broken collarbone on Feb. 9 at the Global Cup USA.
Lockwood knew it was a missed opportunity earlier in the day in Round 3, but for him to bounce back and still try to walk away with some points toward the world standings was important.
"It's so important," Lockwood said. "Every single bull matters. I may not win the round or the event on that bull, but it has a significance."
The same can be said for Vieira.
The No. 4-ranked bull rider in the world standings also earned 350 world points in Springfield, but he fell 1,614.16 points behind Leme.
No. 3 Chase Outlaw went 0-for-4 and is 1,539.16 points behind Leme in the world standings.
Vieira finished in third place by going 3-for-4 for 275 world points.
The 35-year-old rode three consecutive bulls, including Oz for 87.75 points in the championship round, to finish only eight points behind Leme in the event average, whereas Lockwood finished one ride behind Leme.
Vieira also rode Cochise for 89.5 points in the 15/15 Bucking Battle for a third-place finish Saturday night and an additional 75 world points.
Therefore, Vieira was 4-for-5 for 350 world points in Springfield compared to Leme's 4-for-5, 720-point effort.
The difference between the No. 4-ranked rider and world leader's performances was also 370 world points.
Both Lockwood and Vieira can turn the world title pendulum back into their favor during the final four Unleash The Beast events before the World Finals on Nov. 6.

There is certainly time left, but it will take great performances and not just extremely good ones as this weekend showed.
A win at the Fairfax Invitational next weekend in Virginia would be a good start for either Lockwood or Vieira before both head to Portland, Maine, for the Pendleton Whisky Velocity Tour event on Sept. 27-28.
"It's so important now," Vieira said. "It's important that you get a score (on) the bulls and (the) next bulls. I (don't think about) the next event. I just want to get a score on my bulls today, and that's it.
"My body feels good. I'm healthy. I believe I (will) have a good World Finals."
Follow Justin Felisko on Twitter @jfelisko