Mitchell looking forward to riding at World Finals with Mauney after splitting round win with childhood hero
By : Justin Felisko
September 15, 2019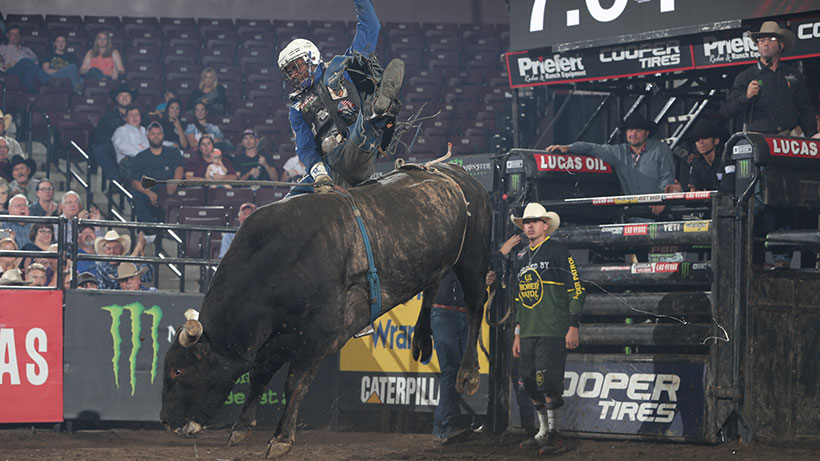 SPRINGFIELD, Mo. – Ezekiel Mitchell looked over at two-time World Champion J.B. Mauney on Sunday evening inside the locker room at JQH Arena.
Mitchell knew this year was on him if he wanted to ride alongside one of his childhood heroes at the 2019 PBR World Finals.
The 22-year-old can still remember watching the PBR on VERSUS when Mauney was a young buck riding alongside Justin McBride, another idol of his.
Mitchell is well on his way to qualifying for his first PBR World Finals, and now it is looking more and more like Mauney will be right there alongside him.
The new Rookie of the Year leader and the future Ring of Honor inductee tied for the Round 3 victory at the PFIWestern.com Invitational Sunday afternoon. Each rider recorded 87-point scores during Sunday's long round.
Mitchell covered Let's Gamble and Mauney rode Black Cadillac.
"Man, that's my dad, you know that?" Mitchell said with a laugh as Mauney cracked a smile. "But no, it was pretty cool. I've looked up to him my whole bull riding career, so to be able to split a round with the whole GOAT ain't too bad."
Sharing the round victory with Mauney was one of the highlights for Mitchell on a weekend that turned out to be a rollercoaster.
Mitchell almost won his first career Unleash The Beast event before being bucked off by Sky Harbor in 3.23 seconds during the championship round.
All was not lost, though, as he went 3-for-4 to finish runner-up to event winner Jose Vitor Leme.
Mitchell claimed a $25,000 bonus courtesy of Marquis Metal Works owner Ben Marquis after a re-ride flag was thrown during his attempt to ride Bill The Butcher in the championship round. Bill The Butcher took two jumps out of the chute before turning back and hitting his head/horn on the gate and losing his timing.
"It's nice," Mitchell said of the payday. "I wish I'd have got it the right way, but we can't help what happens. It's an unpredictable sport. I know I was about to do my job, he just wanted to cheat me a little bit."
Both Marquis and stock contractor Jeremy Walker said a deal is a deal. The stipulations of the bounty were set that the $25,000 would be paid out if either a rider covers Bill The Butcher or a re-ride flag was thrown.
"It's the game we all play!" Marquis told PBR.com via text. "Bill bucked hard! Blue deserves that second shot at him! And he showed us all he came to Missouri to ride!"
Bill The Butcher was marked 44.75 points.
It was a rematch between the two athletes after Mitchell failed to ride Bill The Butcher in a previous $5,000 bounty matchup in the practice pen in Stephenville, Texas.
Walker tipped his hat to Mitchell for taking Butcher with the first pick of the draft and giving it his all in Springfield.
"A deal is a deal," Walker said. "Both of them tried really hard. Bill was bucking hard really close and kind of hit his head. He backed up a little bit, and Zeke kind of hung on to it a little bit after that."
Mitchell finished the weekend a career-best 3-for-4 and earned a total of $42,966.83 when including the bounty.
The Rockdale, Texas, cowboy also picked up 380 points toward the world standings to move to No. 11 in the world standings, taking over the lead in the Rookie of the Year race.
Mitchell leads No. 2 rookie Alisson de Souza by 52.66 points heading into next weekend's Fairfax Invitational.
Souza also had a chance at the event win in Springfield before Soup In A Group bucked him off in 4.87 seconds in the championship round.
If all goes Mitchell's way now, he may just end up joining Mauney in the record books as a fellow Rookie of the Year winner.
Best of all, Mauney may be there to see him get the job done at the 2019 PBR World Finals now that he is sitting at No. 26 in the world standings following his own 2-for-4 showing in Springfield.
Mitchell said he is looking forward to riding with his idol inside T-Mobile Arena.
"Shoot, there ain't no doubt he's going to be there, so I already had that planned out from the beginning," Mitchell concluded. "It would mean the world to me to ride there with him because I'd get to hang out with the guy I've been watching for years."
Follow Justin Felisko on Twitter @jfelisko