Springfield injury updates: Alves out 3-6 months because of ruptured kidney
By : Justin Felisko
September 15, 2019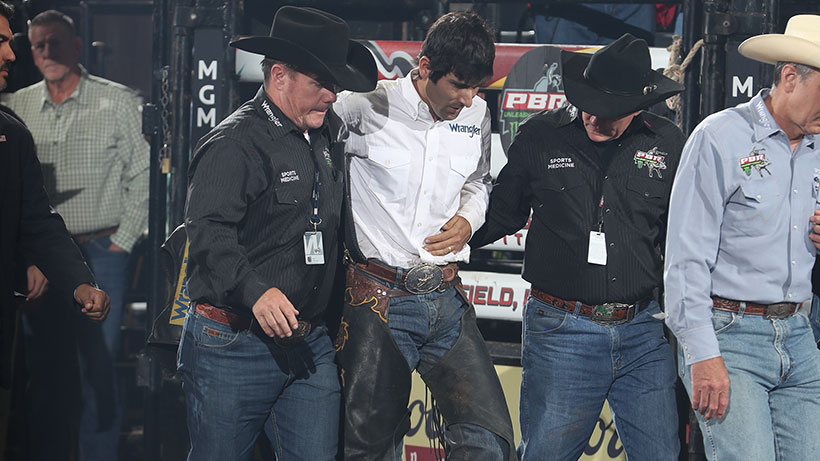 SPRINGFIELD, Mo. – Three-time World Champion Silvano Alves will be out for three to six months following a ruptured kidney sustained during Round 2 of the PFIWestern.com Invitational at JHQ Arena on Saturday night.
According to Dr. Tandy Freeman, Alves was transported to Mercy Hospital on Saturday evening after he was stepped on by Southern Style following a 4.10-second buckoff.
Alves underwent a CT scan at the hospital where it was learned he had ruptured his kidney. He then underwent a procedure to stop internal bleeding.
"He ruptured his kidney," Freeman said Sunday morning before the conclusion of the PFIWestern.com Invitational. "It is broken up into several pieces and because of bleeding from the kidney, they did a procedure last night through his femoral vein and occluded some vessels in the kidney to stop the bleeding. Had they not been able to do that, he might have lost the kidney."
Freeman said that Alves will remain at Mercy Hospital for the next few days for further evaluation and testing.
"He also has an injury to the ureter, which is a tube that runs from the kidney to the bladder," Freeman said. "That probably is not going to require surgery, although (Monday) they may put a stent in it.
"He is going to be in the hospital for a few days."
Alves is currently the No. 22-ranked bull rider in the world standings and was on pace to qualify for a 10th consecutive PBR World Finals.
The 31-year-old will still most likely qualify for the Finals, but he will not be riding at T-Mobile Arena.
"He is out for the PBR Finals," Freeman said. "The Finals are out of the question."
Alves was one of seven riders that sustained an injury during a rough three-day event in Springfield.
Daylon Swearingen (concussion) and Marco Eguchi (left hamstring/knee) did not compete on Championship Sunday because of injuries from Round 2. Swearingen is listed as questionable for next weekend's event in Fairfax, Virginia, while Eguchi is probable.
2016 World Champion Cooper Davis sustained a concussion Sunday, per Freeman, when Mason's Missouri Golden slammed him in 4.85 seconds during Round 3. Davis – the No. 5-ranked bull rider in the world – is questionable for Fairfax.
Cody Teel passed the PBR's concussion protocol on Sunday after sitting out Saturday night's Round 2 and 15/15 Bucking Battle. However, Teel could not pass the test of Gypsy Trick in Round 3 (5.17 seconds).
Daniel Tinsman missed the final two days of competition after re-aggravating his surgically repaired right knee in Round 1, while Mason Taylor overcame minor bruises to finish fifth in the 15/15 Bucking Battle with an 88.5-point ride on Wild Goose.
Follow Justin Felisko on Twitter @jfelisko