Heartbreak Kid extends buckoff streak to 37; Cool Customer marked career-high 45.75 points
By : Justin Felisko
September 15, 2019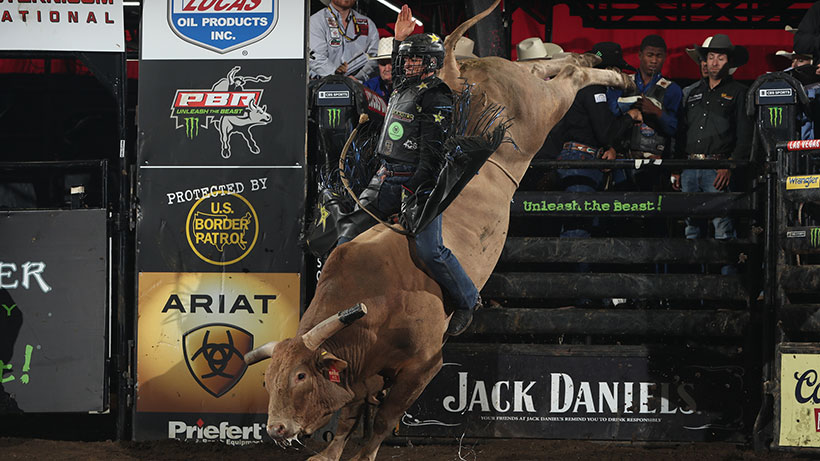 SPRINGFIELD, Mo. – Luciano de Castro thought for a split second on Saturday night that he had Heartbreak Kid exactly where he wanted him during the 15/15 Bucking Battle at the PFIWestern.com Invitational.
Instead of becoming the first rider to reach 8 seconds aboard the D&H Cattle Company bovine superstar on the premier series, though, Castro simply became the 37th consecutive buckoff for Heartbreak Kid.
Castro overcame a big initial jump leaving the bucking chutes with Heartbreak Kid, and it then appeared that the 5-year-old was going to spin into Castro's left hand.
Heartbreak Kid then showed off his IQ level by changing directions and turning back to the right to dispose of Castro in 5.65 seconds.
"I was really surprised because I got that big first jump out of there, and then when he come into my hand I just felt like, 'I've got you now, sucker,'" Castro said with the help of Paulo Crimber translating. "But as soon as I made that move, he jump out of them and (was) long. He got me on my hand and I was too far away from the whistle.
"I knew he was going to go both ways, but the last little trip he didn't go left, and I kind of knew he was going to go left, and when he did, I thought, 'He ain't going to get out of the turn, he's going to stay hooked,' but he did."
Heartbreak Kid is now six buckoffs away from breaking three-time World Champion Bull Bushwacker's all-time record of 42 consecutive premier series buckoffs.
H.D. Page was, of course, proud of his bull, but the number he is concerned about is the 43.75-point bull score.
Page knows Heartbreak Kid needs to post higher scores so that he can increase his chances in the 2019 World Champion Bull race before the 2019 World Finals begin on Nov. 6 in Las Vegas.
Heartbreak Kid is fifth in the standings with a World Champion Bull average of 45.06 points on his best eight outs.
No. 1 Smooth Operator was marked 45.25 points for bucking off Cody Nance in 2.53 seconds and did not increase his World Champion Bull average.
"I'm not worried about the record," Page said. "That record doesn't pay nothing, but that Bull of the Year does. I know in my eyes, he's got a shot at it. He can buck three or four or five trips together in a row where he could be 46 or 47. And if he done that, he could be the World Champ. Right now, he's just on the outside looking in."
Castro made it to 6.12 seconds aboard Heartbreak Kid this past May at the Ty Murray Invitational.
"He's very smart," Castro said. "That was kind of my thought because I knew he was going to jump out. Every time you get a seat on him, he tries to do something different. So he's really smart. I don't know if he feels a guy's rope or something because he always goes away from guys' hands, and when he does go into your hand, he jump out there really quick.
"It's going to be a while with nobody riding him."
Castro is the only rider to ever reach the 8 second mark on Heartbreak Kid, doing so for 75 points at the 2017 Velocity Tour event in Denver.
Heartbreak Kid has since bucked off 57 consecutive riders at all levels of competition, according to ProBullStats.
The bull who Castro rode two years ago was very, very different.
"He was almost like a rookie rider," Castro said. "When I first got on him, he got pretty hard right at the (first) jump, and after that he kind of got lost. He just went straight. Now he's so big and strong, and he has just learned so much. He's got a lot of experience on his back.
"He's the hardest bull in the world to ride right now."
COOL CUSTOMER IMPRESSES WITH 45.75 POINTS
Cool Customer took home the top bull score of the 15/15 Bucking Battle by bucking off Chase Outlaw in 5.22 seconds for a career-high 45.75 points.
"That little bull has kind of been under the radar for like two years now," Page said. "They hardly ever get around him, but he's just honest, up and down. He's textbook what they're supposed to do as a bucking bull. His front end's in the air and his back feet are kicking right over his back. He's got all the timing in the world. They know what he's going to do. He just bucks hard."
Follow Justin Felisko on Twitter @jfelisko