Taylor bounces back from minor back injury as multiple riders get hurt during rough night in Springfield
By : Justin Felisko
September 15, 2019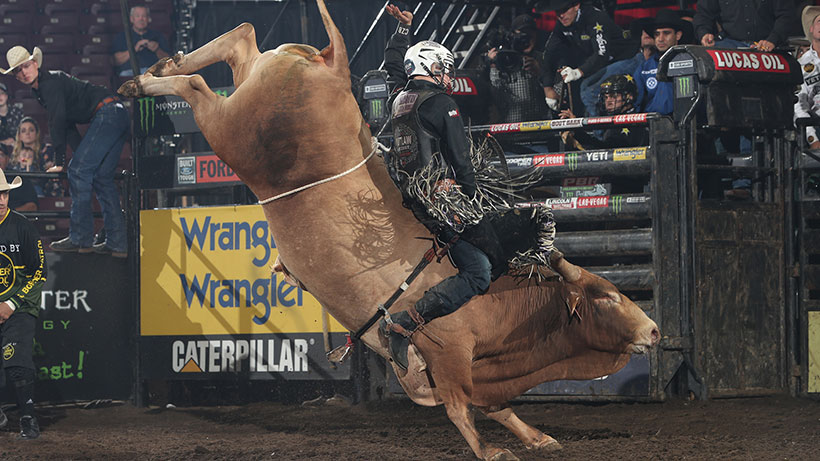 SPRINGFIELD, Mo. – Mason Taylor's black riding shirt had a big piece missing from it on Saturday night, and the Rookie of the Year contender was in search of black tape inside JQH Arena.
Fly Over had bucked Taylor off in a quick 1.93 seconds during Round 2 of the PFIWestern.com Invitational and then stepped on the bull rider's middle and lower back for good measure.
Taylor was immediately brought to the sports medicine room where Dr. Tandy Freeman eventually ruled him to have only a few bruises.
It was the second consecutive night in which Taylor had his clothes mangled following a quick buckoff. During Round 1, Taylor had his pants ripped thanks to a 1.72-second buckoff against Air Assault.
Being one-jumped is never good for a rider's confidence, and Taylor was fighting his head inside the locker room.
That is, until two veteran bull riders made sure to tell Taylor to refocus before he crawled aboard Wild Goose in the 15/15 Bucking Battle.
"(Chase) Outlaw told me before I crawled on him, 'Make up your mind. If you're going to be a bull rider, be a bull rider. If you're not, go home,'" Taylor said.
"He could tell I was fighting my own head. These first two days, I didn't even make it two jumps on the other two bulls. I was just going through the motions instead of actually putting some oomph and finesse behind it."
Two-time World Champion J.B. Mauney echoed Outlaw's thoughts and told Taylor on Saturday night, "You know how many people would kill to be in your situation?"
"So I took that and got my head out of my ass, and it worked," Taylor said.
He went on to ride Wild Goose for 88.5 points and a fifth-place finish (45 world points) in the 15/15 Bucking Battle.
"A little sluggish," Taylor said. "He's heavy and hard to ride. It's a dogfight from when you nod. When you draw him, you've got to throw caution to the wind and you've got to go.
"My confidence went from zero to hero now."
INJURY UPDATES
Taylor was one of six riders diagnosed with injuries by Dr. Tandy Freeman on Saturday.
No. 6 Cody Teel missed Round 2 and the 15/15 Bucking Battle because of a concussion he sustained on Friday night in Round 1. Teel is hopeful he can pass the PBR's concussion protocol Sunday and ride in Round 3, but he is officially listed as questionable.
Meanwhile, three other riders (Daylon Swearingen, Marco Eguchi and Silvano Alves) also had to miss the 15/15 Bucking Battle.
Swearingen was held out because of a concussion as well. He is listed as doubtful for Round 3 by Freeman after he sustained the concussion and a facial laceration attempting to ride Red Bones (2.31 seconds) in Round 2.
Eguchi then had to miss the 15/15 Bucking Battle after straining his left hamstring and stretching his peroneal nerve when Holy Terror bucked him off in 2.74 seconds. He is also doubtful for Round 3.
Alves – the three-time PBR World Champion – was originally going to replace Eguchi in the 15/15 Bucking Battle until he was stepped on by Southern Style (4.10 seconds) in the second round.
According to Freeman, Alves has multiple contusions and a possible rib fracture. Alves was later transported to a local hospital for further evaluation and a CT scan and is doubtful for Round 3.
Daniel Tinsman was ruled out of competition earlier in the day because of a right knee injury. Tinsman had returned to action far earlier than anticipated following knee surgery in May, and he likely tore a part of his surgically repaired PCL on Friday night when Heavy D bucked him off in 2.63 seconds.
Follow Justin Felisko on Twitter @jfelisko