Leme and Lockwood share mutual appreciation for each other as World Championship race intensifies
By : Justin Felisko
September 14, 2019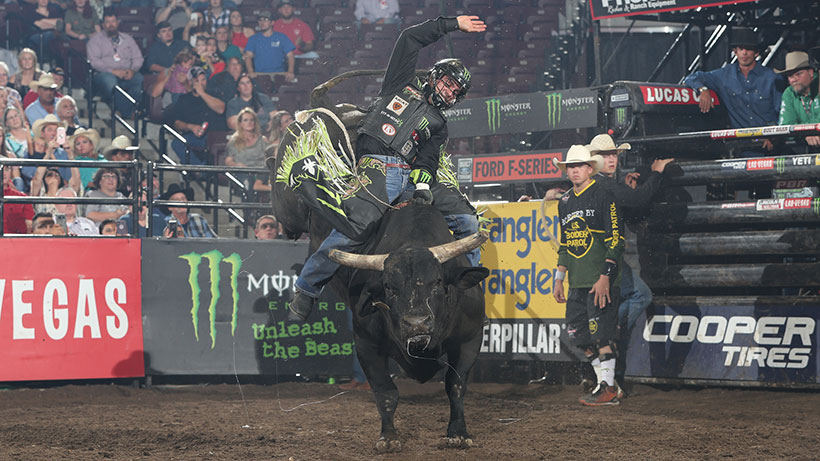 SPRINGFIELD, Mo. – This is exactly what world leader Jose Vitor Leme wanted six months ago when he pulled out his iPhone to text 2017 World Champion Jess Lockwood.
Lockwood was out of competition because of a broken collarbone he sustained at the 2019 WinStar World Casino and Resort Global Cup USA, presented by Monster Energy.
Leme, who was quickly working his way up the world standings, wanted Lockwood to know he was rooting for him to make a full recovery and make a return to competition as soon as possible.
"When he was injured, I messaged him and told him to heal up and come back and get back into the race because I wanted to go against him. It makes it more interesting," Leme said with the help of Paulo Crimber translating.
"I was a big fan of his when I was in Brazil and before I even came over here. I always looked up for him. We get along good, and this is what makes the race fun."
Leme saw Lockwood at his absolute best on Friday during Round 1 of the PFIWestern.com Invitational at JQH Arena.
Lockwood won the round by riding Chiseled for a season-high 93 points to cut Leme's lead to 366.66 points in the 2019 world title race.
"I knew if I could ride him, I'd be 92 to 94," Lockwood said. "When I rode him, I could feel him popping, being rank, and when I knew I made the whistle and got off, the feeling when you just know you're going to be that many points is just something you can't describe."
Leme was unfazed by Lockwood's emphatic ride, which ended with Lockwood throwing his helmet toward the rafters and yelling nonstop in arguably his biggest celebration of 2019.
All Leme did was put in his mouthpiece, lower his head and ride Monster Mash for 85.25 points to finish Round 1 in sixth place.
Lockwood made the major statement of the night, but Leme also answered with his own by following through for 8 seconds with everyone looking to see how he would respond.
"I didn't change anything," Leme said. "I stayed the same because it doesn't matter if he rides or not. I still have to do my job, and I tried to just focus on my bull. It doesn't matter what score he did or not. I just needed to stay on my bull, and if I do my job, and a good job, it's going to be in the judges' hands to do whatever they think is best. I try to do it bull by bull, just try to focus on my bull and not care what happened before because it's not going to change anything."
Lockwood shook Leme's hand in the locker room Friday night after the event, just as he did after Leme won the Anaheim Invitational by winning every round.
The mutual respect and appreciation between the two riders is genuine.
Lockwood said he was surprised to see Leme's phone number pop up on his iPhone during the winter when he was at home and out of competition.
"If that doesn't say something about the guy, I don't know what will," Lockwood said. "It was probably about March, after he kind of knew I was going to be a little longer. He was kind of like, 'Come on, hurry up, I want some competition with everyone else, it's going to make it fun.'
"I have a lot more respect for something like that in that guy than his riding, ever. When you're a good guy, I'll have a lot more respect for stuff like that than whether they can ride bulls or not. That was pretty damn cool."
The Top 2 riders in the world standings were the only riders in the Top 13 to record a qualified ride in the ever-important three-day event.
If Lockwood were to sweep the event and win the 15/15 Bucking Battle, he could leave Missouri with 1,050 points toward the world standings.
Lockwood is slated to face Nipsey (0-0, UTB) in Round 2 and Hostage (9-2, UTB) in the 15/15 Bucking Battle.
Leme has drawn Hammerhead Blu (4-1, UTB) for Round 2 and Marquis Metal Works Gangster's Wildside (19-2, UTB) for the 15/15 Bucking Battle.
"There's so many points available," Lockwood said. "In round wins alone, there's 400 points, and then a 15/15. That's 550 points without an event title. There's 1,050 points if you walk away with it like Jose did last weekend."
Follow Justin Felisko on Twitter @jfelisko