Springfield draw: Global Cup hopeful Jesus is week to week with groin injury, may need surgery after World Finals
By : Justin Felisko
September 11, 2019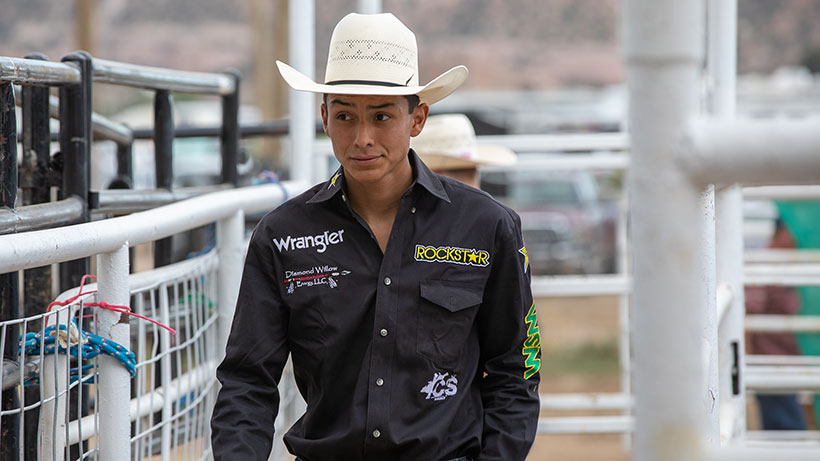 PUEBLO, Colo. – Cody Jesus was going stir crazy this summer at home in Window Rock, Arizona.
The Rookie of the Year contender was taking as much time off as possible to rehab and strengthen his left groin, which he first tore in Tacoma, Washington, on March 30 and then re-aggravated on May 19 at the Ty Murray Invitational.
Jesus lives for riding bucking bulls. Whether it be at home in the practice pen or at on the PBR's elite Unleash The Beast series, Jesus needs to be looking to make 8 seconds every day.
The 21-year-old still needed to scratch that bull riding itch, though, so he would often invite his friends over to get on practice bulls when he was out of commission.
"It really killed me," Jesus said. "I looked at the bulls. I would try to get guys to come up and start some bull rides, so that would kind of feed my hunger."
Jesus has had a mixed bag of results since returning to competition on July 22 at Last Cowboy Standing.
The No. 14-ranked bull rider in the world standings is only 6-for-19, but he did ride three-time World Champion SweetPro's Bruiser for 90.25 points in Tulsa, Oklahoma, and then Mortimer for 90.5 points last week at the Pendleton Whisky Velocity Tour event in his hometown.
Still, Jesus' left groin has not improved much at all in the past five months, and he is once again going to have to miss some time.
Jesus informed the PBR competition department that he is taking things week to week with the injury and will be missing this coming weekend's PFIWestern.com Invitational in Springfield, Missouri.
RELATED: Springfield Round 1 daysheet
Jesus said this past weekend in Anaheim, California, that he may need to get surgery following the PBR World Finals on Nov. 6-10.
"That is what me and (Dr.) Tandy (Freeman) are talking about," Jesus said. "I have to get an MRI."
"It has pissed me off because there is nothing I can do about it. It is really frustrating for me, because it feels like I ride good and sometimes it will be feeling good when I get to the arena. Then I will get off a bull and I ride him and it hurts. Then sometimes I get off and it doesn't bother me as bad. Some days I can get on the easiest bull in the pen and it will hurt bad and I can barely walk."
If he were to get surgery, Jesus could miss anywhere from nine to 12 weeks.
Jesus says he will do all he can in the offseason to make sure he is ready in time for the 2020 WinStar World Casino & Resort Global Cup USA, presented by Monster Energy, in Arlington, Texas.
"I feel like I would go no matter what," Jesus said. "That is one thing I don't want to miss. Nine to 12 weeks sitting at home, I don't think I can do that all because I like to get on bulls every day. That is what I love doing, riding bucking bulls. Even when I am in some pain that is all I want to do. It is all I have ever wanted to do since I was a kid."
INJURY UPDATES/ALTERNATE RIDERS
There are eight other Top 35 riders not competing in Springfield because of injuries or personal choice: No. 10 Ryan Dirteater (broken ribs, collapsed lung, lacerated liver), No. 16 Stetson Lawrence (back spasms), No. 19 Aaron Kleier (declined UTB spot), No. 25 Joe Frost (broken right leg), No. 26 Cannon Cravens (broken left leg), No. 27 Dakota Buttar (Competition Committee approval to compete in Canada), No. 33 Colten Jesse (reconstructive shoulder surgery), and No. 35 Brady Fielder (declined alternate spot).
Top 30 riders are mandated to compete at every UTB event unless they are injured or have an approved absence. Buttar was given an excused absence for Springfield by the PBR's competition committee to compete at the PBR Canada Touring Pro Division event in St. Tite, Quebec City, as he tries to pursue the 2019 PBR Canada championship. This is a one-time exemption, and Buttar will be expected to compete at the remaining Unleash The Beast events he is qualified for.
No. 36 Jared Parsonage – the No. 1-ranked rider in Canada – turned down an alternate position for Springfield, and he too will be competing in St. Tite.
Parsonage is currently holding onto the final qualification spot for the 2019 PBR World Finals with Kleier ineligible for a Top 35 qualification.
There are 10 alternate/exempt riders competing in Springfield – No. 40 Michael Lane (75 points behind Parsonage), No. 41 Kurt Shephard (-95), No. 43 Junio Quaresima (-182.5), No. 47 Brady Sims (-247.5 points), No. 48 Daniel Tinsman (-255 points), No. 50 Marcus Mast (-260 points), No. 51 Paulo Lima (-270 points), No. 61 Dener Barbosa (-352.5 points) and No. 210 Fabiano Vieira (-622.5 points).
Tinsman is working his way back into riding shape following right knee surgery in the spring. The Farmland, Indiana, bull rider expected to be out for the remainder of the season when he got the procedure done in May, but he wound up returning to competition on Aug. 30 at Jerome Davis' annual TPD event.
The 23-year-old has bucked off his first four bulls back at non-UTB events.
Tinsman has drawn Heavy D for Round 1 in Springfield.
No. 218 Chase Hamlin is making his PBR premier series debut as a Native American invite. The 27-year-old from Holton, Kansas, is 2-for-8 in his career at non-UTB events.
Fans can watch Round 1 from JQH Arena exclusively on RidePass beginning at 8:30 p.m. ET on Friday.
LEME LOOKS FOR FOURTH STRAIGHT ROUND WIN & OUTLAW IN HUNT FOR MISSOURI SWEEP
New world leader Jose Vitor Leme will look for a fourth consecutive round win when he takes on Monster Mash (0-0, UTB) in Round 1.
Leme, who won every round in Anaheim last weekend, leads No. 2 Jess Lockwood by 451.66 points in the world standings.
RELATED: Leme refuses to be satisfied
Lockwood takes on top ABBI Classic Bull Chiseled (5-0, UTB) in Round 1.
Meanwhile, No. 3 Chase Outlaw (-819.16 points back of Leme) is looking to win the third Missouri UTB event of the year after picking up wins in Kansas City and St. Louis. Secret Sauce (0-0, UTB) awaits Outlaw Friday night.
TOP 5 ABBI BULLS
Rounds 1 and 2 will be an American Bucking Bull Inc. (ABBI) Classic event. The Maturity event will be incorporated during Round 2 with the last 10 competing in the Classic Round.
There will be 46 Classic bulls and 26 Maturity bulls competing altogether. The Classic prize purse is more than $35,000 between Friday and Saturday night, with the winning bull collecting more than $10,000 in prize money, with the overall Maturity payout coming in at $19,000.
The Top 5 Classic Bulls in the ABBI Classic Standings are No. 1 Chiseled ($50,825.88), No. 2 Concealed Carry ($39,411.86), No. 3 The Right Stuff ($37,009.53), No. 4 Sun Country ($31,187.89) and No. 5 Hocus Pocus ($24,890.71), the 2018 PBR Co-Bull of the Finals.
NANCE GETS CHANCE AT $5,000 BOUNTY & BILL THE BUTCHER $25K BOUNTY RETURNS
Cody Nance was the lucky rider to randomly draw the $5,000 Branson Convention and Visitors Bureau Bounty Bull in Round 1 – Branson Show Stopper (0-0, UTB). Eli Miller previously rode Branson Show Stopper for 83.5 points at the 2018 Velocity Tour Finals.
Marquis Metal Works Bill The Butcher will also be bucking once again with a $25,000 bounty on him during the championship round Sunday.
Bill The Butcher bucked off Derek Kolbaba in 4.59 seconds in his last out in Tulsa, Oklahoma.
Follow Justin Felisko on Twitter @jfelisko