Leme refuses to be satisfied, can 'always be better' following perfect sweep in Anaheim
By : Justin Felisko
September 10, 2019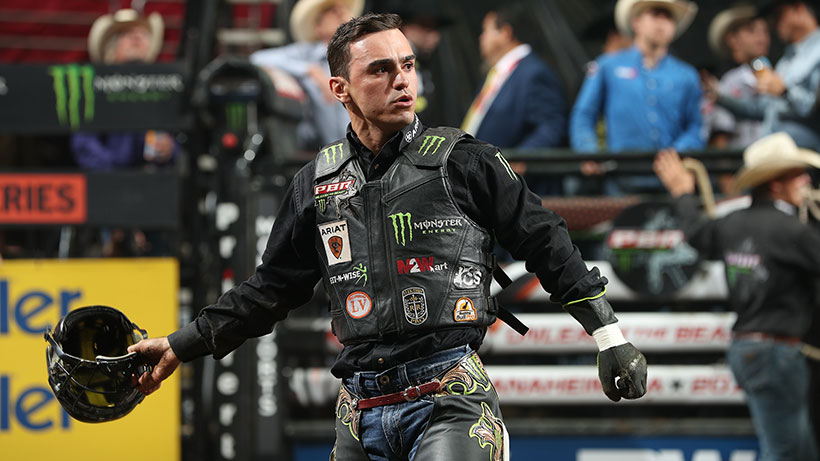 PUEBLO, Colo. – New world No. 1 Jose Vitor Leme did something never before seen in the current PBR point system, winning every round and the event title at the Anaheim Invitational this past weekend.
Leme swept the competition over two nights inside the Honda Center in dominant fashion by winning Round 1 (88.25 points on Sam I Am), Round 2 (88.75 points on Smoke Show) and the championship round (90.5 points on Rising Sun).
It was an impressive showing by the top rider in the world standings, to put it lightly. Leme, though, believes he can still be even better than his PBR-best 16 round wins, 10 90-point rides and three event wins in 2019.
Leme expects he can turns thing up a notch more than anyone has seen since he won the 2017 PBR World Finals with a 6-for-6 showing 10 days after arriving in the United States for the first time.
"I don't think I am at my best right now," Leme said with the help of Paulo Crimber translating. "I always think I can be better, and get better. I have to get better and better every day. This is what I live for. This is what I ride for.
"I can never be satisfied and say I am good, because when you do that then you are at your worst time."
RELATED: Leme closing in on Cody Hart's PBR record
Of course, it makes complete sense.
Leme cannot become complacent if he wants to win a world title.
No rider can operate that way.
There are still five Unleash The Beast events remaining, as well as the 2019 World Finals.
Leme, who also is the No. 1-ranked rider on the Pendleton Whisky Velocity Tour, is well aware of the fact that one bad weekend can see him fall out of the world No. 1 ranking.
This is Leme's first time atop the world standings since Chase Outlaw won Last Cowboy Standing. He had previously spent three months atop the standings.
The 23-year-old now leads No. 2 Jess Lockwood by only 451.66 points heading into a crucial three-day event in Springfield, Missouri.
The PFIWestern.com Invitational begins on Friday night at JQH Arena, and there will also be a 15/15 Bucking Battle on Saturday night.
Therefore, one rider competing in both the event and 15/15 Bucking Battle could potentially leave Springfield with 1,050 points with a clean sweep.
Fans can watch the first two nights of action in Springfield exclusively on RidePass. The 15/15 Bucking Battle will air Sunday on CBS national television at 5 p.m. ET before the conclusion of the event on CBS Sports Network at 6 p.m. ET.
Two-time World Champion and CBS Analyst Justin McBride told Craig Hummer that he does not expect Leme to relish his Anaheim victory for long.
"A lot of opportunity for Jose," McBride said. "Here is the thing that I think is so special about this guy: he is going to take the confidence out of this event into next week, but he is not going to rely on what happened a week ago. He is going to take that and keep building on that.
"He is not a guy who lives in the past; he is looking into the future."
The future may just be a gold buckle for the 2017 Rookie of the Year.
Leme is tied with No. 3 Outlaw for the most rides on the Unleash The Beast and is riding at a 51.4% clip (36-for-70).
Outside of his first round ride on Sam I Am, which ended going away from his riding hand, Leme rode all of his bulls in Anaheim into his left-hand wheelhouse.
McBride said two weeks ago the one area of concern for Leme will be when bulls go away from his riding hand, as that is one area he still needs to improve upon.
"If he has one going to the right, he is going to struggle," McBride said. "He is just a little raw, but he can work on it."
Leme has ridden seven consecutive bulls if you include non-premier series events.
Just how impressive was Leme's 700 world points in Anaheim?
Well, in comparison, Leme earned 700 points when he won the three-day Ty Murray Invitational in Albuquerque, New Mexico, in May.
It is also the second time this season that Leme has won three rounds at an event. Previously, he won Round 2, 3 and the championship round in Sioux Falls, South Dakota, to take over the world No. 1 ranking.
It had been seven years since a rider – Austin Meier (2012 Philadelphia) – had won three rounds at a regular-season premier series event.
Leme has now done it twice in 2019.
"I can't think of a time when I have seen a guy be so dominant at an event," McBride told Hummer. "That point total. Seven hundred points is unbelievable. Just a great performance. When it came to the championship round, he picked the bull he could be the most points on. He took full advantage of it.
"Leme is in the driver's seat."
Follow Justin Felisko on Twitter @jfelisko