Pendleton Whisky Velocity Tour
Kolbaba looks to continue Pendleton dominance at final TPD Major of 2019
By : Justin Felisko
September 09, 2019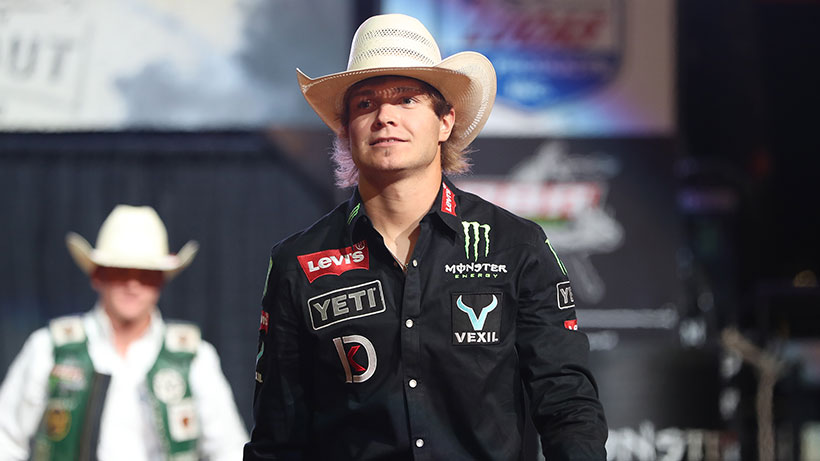 PUEBLO, Colo. – Derek Kolbaba did not have to hustle through airports to get to Pendleton, Oregon, for the annual PBR Touring Pro Division event, unlike past years.
Historically, the Banner Bank Pendleton PBR Classic has fallen immediately following a three-day event in Springfield, Missouri, which would lead to riders flying directly from Springfield to Oregon on a chaotic Monday morning.
The 2019 Unleash The Beast schedule, though, gave riders a nice change of pace with no scheduled UTB event the day before Pendleton.
Therefore, Kolbaba was able to fly out of John Wayne Airport in Anaheim, California, on Sunday morning and head home to Walla Walla, Washington, to sleep in his own bed before competing on Monday and Tuesday night in Pendleton.
"Oh man, I was like, 'This is way nicer,'" Kolbaba said. "I flew from the west coast and had Sunday to relax. It was nice to not have to rush around the airport."
A well-rested Kolbaba is the last thing his opponents need this week in Pendleton.
Kolbaba has won three of the past four PBR events held in Pendleton, and he is an outstanding 12-for-19 at what he calls his "hometown" event.
Walla Walla is only 40 miles north of Pendleton, and Kolbaba, the defending PBR Pendleton champion, grew up attending the annual Pendleton Round-Up.
"It has a lot of sentimental value for me because I grew up going to that bull riding as a kid," Kolbaba said. "Just the atmosphere there is just lights out compared to other places. It is close to home, and all the family gets to be there."
There was a time when Kolbaba used to be one of the thousands of people jammed into the grandstands watching some of the best in rodeo compete.
Now he is the one looking up at the crowds in amazement from an athlete's perspective.
Kolbaba enjoys the intimate atmosphere that Happy Canyon Arena offers.
"It is crazy," Kolbaba said. "That week in September, there are thousands upon thousands of rodeo people there to have a good time and enjoy the Round-Up. There is something about that arena, too, that is so special. It is a tiny venue. The grandstands start pretty much 20 feet off the chutes and go as far off as you can see. They pack it every night."
This week is the final TPD Major of 2019, and one of two remaining Touring Pro Division events. TPD Majors offer Velocity-level points that count toward the TPD standings and not the Pendleton Whisky Velocity Tour standings.
One rider can earn up to 220 points toward the world standings in Pendleton with a victory and long-round win.
There are 10 Top 35 riders inside the world standings slated to tentatively ride in Pendleton – No. 4 Joao Ricardo Vieira, No. 6 Cody Teel, Kolbaba, No. 11 Daylon Swearingen, No. 15 Alisson de Souza, No. 21 Dalton Kasel, No. 22 Silvano Alves, No. 24 Brennon Eldred, No. 31 Keyshawn Whitehorse and No. 34 Dylan Smith.
All but Teel are also double-entered in the event, meaning one rider could actually finish in first and second place. Therefore, a rider that is double-entered could potential leave Pendleton with up to 335 points toward the world standings.
Therefore, Kasel, Kolbaba and Vieira could earn enough points to knock Jess Lockwood out of the top of the TPD standings. That is important because the 2019 Touring Pro Division champion receives an automatic bid to the 2019 Pendleton Whisky Velocity Tour Finals.
As of today, Lockwood, Kasel and Vieira are not ranked in the Top 35 of the Velocity Tour standings.
The potential for 300-plus points in Pendleton could also extremely help Vieira's pursuit of a gold buckle in 2019. Vieira, the No. 4-ranked rider in the world standings, trails Lockwood by 1,464.16 points.
There are five Unleash The Beast events remaining, including an important three-day event this coming weekend in Springfield, Missouri, before the World Finals begin on Nov. 6 in Las Vegas.
Kolbaba is currently eighth in the world standings, but he is a significant 3,415 points behind Lockwood.
Time is running out for him to make up ground to get within the crucial 2,000-point mark of the No. 1 ranking before the Finals begin.
Wins in Pendleton and Springfield could go a long a way toward giving Kolbaba a fighting chance.
Kolbaba once won three consecutive TPD/Velocity events in 2016. He knows a winning streak in the final two months of the season could turn his year around in a heartbeat.
"Now is the time to be going and freaking ram-jamming for some points," Kolbaba said. "That can help a guy out heading into the World Finals. I am taking it one bull at a time. There are a lot of points up for grabs in the next two weeks, let alone the rest of the second half.
"We have been on a tear before and have won a lot of events in a row, so we've just got to go out there and do it."
Follow Justin Felisko on Twitter @jfelisko