Souza leading rookie class in qualified rides
By : Justin Felisko
September 07, 2019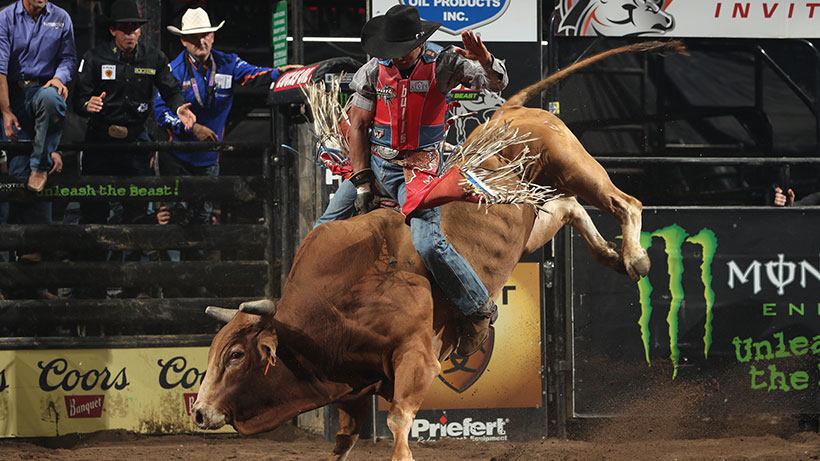 ANAHEIM, Calif. – Temperatures can sometimes be in the upper 90s in Decatur, Texas, when Alisson de Souza and his fellow Brazilians climb aboard practice bulls.
Souza has not necessarily been looking to work on anything specifically when he climbs into the practice pen. Instead he has been wanting to fine-tune himself and get his muscle memory firing on bull after bull as he prepares to end the season on a positive note.
The 26-year-old got things going on Friday night with a second-place finish in Round 1 of the Anaheim Invitational by riding Mac The Knife for 86.75 points.
"I just started that ride really strong, and I think the secret is to just start the ride away from your hand really strong and steady, and I did that tonight," Souza said with the help of Paulo Crimber translating. "It worked out great."
Souza is ranked 23rd in the world standings after earning 60 world points Friday night.
The 2018 Velocity Tour Finals event winner is sitting in eighth place in the highly-contested Rookie of the Year race, but an event win Saturday night in Anaheim could potentially push him into the lead.
"I just (need to do) what I'm doing right now," Souza said. "Working hard, riding a lot of bulls, getting on a lot of practice bulls, and just drawing the right ones and stay on. Do what I'm doing, like I did tonight."
Souza was one of four Rookie of the Year contenders to earn a qualified ride in Round 1. Also picking up scores were Ezekiel Mitchell (86.25 points on Get Shorty), Mason Taylor (85.5 points on Chilli Whap), and Dalton Kasel (82.5 points on Element 79). Dylan Smith (86.5 points on Snake Eyes) is not technically qualified for the ROY award yet because he has not been seeded in the Top 30.
Souza has been on a quiet hot streak recently, having ridden six of his past eight bulls on the premier series.
He will look for another two, and possibly his first event win, on Saturday night.
The Anaheim Invitational concludes Saturday night. Fans can watch Round 2 of the event Sunday on CBS Sports Network at 1 p.m. ET and then the conclusion of the event on CBS national television at 5 p.m. ET.
Souza has drawn Racketeer (1-0, UTB) for Round 2 at the Honda Center.
The Taubate, Brazil, bull rider is 24-for-57 (42.11%) on the premier series. His 24 rides is the most in the 2019 rookie class.
Six of the past 10 Rookie of the Year winners are Brazilian natives – Jose Vitor Leme, Kaique Pacheco, Joao Ricardo Vieira, Emilio Resende, Rubens Barbosa and Silvano Alves.
"It's a great title," Souza said. "It's something that shows, if you win it, you've done great and you're the best of the rookies that year."
Follow Justin Felisko on Twitter @jfelisko