Smith trying to ride himself back into World Finals contention
By : Justin Felisko
September 07, 2019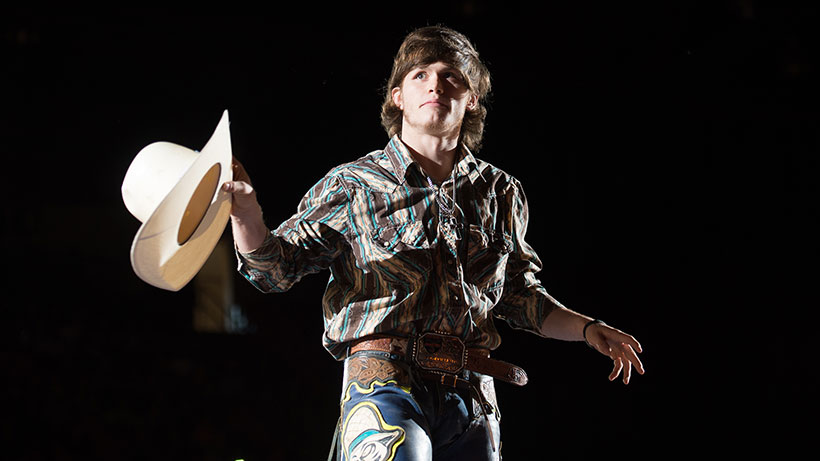 ANAHEIM, Calif. – What initially began as a simple Instagram following between two aspiring bull riders has since evolved into a blossoming friendship.
And if Ezekiel Mitchell has things his way, his buddy Dylan Smith will be there right by his side come the 2019 PBR World Finals on Nov. 6-10.
Mitchell was one of the most vocal riders on the back of the bucking chutes Friday night inside the Honda Center during Round 1 of the Anaheim Invitational when Smith rode Snake Eyes for 86.5 points.
"Man, Dylan's one of my best friends in the world," Mitchell said. "Pretty much through here we became good friends. He has come and stayed at the house. He has been fighting his head a lot, so it was really cool just to see him be able to get it done, and for a big number. I knew it was going to be big.
"I was just proud of him."
Smith wound up finishing Round 1 in third place for an important 50 world points.
The Anaheim Invitational concludes Saturday night. Fans can watch Round 2 of the event Sunday on CBS Sports Network at 1 p.m. ET and then the conclusion of the event on CBS national television at 5 p.m. ET.
These cowboys came to ride tonight in Anaheim! Seven out eight riders have ridden so far with Dylan Smith leading with an 86.5 point score. Tune in LIVE on RidePass. pic.twitter.com/w5FH68hhYy

— PBR (@PBR) September 7, 2019
Smith moved up one spot in the world standings to No. 40, but more important, he now trails No. 36 Scottie Knapp by only 48.34 points for the last qualification spot to the World Finals.
"That's all I needed," Smith said. "I've just been right there at that cutline all year, since I've made it, really, and I just got the call yesterday that Rubens wasn't going to make it."
The 19-year-old was a last minute alternate for Anaheim after Rubens Barbosa had to withdraw because of a family emergency.
Luckily, Smith was already planning on being in California this weekend before heading to Pendleton, Oregon, for the Banner Bank Pendleton PBR Classic Touring Pro Division event on Monday and Tuesday.
Smith was staying at friend's house just 20 minutes outside of Anaheim when he got a phone call Thursday from the PBR's competition department saying he had a spot in the draw.
Dripping in sweat and mid-workout, Smith quickly prepared himself mentally for the unexpected opportunity.
Anaheim is one of six Unleash The Beast events remaining until the PBR World Finals, so Smith knows the time is now for him to make a move if he hopes to join his buddies in Las Vegas and ride at the PBR's season-ending event in two months.
"It's very big because Finals are coming up, the rookie season's coming down," Smith said. "You only get one chance to win that buckle, so you need that more than anything else, because it's right there below a world title, so it's really important and I'm just going to keep rolling."
Mitchell – another Rookie of the Year contender – finished right behind Smith in Round 1 with a fourth-place finish by riding Get Shorty for 86.25 points.
"I've been wanting to get on that sucker for a while," Mitchell said. "I tried to kind of wait on him, make him look a little better, but then after that, I just wanted to spur him and God blessed me to be able to do that. I'm just overjoyed to have good draws, and have a good draw tomorrow, and I hope that we can take advantage of it and ride it all the way to the short round."
Smith actually has spent a good amount of time in recent weeks staying at Mitchell's house in Houston training and preparing for the stretch run to the Finals.
The two first began following each other on Instagram for quite some time before finally meeting in person last year at the Touring Pro Division event in Chattanooga, Tennessee.
"We really didn't see each other, but we followed each other on Instagram forever," Mitchell said. "Then we'd seen each other at some other stuff, and I was like, 'Yeah, that's my dude.'"
Mitchell is relatively set for the Finals with his No. 19 world ranking, whereas Smith has his work cut out for him.
Knapp rode Bush Ranger for 83.5 points in Round 1, but he did not pick up any world points.
In fact, Smith and Knapp were two of five non-Top 35 riders to pick up a qualified ride Friday night at the Honda Center. Also reaching 8 seconds were No. 39 Kurt Shephard (85.75 points on Little Bit Crazy), No. 108 Lonnie West (85 points on Diamond Willow) and No. 61 Dener Barbosa (82 points on Red Sails In The Sunset.
There were 15 rides total in Round 1.
Shephard picked up 22.5 world points for tying with Chase Outlaw for fifth. The Australian trails Knapp by 45 points.
Smith had bucked off 13 bulls in a row on the Unleash The Beast before Friday night, and he is only 4-for-27 this season.
Regardless, the Ararat, Virginia, bull rider is hopeful he can continue his uphill climb Saturday night when he faces 4 Bears (0-0, UTB) Round 2.
"It's all been mental," Smith concluded. "I know my body can do it. I know how to do it at any level, and it's no different up here. I've just got to worrying about things, trying to fix things that weren't wrong. But now I just know that everything's working out and my body knows how to do it."
Follow Justin Felisko on Twitter @jfelisko