Anaheim draw: Mauney ready to continue pursuit of 14th consecutive World Finals berth
By : Justin Felisko
September 05, 2019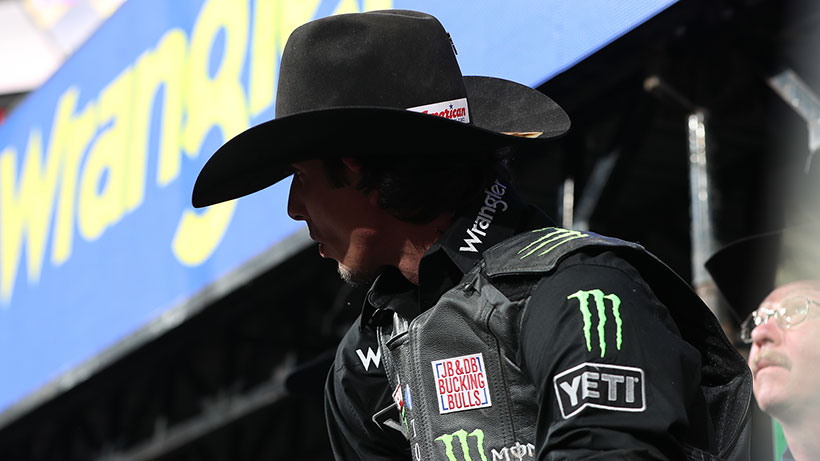 ANAHEIM, Calif. – Two-time World Champion J.B. Mauney leads all active riders with 13 consecutive trips to the PBR World Finals, and he sure as hell plans to make sure that number becomes 14 by the end of 2019.
Mauney is set to return to competition this weekend at the Anaheim Invitational following a two-week hiatus to attempt to recover from a TMJ (temporomandibular joint) sprain in his jaw, a bruised right shoulder and multiple other contusions he sustained at the WinStar World Casino and Resort Houston Invitational, presented by Bass Pro Shops, on Aug. 18. Mauney had torn his right rotator cuff in Tulsa, Oklahoma, a week earlier.
RELATED: Mauney avoids serious injury
"Good to go," Mauney, who elected to rest and recover during the off period vs. attend physical therapy, said via text message earlier this week.
The North Carolina cowboy is in the thick of a battle to stay inside the Top 35 of the world standings and qualify for the 2019 PBR World Finals on Nov. 6-10.
Mauney is 32nd in the world standings and leads No. 37 Danilo Carlos Sobrinho, who is currently out of competition because of a head injury he sustained when he fell off a horse during the UTB break, by 159.16 points.
The Top 36 riders in the world standings will qualify for the World Finals with No. 18 Aaron Kleier (declined UTB draw spot) ineligible for a Top 35 spot. Kleier, however, is still eligible for the Rookie of the Year title, the PBR's competition committee ruled on Wednesday. Kleier can still earn a path to the World Finals if he qualifies for the Finals via the Pendleton Whisky Velocity Tour Finals.
Mauney is still in a good position to make the World Finals, and he will look to pick up additional world points Friday night against Satisfaction (2-1, UTB) in Round 1 at the Honda Center.
Fans can watch Round 1 exclusively on RidePass beginning at 10:30 p.m. ET.
RELATED: Mauney takes over sole possession of second-most qualified rides
Mauney has been overcoming injuries throughout his career, but he has had to dig that much deeper since undergoing reconstructive surgery on his right shoulder following the 2017 Calgary Stampede.
He has been battling a multitude of injuries to his groins, knees, ankles, wrist, forearm and ribs this season.
Mauney is 9-for-32 (28.13%) in 14 Unleash The Beast events. He has missed six events because of injuries.
Last year, Mauney qualified for the 2018 PBR World Finals despite a broken back and torn groin by going 3-for-3 at the regular-season finale in Nampa, Idaho.
INJURY UPDATES/ALTERNATE RIDERS
There are seven riders not competing in Anaheim because of injuries or personal choice: No. 10 Ryan Dirteater (broken ribs, collapsed lung, lacerated liver), No. 15 Stetson Lawrence (back spasms), No. 18 Kleier (declined UTB spot), No. 23 Joe Frost (broken right leg), No. 26 Cannon Cravens (broken left leg), No. 33 Colten Jesse (reconstructive shoulder surgery), and No. 35 Brady Fielder (declined alternate spot).
Lawrence doctored out of the event on Wednesday evening. According to the 30-year-old, he is taking a week off because of back spasms and a compressed disc in his back. Lawrence, though said he does not believe the injury to be too serious and that he hopes to back next week in Springfield, Missouri.
There are seven alternates/exempt riders competing in Anaheim as a result: No. 36 Scottie Knapp, No. 38 Michael Lane (-20 points behind Knapp), No. 39 Kurt Shephard (-57.5 points), No. 61 Dener Barbosa (-307.5 points), No. 108 Lonnie West (-470 points), No. 111 Brock Radford (-480 points) and No. 213 Fabiano Vieira.
Barbosa and Vieira, both of whom are trying to qualify for the 2019 World Finals following reconstructive shoulder surgeries, finished tied for fourth place at Wednesday night's Pendleton Whisky Velocity Tour event in Window Rock, Arizona, by going 2-for-2.
RELATED: Leme moves up to No. 2 in the world via Window Rock win
Vieira rode Hedgehog for 89 points in Round 1 and Blowin for 82 points in the championship round. The 37-year-old earned 22.5 world points to move up 84 spots in the world standings.
The eight-time PBR World Finals qualifier is set to face Gunsmoke (0-0, UTB) in Round 1 in Anaheim.
Meanwhile, Barbosa has ridden four of his last five bulls dating back to his Touring Pro Division victory last weekend in Belton, Texas. He rode Listen Linda for 86 points in Round 1 Wednesday night and El Chapo for 85 points in the championship round. The 25-year-old has moved up 17 spots in the world standings since beginning the Music City Knockout two weeks ago ranked No. 78.
Barbosa has a rematch against Red Sails In The Sunset (16-15, UTB) for Round 1 in Anaheim. He previously rode the Chad Berger bucking bull for 85.25 points two years ago in San Jose, California.
No. 120 Carlos Trejo is this week's Hispanic invite. The Monterrey, Mexico, native will be the oldest rider in the draw at 38 years old and is making his premier series debut. Trejo is 6-for-15 this season with one PBR Mexico win (Juarez on Aug. 17) and is 19-for-61 at all levels in his career.
Trejo has drawn Shelley's Gangster (14-13, UTB) for Round 1.
No. 34 Jared Parsonage is competing in Anaheim after turning down alternate spots the past few UTB events as he pursues the 2019 PBR Canada title.
The No. 1 rider in Canada last competed on the UTB on Jan. 19-20 in Glendale, Arizona, where he went 0-for-2 in his career debut. Parsonage is 32-for-59 (54.24%) at all levels of competition with two PBR Canada wins.
Parsonage has a Round 1 meeting with Rotten Bananas (2-0, UTB).
WORLD TITLE RACE TIGHTENS WEDNESDAY NIGHT IN ARIZONA
Jose Vitor Leme is the new world No. 2 after he swept the Velocity Tour event in Window Rock. Leme won Round 1 with a 91-point ride away from his hand on Sledge Hammer before clinching the victory and 220 world points by riding Chaos Ghost for 86 points.
Leme trails world leader Jess Lockwood, who did not compete in Window Rock, by 248.34 points ahead of his Round 1 matchup against Sam I Am (0-0, UTB) in Anaheim. Lockwood will take on White Dynamite (4-4, UTB).
No. 3 Chase Outlaw finished tied for ninth place in Window Rock for zero points. Outlaw rode Buddy's Pet for 88 points in Round 1 prior to Socks bucking him off in 4.94 seconds in the championship round.
Outlaw has drawn Game Changer (0-0, UTB) for the first round in Anaheim.
No. 4 Joao Ricardo Vieira now trails Lockwood by 1,282.5 points after his 2-for-2, second-place finish (90 world points) in Window Rock. Vieira made the 8 seconds on Hell Pony (87 points) and Bottoms Up (87.5 points).
The 35-year-old takes on Spotted Panther (2-1, UTB) Friday night at the Honda Center.
ROUND 1 REMATCHES
Claudio Montanha Jr. vs. Pennywise (4.8 seconds in Kansas City, Missouri)
Cooper Davis vs. Big Black Cat (1-1; 89.5 points in San Jose, California in 2016)
Dalton Kasel vs. Element 79 (6.88 seconds in Big Sky, Montana)
Dener Barbosa vs. Red Sails In The Sunset (85.25 points in 2017 in San Jose, California)
Lucas Divino vs. Fist City (3.15 seconds in Chicago)
Follow Justin Felisko on Twitter @jfelisko