Pendleton Whisky Velocity Tour
Ouncie Mitchell heads to Window Rock with goal of getting to World Finals following a broken leg in March
By : Justin Felisko
September 04, 2019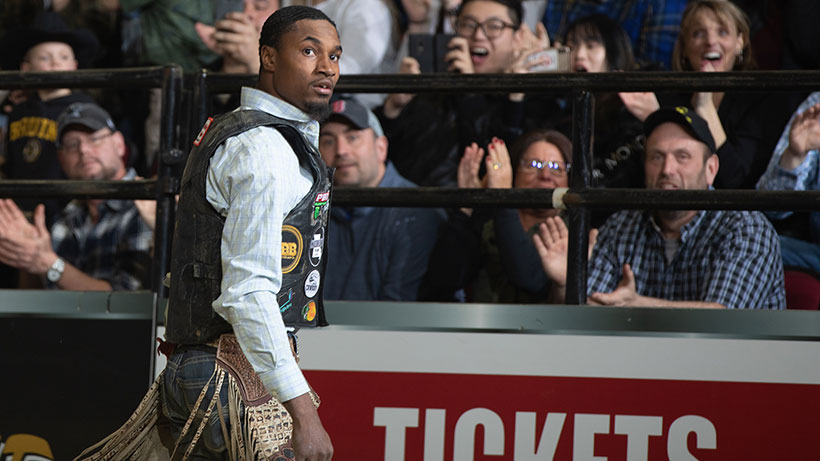 PUEBLO, Colo. – Ouncie Mitchell was not going to let a limp dim the smile on his face last month at the Jack Daniel's Music City Knockout, presented by Cooper Tires, as he made his way around Nashville's Bridgestone Arena.
Mitchell was in Nashville to support his cousin, Ezekiel, and the effects of a broken right leg on March 16 at the Pendleton Whisky Velocity Tour event in Wheeling, West Virginia, were still visible.
The 24-year-old had a slight hobble as he walked throughout the locker room, but Mitchell quickly said that his leg would not be an issue now that he is ready to ride again.
"I was kind of scared," Mitchell admitted. "I thought, 'Man, I can't spur no more!' But I can still ride the barrel and everything. I have been getting on the buckrite and Mighty Bucky and riding horses."
Mitchell said is ready to kick his leg out and ride his way into World Finals contention with two months remaining in the season.
The Fresno, Texas, bull rider is set to compete in his first Pendleton Whisky Velocity Tour event since that broken leg when the sport's expansion tour begins its stretch run to the Finals Wednesday night with the PBR "Bucking on the Rez," presented by Navajo Parks and Recreation, in Window Rock, Arizona.
"I am probably going to enter the rest of the Velocities this year," Mitchell said. "I was told that I still had enough points right now to go to the Velocity Finals."
Fans can watch all of the action from Window Rock live on RidePass beginning at 8:30 p.m. ET.
Eighteen of the Top 35 riders in the world will be joining Mitchell in Window Rock. Also tentatively expected to compete are No. 2 Chase Outlaw, No. 3 Jose Vitor Leme, No. 4 Joao Ricardo Vieira, No. 5 Cody Teel, No. 7 Luciano de Castro, No. 9 Marco Eguchi, No. 12 Lucas Divino, No. 13 Matt Triplett, No. 15 Cody Jesus, No. 16 Claudio Montanha Jr., No. 20 Silvano Alves, No. 21 Dalton Kasel, No. 24 Brennon Eldred, No. 25 Alisson de Souza, No. 27 Rubens Barbosa, No. 29 Taylor Toves, No. 30 Eduardo Aparecido and No. 31 Keyshawn Whitehorse.
RELATED: Check out the Window Rock draw
Mitchell is 15th in the Velocity Tour standings, and is still very much in contention for the $50,000 Velocity Tour championship. He is only 194.17 points out of the top spot with six Velocity Tour regular-season events remaining until the Pendleton Whisky Velocity Tour Finals in Las Vegas on Nov. 2-3.
The Top 2 finishers in the Velocity Tour standings following the Velocity Tour Finals earn an automatic bid to the PBR World Finals on Nov. 6-10 at T-Mobile Arena. So too do the top two finishers in the event average.
RELATED: Ezekiel and Ouncie Mitchell appreciate advice from Sampson
Mitchell had to get a rod and two screws inserted into his leg at Ohio Valley Medical Center in March after he was hurt attempting to ride Uptown Funk (6.46 seconds).
"I got hung up, and then I landed wrong and Uptown Funk just mashed me into the ground," Mitchell recalled. "My leg was under my chest."
Mitchell then snapped his fingers and shook his head.
"Man, it pissed me off, too. Six months off from bull riding. (The doctors) said my leg healed like two centimeters shorter than the other leg."
Mitchell was on the cusp of a full-time spot on the Unleash The Beast at the time of his injury. He was 40th in the world standings after previously competing in three UTB events earlier in the year.
Mitchell has bucked off five consecutive bulls in his first two Touring Pro Division events since the injury. Wednesday will be his first event back on the Pendleton Whisky Velocity Tour.
He is ready to turn things around in Window Rock.
"Heck yeah, I am thinking about winning everything," Mitchell said.
Follow Justin Felisko on Twitter @jfelisko