Pendleton Whisky Velocity Tour
LVCVA Road to Vegas: Leme turns focus to Window Rock following second-place finish in Belton; Outlaw ready to ride
By : Justin Felisko
September 03, 2019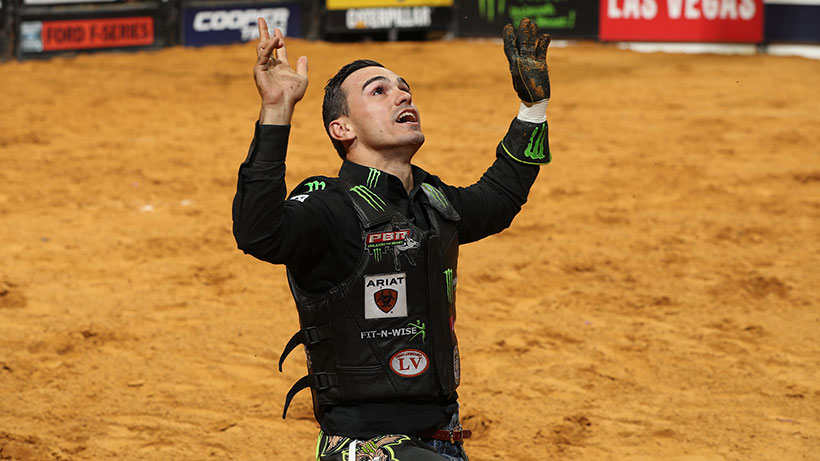 PUEBLO, Colo. – Points. Points. Points.
Between now and the 2019 PBR World Finals on Nov. 6-10, one word – points – will be gaining more and more usage as the months turn into weeks and weeks turn into days before the start of the World Finals at T-Mobile Arena.
That is why world title contenders Chase Outlaw and Jose Vitor Leme will be continuing their pursuit of Jess Lockwood and the 2019 World Championship on Wednesday night at the Pendleton Whisky Velocity Tour's PBR "Bucking on the Rez," presented by Navajo Parks and Recreation Department in Window Rock, Arizona.
Outlaw and Leme can essentially cut world leader Lockwood's grasp on the top ranking nearly in half with a victory at Dean C. Jackson Arena. One rider can earn up to 220 world points with a Round 1 and event win on the Velocity Tour.
Fans can watch all of the action from Window Rock live on RidePass beginning at 8:30 p.m. ET.
Outlaw trails Lockwood by 400 points, while Leme is just 468.34 points behind.
"Points," Leme said with the help of Paulo Crimber translating. "Last year, I had to go to the (last) Velocity (event) toward the end of the season to be able to make the (Velocity) Finals. I knew how important that was. This year, I am already in second (in the Velocity Standings). I am going to go to as many of them as I can to try and win. I know how important those points are."
For Outlaw – the No. 2-ranked bull rider in the world standings – Window Rock is his first event since the Jack Daniel's Music City Knockout, presented by Cooper Tires, while Leme hits Window Rock following a second-place finish at the TPD event in Belton, Texas.
Leme went a combined 2-for-3 at the Touring Pro Division event on two entries. He rode Accelerator for 88.5 points to earn the victory in the championship round after riding Fire Jacket for 84.5 points in Round 1.
Lockwood has decided to not compete in Window Rock this week, opting to rest and make sure he is as healthy as possible for the final six Unleash The Beast regular-season events of 2019. The UTB resumes Friday night with the Anaheim Invitational at the Honda Center.
"I am not too worried, honestly," Lockwood said in Nashville. "I probably wouldn't go to the Velocity Finals. The way I am sitting, the way I am riding, I plan on being so far ahead that I don't have to go there and risk getting hurt like Kaique (Pacheco) did last year. If I am behind, it would be something I would be worried about, but I am healthy and riding good. I plan on getting that lead going into the (World) Finals and making it tough for anyone to catch me by Finals time.
"As long as I can stay healthy as everyone has seen this year, I am going to ride my bulls, stay on, get points and dominate. I am just trying to stay healthy. The way to do that is be good for the big events."
As of Sept. 1, Leme is one of only three riders in the Top 10 of the world standings eligible for the 2019 Pendleton Whisky Velocity Tour Finals on Nov. 2-3 in Las Vegas. No. 8 Derek Kolbaba and No. 9 Marco Eguchi are also eligible to ride at the Velocity Finals, where one rider can pick up 440 points toward the world standings.
"To win the Velocity Finals going into the World Finals is a lot of points that can help me in that deal," Leme said.
Outlaw has zero points in the Velocity standings, while Lockwood is ranked No. 43 with 105 points.
The Top 35 riders in the Velocity Tour standings qualify for the PBR's expansion tour's season finale at the South Point Hotel Casino & Spa.
The No. 35-ranked rider in the Velocity standings is currently Alan de Souza (170 points).
Leme – the No. 2 rider in the Velocity Tour – may also overtake the No. 1 position in the Velocity Tour standings in Arizona on Wednesday.
The 2017 Rookie of the Year has won four consecutive regular-season Velocity Tour events and trails No. 1 Velocity rider Danilo Carlos Sobrinho by 17 points.
"Leme has to be the favorite," RideTV analyst Colby Yates said. "He has been to two events and won both of them. If you take it back a further step to last year, he won his last two. He has been perfect across the board. He is only 17 points out of the No. 1 spot and he has been to two events this year. He makes it look dead easy."
Sobrinho is currently out of competition as he remains in the hospital for observation following a ranching accident last week in Decatur, Texas, when he fell off his horse and hit his head. Sobrinho is awake, coherent and has been able to walk around his hospital room after being placed in a medically induced coma last week in Fort Worth. There is currently no timetable on when Sobrinho will return to competition.
Leme is one of 18 Top 35 riders in the world standings tentatively expected to compete in Window Rock.
Also riding in Window Rock is No. 4 Joao Ricardo Vieira, No. 5 Cody Teel, No. 7 Luciano de Castro, No. 9 Eguchi, No. 12 Lucas Divino, No. 13 Matt Triplett, No. 15 Cody Jesus, No. 16 Claudio Montanha Jr., No. 20 Silvano Alves, No. 21 Dalton Kasel, No. 24 Brennon Eldred, No. 25 Alisson de Souza, No. 27 Rubens Barbosa, No. 29 Taylor Toves, No. 30 Eduardo Aparecido and No. 31 Keyshawn Whitehorse.
Follow Justin Felisko on Twitter @jfelisko