Global Cup Power Rankings: Shephard on the rise for Australia
By : Justin Felisko
August 29, 2019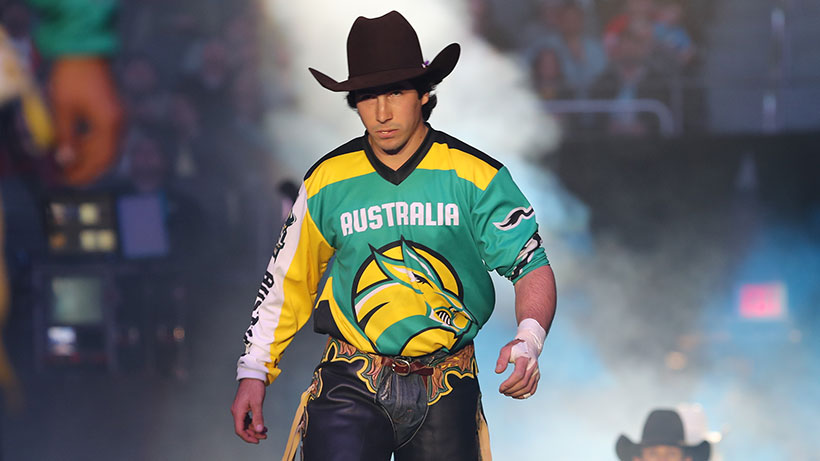 PUEBLO, Colo. – Team Australia coach Troy Dunn has an appreciation for Australians who have experience competing on North American soil, especially when it comes to riding the ranker American-caliber bulls on the Unleash The Beast.
The Unleash The Beast is currently lacking an Australian-born rider, but there is one rider who is on the cusp of changing that narrative very shortly.
Kurt Shephard is 3-for-7 in three UTB events since returning to the United States for the first time since breaking a bone in his left knee on the Pendleton Whisky Velocity Tour in Fresno, California, in March.
"If you are here, it shows you want to be here," Shephard said. "If you believe in yourself, you are going to get it done eventually. Just keep getting on them. Troy believes that is a big part of it, especially with the Global Cup being in Dallas.
"I am getting stronger mentally being here."
Shephard is on the doorstep of the Top 35 – a mere 57.5 points away – and he is on pace for a career-best finish in the world standings. His previous best season was a 40th-place showing in 2016.
The 25-year-old has been unable to reach his full potential in past seasons because of a series of injuries, including a broken back last year in Wichita, Kansas, on the Velocity Tour that held him back from riding for his home country at the Sydney Global Cup.
"A few hurdles I have had to overcome, but if you want to ride bulls, this is what you have to do," Shephard said. "I feel like I have been back a couple of times since then, but nothing really clicked. I am now back to riding and having fun.
"I remember watching Sydney live and I was thinking, 'I wish I was riding.' It was still cool watching and being a part of it."
Shepard is healthy and looking to qualify for his first PBR World Finals after appearing in 2016 as an alternate.
A World Finals qualification and representing his country on the PBR's biggest stage on Nov. 6-10 at T-Mobile Arena would certainly help his chances of making Dunn's 2020 squad.
"I got a return flight booked a couple days after the World Finals," Shephard said. "The plan is to stay until then."
Shephard is the No. 5-ranked rider in Australia, and his 63.2% riding average in the Land Down Under this season is second-best on tour behind Brady Fielder (65.6%).
The Mareeba, Australia, bull rider was going to return to the U.S. sooner this summer following a 10-for-16 showing at PBR Australia events, but Shephard wanted to stay home to attend a training camp Dunn held for a group Australian-born riders after the Monster Energy Newcastle Invitational.
"We had a little bit of a camp after Newcastle with a few of the guys that may get on the team," Shephard said. "We did some fitness testing there and we have to do another at some time. A lot of strength testing with pull-ups with weight, pushups, sit-ups and rowing.
The 2020 Global Cup rosters will be composed of six riders and one alternate, all of which will be selected by each country's coaching staff.
The next PBR Australia event is this Saturday's Touring Pro Division event in Cunnamulla, Queensland.
Here are six other potential riders for Team Australia with the Global Cup less than six months away.
No. 18 Aaron Kleier
The reigning PBR Australia champion has turned down a spot on the Unleash The Beast to stay home and pursue a second PBR Australia championship. Kleier is arguably one of the top up-and-coming riders in Australia. The No. 1 rider in Australia is 25-for-40 with three wins this season. He made his UTB debut in Cheyenne last month and nearly rode Legit (7.97 seconds).
No. 38 Brady Fielder
The No. 2 rider in Australia also got his feet wet in Cheyenne, bucking off Invizibull Fire in 7.33 seconds. Fielder went 10-for-16 in Canada this summer before returning to Australia at the beginning of August. He didn't waste any time either, going 2-for-3 to win the Monster Energy Newcastle Invitational. Fielder is No. 38 in the world standings and in contention for a berth to the PBR World Finals.
No. 40 Cody Heffernan
The 2016 PBR Australia champion just returned to action in Newcastle, going 0-for-1, after tearing ligaments in his knee earlier two months ago at the PBR State of Origin in Sydney. At the time of his injury, Heffernan was 11-for-20 with a PBR Australia-best four event wins. Heffernan is 2-for-6 in two previous Global Cup appearances.
No. 52 Lachlan Richardson
The seven-time PBR World Finals qualifier is not competing in the United States for the first time in his career, but he is still the most experienced rider available for Team Australia. Richardson is fourth in PBR Australia and is 15-for-34 (44.1%) with eight Top-5 finishes.
No. 46 Cliff Richardson
Richardson is 5-for-7 in his Global Cup career, which is the best all-time for an Australian bull rider. The 28-year-old brings leadership intangibles to Team Australia and has been a team captain for Dunn in the past. Richardson has struggled some this year in Australia and is only 13-for-32 (40.6%) with one event win.
No. 96 Nathan Burtenshaw
Burtenshaw is still working his way back from his second broken collarbone in back-to-back seasons that he sustained in January. The 25-year-old used an 85.5-point ride on Mickey Mouse to advance to the second round of the Jack Daniel's Music City Knockout, presented by Cooper Tires, but the No. 96-ranked rider in the world is now out of injury exemptions. Burtenshaw, who is also dealing with a torn meniscus, will look to get back into the Top 35 via the Pendleton Whisky Velocity Tour, beginning next week in Window Rock, Arizona (Sept. 4 on RidePass at 8:30 p.m. ET).
Follow Justin Felisko on Twitter @jfelisko