Marchi: "There is a lot of responsibility to coach this team"
By : Justin Felisko
August 29, 2019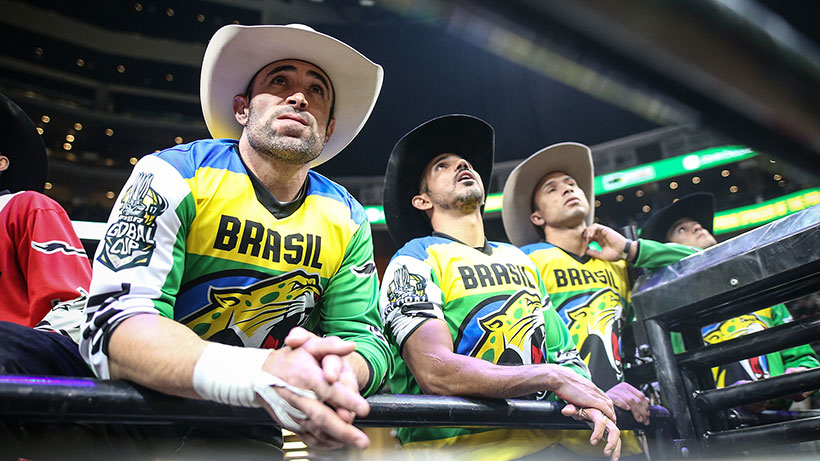 PUEBLO, Colo. – The shoes to fill are big, but Brazil may end up being in good hands with 2008 World Champion Guilherme Marchi taking over as head coach for the 2020 WinStar World Casino and Resort Global Cup USA, presented by Monster Energy.
Marchi was elevated to the head coaching position last month after previous Brazil coach Renato Nunes stepped down because of "increasing time demands."
It is now up to Marchi to keep Brazil on top following Nunes' perfect record as head coach.
Marchi understands just how important this role is for Team Brazil.
"It is very hard, but there is a lot of responsibility to coach this team because we have a lot of great bull riders," Marchi said. "But only six are going to ride, and one alternate. We will see who is going to be riding better because it is only two days. I hope we can find a good team to make a good event, because the other team is very strong.
"The United States has a great team. Good cowboys. They are going to stick together because they do not want to lose to Brazil."
Nunes has positioned Brazil to the cusp of a Global Cup dynasty. The 2010 World Champion coached Brazil to back-to-back Global Cup victories in Sydney, Australia, and in Arlington, Texas.
The Brazilians beat Team USA by only two rides combined.
Team Brazil now has the chance to become the first bull riding nation to win three consecutive Global Cup or World Cup championships.
"Brazil is getting there," Marchi said. "The American guys are very cold. They don't care about nothing. They just want to get on the tough ones and show how tough they are. The Brazilians play it different. They play it by score and try to stay on. They are very strong and are very good. They hustle. It is going to be a good fight. Whoever puts up more scores there will be a champion."
Time will tell if losing Nunes will hurt Brazil's chances in 2020, but Marchi is arguably the next best option for Brazil.
Team Brazil has undergone three coaching changes in four Global Cups
New assistant coach Robson Palermo coached Brazil to a runner-up finish in Edmonton.
"I am so happy to be part of the Brazil team again," Palermo said. "I have a great relationship with Guilherme. He is a great friend of mine. This is going to be really good for us to be together working. Guilherme is a great guy to be around, and I am very happy to work (with him) again."
Marchi's accolades as a rider speak for themselves – the most qualified rides all time (635), 15 consecutive World Finals qualifications, a World Finals event title in 2005 and, of course, the 2008 World Championship.
Still, what may be Marchi's best attributes for the coaching Brazil will be his experience on the international stage and knowledge of today's riders, seeing as he is only one year into retirement.
Marchi competed at two of the first three Global Cups and saw what it took for Brazil to win in Sydney, and what led to defeat in Edmonton, Alberta, two years ago.
He also was a member of every Brazil World Cup team from 2007-2010, going a combined 11-for-22 (50%) and leading Brazil to two victories.
Marchi will use his past experiences and knowledge of today's riders when it comes time to select his seven-man roster, he said.
The 2020 Global Cup is the first Global Cup where coaches will have full autonomy on the roster selection process. Teams will also take their best 10 scores average instead of 12.
"I know there will be more conversation next year about the rules," Marchi said. "Whoever rides better will win. Putting up the 10 scores over there will be easy. I know the riders are good talents and they are all good riders. There are a lot of good bulls there. I need to pay attention to what kind of riders I put on, how many left guys and how many right guys to format those bulls."
Marchi and Palrermo saw how a non-team-first attitude in Edmonton derailed Brazil.
"You have to be strong together, everyone," Palermo said. "Our team was strong that time and really great guys rode, but it didn't come together. When the team is together and has the same mind, same everything, you are going to win every time."
Marchi was part of a youth movement that won the title in Sydney when he played the role of unofficial assistant coach as Team Brazil's alternate.
The 37-year-old is going to be searching for team-first riders.
"The team needs to be together," Marchi said. "Some of those guys don't agree and don't want to get on some bulls, but the team needs to be available for everything. I know it is going to be pretty tough. It is going to be tough competition."
Follow Justin Felisko on Twitter @jfelisko