Eguchi to channel World Finals experience on Championship Sunday in Nashville
By : Justin Felisko
August 25, 2019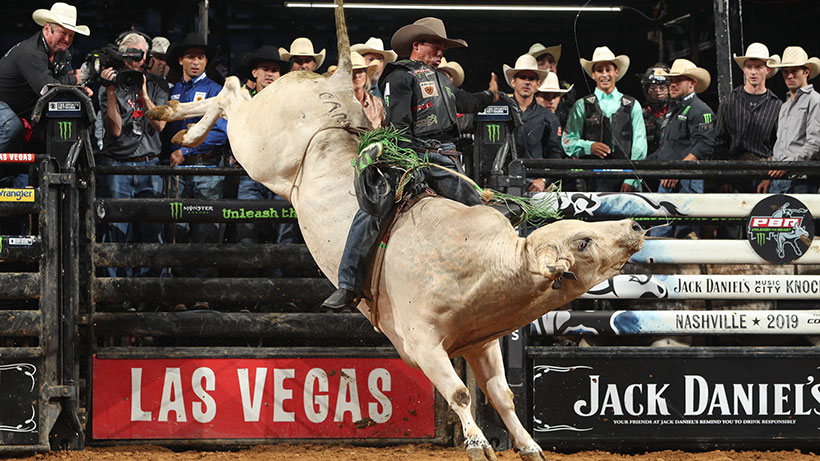 NASHVILLE, Tenn. – Marco Eguchi put forth the greatest effort of his career last year when he went 5-for-6 to win the 2018 PBR World Finals.
During Eguchi's march to the event title in Las Vegas, the Poa, Brazil, bull rider had to overcome being knocked out by Spotted Demon right after he recorded a 94-point ride on the 2018 World Champion-contending bull in the second round.
Eguchi had to take on the rankest bovine beasts in the world over the course of five days at T-Mobile Arena on the Las Vegas Strip.
That experience that may help Eguchi prepare for what will be awaiting him Sunday at Bridgestone Arena.
The winner of the Jack Daniel's Music City Knockout, presented by Cooper Tires, will have to attempt four bulls live on CBS national television (4 p.m. ET) in a span of two hours.
It is a daunting task for any bull rider, especially considering at the World Finals the riders attempt six bulls in five days.
"The World Finals is a lot more pressure," Eguchi said. "It's a lot of things involved with it. Many points, a lot of money. Nashville is still a hard one. You have to ride many bulls at the same time. But yeah, it's not easy, but it's not as hard as the World Finals."
Eguchi heads into Round 2 tied for second in the event with Michael Lane (87.75 points on Heartless) after riding Milky Chance for 87.75 points in Round 1 Saturday night.
Thirteen riders that advanced to Round 2 via a qualified ride: Dalton Kasel (89.25 points on Kamabugu), Eguchi (87.75 points on Milky Chance), Michael Lane (87.75 points on Heartless), Ezekiel Mitchell (87.25 points on Coy Dog), Luciano de Castro (87 points on Check It Out), Jose Vitor Leme (86.5 points on Crazy Doc), Silvano Alves (86.5 points on The Joker), Matt Triplett (86 points on Paint The Town), Dakota Buttar (85.5 points on Newsom), Kurt Shephard (85.5 points on Sugar Boom Boom), Nathan Burtenshaw (85.5 points on Mickey Mouse), Cody Teel (83.75 points on Whiskey) and Dener Barbosa (83.75 points on Poncho Villa). Twelve riders advanced to Round 2 courtesy of their current world ranking: Jess Lockwood, Chase Outlaw, Joao Ricardo Vieira, Cooper Davis, Derek Kolbaba, Daylon Swearingen, Lucas Divino, Cody Jesus, Stetson Lawrence, Claudio Montanha Jr., Mason Taylor, and Cody Nance.
RELATED: Check out the draw for Round 2
The Top 8 riders via aggregate score following the second round will advance to Round 3 on Tuesday night. Round 4 will then consist of the top four riders in the aggregate based upon the previous three rounds.
Round 5 will feature every rider who posted a qualified ride in Round 4. A minimum of two riders will compete in Round 5. If only one rider covers in Round 4, then the PBR will draw back one rider based on aggregate scores following the completion of Round 4.
The rider with the highest score in Round 5 will win the title of Last Cowboy Standing. If all riders buck off in Round 5, then the Last Cowboy Standing crown will go to the rider with the highest aggregate score among those who attempted a bull in Round 5.
"It is kind of like going to the practice pen," Eguchi said. "You have to get on three or four bulls. Well, I feel good. Let's see."
Eguchi, who has only ridden three consecutive bulls once this season, has a rematch against Udder Lover (25-9, UTB) for Round 2. Udder Lover bucked Eguchi off in 5.36 seconds at the 2018 Unleash The Beast event in Glendale, Arizona.
The No. 24-ranked bull rider in the world standings could rocket into the Top 10 with a PBR Major win Sunday.
It would also be the biggest win of Eguchi's career outside of the World Finals. The winner of the Music City Knockout will win more than $100,000.
"When I won the World Finals, it gave me the confidence to know I can win every event," Eguchi concluded. "I am going to do my best and see."
Follow Justin Felisko on Twitter @jfelisko