Leme in position to leave Nashville as new world No. 1 heading into Anaheim
By : Justin Felisko
August 24, 2019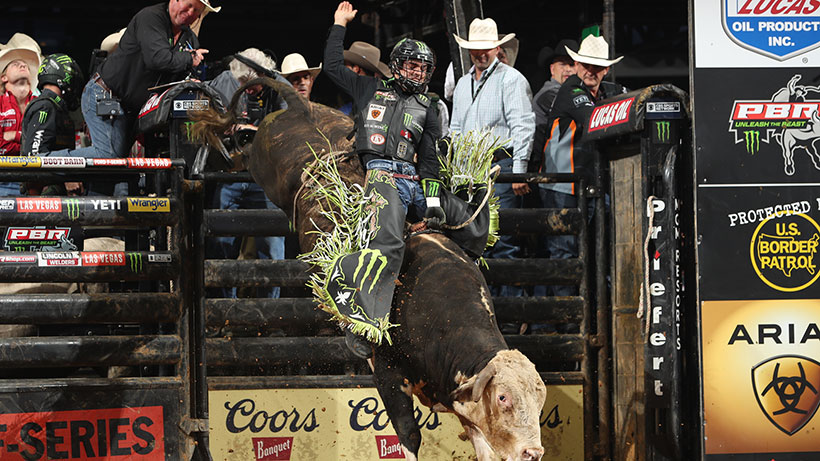 NASHVILLE, Tenn. – Jose Vitor Leme is ready for the beast that awaits Sunday afternoon at Bridgestone Arena.
The No. 3-ranked bull rider in the world is prepared to ride four bulls in a span of two hours during the conclusion of the Jack Daniel's Music City Knockout, presented by Cooper Tires, live on CBS national television (4 p.m. ET).
The final PBR Major of the 2019 season will be a physical and mental test for the 2017 PBR World Finals event winner, but Leme believes his background as a semi-pro soccer player in Brazil and his athleticism overall will be his biggest assets in Nashville.
"I feel very good," Leme, who once attempted eight bulls in one practice session in Brazil when he was 18, said. "I feel great now. I exercise every week and play soccer at my house with my friends. This is very good for riding bulls too, because I keep my body good. I keep exercising. It is good for my agility. My mentality. This is awesome."
Leme was the only rider in the Top 3 of the world standings to pick up a qualified ride during Round 1 on Saturday night, positioning himself to leave Nashville potentially as the new world No. 1 bull rider when the dust settles.
The 23-year-old flawlessly covered Crazy Doc for 86.5 points.
Leme then looked on as No. 2 Chase Outlaw (2.95 seconds on Short Pop) and world leader Jess Lockwood (7.26 seconds on The Don) bucked off in Round 1.
The good news for Outlaw and Lockwood is that they will be drawn back into Round 2 seeing as there were only 13 qualified rides in Round 1.
Thirteen riders that advanced to Round 2 via a qualified ride: Dalton Kasel (89.25 points on Kamabugu), Marco Eguchi (87.75 points on Milky Chance), Michael Lane (87.75 points on Heartless), Ezekiel Mitchell (87.25 points on Coy Dog), Luciano de Castro (87 points on Check It Out), Leme (86.5 points on Crazy Doc), Silvano Alves (86.5 points on The Joker), Matt Triplett (86 points on Paint The Town), Dakota Buttar (85.5 points on Newsom), Kurt Shephard (85.5 points on Sugar Boom Boom), Nathan Burtenshaw (85.5 points on Mickey Mouse), Cody Teel (83.75 points on Whiskey) and Dener Barbosa (83.75 points on Poncho Villa). Twelve riders advanced to Round 2 courtesy of their current world ranking: Lockwood, Outlaw, Joao Ricardo Vieira, Cooper Davis, Derek Kolbaba, Daylon Swearingen, Lucas Divino, Cody Jesus, Stetson Lawrence, Claudio Montanha Jr., Mason Taylor, and Cody Nance.
Leme picked up 15 points toward the world standings to cut Lockwood's lead to 438.34 points after tying with Alves.
"This is very important because I qualify for tomorrow, and tomorrow I may have four more bulls," Leme said. "Today, I stayed on. I did my work. I am very happy for this."
Leme's qualified ride also gives him an advantage on Outlaw and Lockwood heading into Round 2. The aggregate becomes extremely important as the event advances.
The Top 8 riders via aggregate score following the second round will advance to Round 3 on Tuesday night. Round 4 will then consist of the top four riders in the aggregate based upon the previous three rounds.
Round 5 will feature every rider who posted a qualified ride in Round 4. A minimum of two riders will compete in Round 5. If only one rider covers in Round 4, then the PBR will draw back one rider based on aggregate scores following the completion of Round 4.
The rider with the highest score in Round 5 will win the title of Last Cowboy Standing. If all riders buck off in Round 5, then the Last Cowboy Standing crown will go to the rider with the highest aggregate score among those who attempted a bull in Round 5.
However, it won't be easy for Leme in Round 2.
Leme has a rematch against Smooth Operator (64-7, UTB). Leme rode the No. 2-ranked bull in the world standings for 92.5 points in Columbus, Ohio, this year when Smooth Operator uncharacteristically turned left into Leme's riding hand.
Smooth Operator has only been ridden seven times in 93 outs at all levels of competition, but three of those seven have occurred in three of the 9-year-old's past four outs.
RELATED: Check out the draw for Round 2
Outlaw proved in Cheyenne at Last Cowboy Standing that riders that bucked off in Round 1 can still rally back for the victory. In fact, Outlaw used a 93.5-point ride on Smooth Wreck and 90.5-point ride on Rising Sun in his 2-for-5 winning performance.
Only two other riders inside the Top 10 recorded a qualified ride Saturday night. No. 5 Cody Teel covered Whiskey for 83.75 points and No. 7 Luciano de Castro rode Check It Out for 87 points.
"That was a really solid bull, just to work on being patient, doing the fundamentals, just up and down," Teel said. "Really felt good. I'm ready for another one."
Teel is the defending champion in Nashville after previously winning the bracket-style event in 2018.
"It's been good," Teel said. "All I can do is just come and take advantage of opportunities, so that's just making the whistle and keep advancing in this format. So that's all I can do, keep making the whistle."
Like Leme, Teel is well aware of the grind that exists on Sunday. Teel actually attempted four bulls in one round in Cheyenne when he was awarded three re-rides at Last Cowboy Standing.
"Just drink a lot of water and hydrate," Teel said. "I sweat enough as it is, you can tell, so yeah, that's the key. Be ready for whatever they throw at you. If I have to get on 10 bulls, I have to be ready for that and go ride them all.
"I'll be ready."
Castro was helped to the PBR Sports Medicine room after his ride, aggravating a lower-body injury from a week ago in Houston, but he expects to be ready to give it a go on Sunday.
The 23-year-old picked up 40 world points for his fifth-place finish in Round 1, while Teel earned five world points with an eighth-place showing.
A PBR Major win by either Castro or Teel would propel them back into the thick of the 2019 title race with six remaining Unleash The Beast events after Nashville, including the Anaheim Invitational on Sept. 6-7 and Fairfax Invitational in Virginia on Sept. 21-22.
Castro and Teel are trying to become world title contenders, whereas Leme could leave Nashville as the frontrunner.
"I want to keep working and ride my bulls," Leme said. "Take it bull by bull. And win."
Follow Justin Felisko on Twitter @jfelisko