Teel's calm demeanor is the real deal. Just ask his dad
By : Justin Felisko
August 24, 2019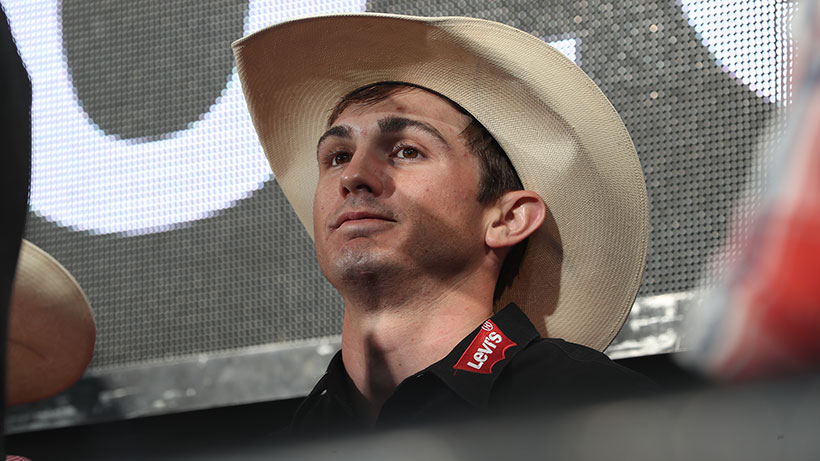 NASHVILLE, Tenn. – If Cody Teel is feeling any anxiety about chasing a PBR World Championship, good luck trying to break into the vault.
Teel has been one of the coolest, calmest and most collected bull riders in the PBR since he made his debut two seasons ago. You can even go even further back to way before he won the 2012 PRCA title, says Cody's father, Robbie.
Robbie remembers being shocked with just how calm his son was when he first started riding steers as a teenager.
"I would always ask him, 'Are you OK?'" Robbie said last weekend in Houston, where Cody finished fourth overall. "He would go, 'Yeah? Why?'
"I would be way more nervous than he was. I would then shut up. I am sitting there shaking and he is just sitting there like Humpty Dumpty. No big deal. He has always been like that. I don't know. He don't get it from me. He has always been like that."
Teel heads into this weekend's Jack Daniel's Music City Knockout, presented by Cooper Tires, just on the outskirts of the 2019 World Championship race.
The No. 5-ranked bull rider sits 2,269 points behind world leader Jess Lockwood with seven regular-season events remaining until the 2019 PBR World Finals (Nov. 6-10 in Las Vegas).
Historically, any rider within 2,000 points of the world No. 1 ranking heading into the World Finals has a chance at winning the title.
RELATED: Teel's piece of cardboard research pays off
A win at the final PBR Major of 2019 would bring with it significant world title implications for Teel, especially if Lockwood or the other four riders ahead of him fail to pick up points.
One rider can earn 1,250 points toward the world standings and a minimum payday of $100,000.
Teel knows all too well what a PBR Major can do for a world title run.
The 27-year-old finished 2018 a career-best third overall in the world title race thanks in part to the first PBR Major win of his career.
Teel won the Music City Knockout last year to pick up 800 points and push himself into the title hunt as a late challenger. Teel, though, is still bothered by his 1-for-5 winning performance last season in the old bracket-style event. You then combine that with his 1-for-6, runner-up finish in 2017 for another $50,000 payday, and Teel won $155,100 with only two rides in Nashville.
"Like I told him, somebody had to win it," Robbie said. "The chips just fell that way. Quit kicking yourself about it, and accept it and go on. That is the way bull riding is. We still talk about it and I think it still bothers him."
RELATED: Teel: "You're never really satisfied until you're No. 1"
Cody ultimately fell short of a gold buckle by 1,927.5 points last year, but that may have to do more so with Teel missing three months because of a broken ankle in March. He was the No. 4-ranked bull rider at the time of his injury.
Teel is no stranger to how grueling this new format in Nashville this weekend can be.
Last Cowboy Standing at Cheyenne Frontier Days featured the same progressive-elimination event format that Nashville has.
Forty riders will begin in Round 1 with the Top 25 scores advancing to Round 2. The Top 8 riders via aggregate score following the second round will then advance to Round 3. Next, Round 4 will then consist of the top four riders in the aggregate based upon the previous three rounds.
Essentially, the first four rounds will be cut down from 40 riders to 25 to eight to four.
Round 5 will feature every rider who posted a qualified ride in Round 4. A minimum of two riders will compete in Round 5. If only one rider covers in Round 4, then the PBR will draw back one rider (based on aggregate scores following the completion of Round 4).
The rider with the highest qualified ride in Round 5 is the winner. If all riders buck off, then the winner will be based on the event aggregate.
Teel attempted three bulls in a span of roughly 12 minutes in Cheyenne after receiving three re-rides in Round 3. Teel attempted five bulls that night, and if he had advanced out of Round 3, he could have attempted more bulls (seven) then he would during a week at the World Finals (six).
Teel never complained or became frazzled during the trials and tribulations in Cheyenne.
Part of that stems back to his teenage years getting on steers.
Robbie, a former PRCA bull rider in 1980s, would challenge Cody in the practice pen with some chute-fighting bulls.
"I would always tell him be a cowboy first," Robbie said. "He got on a lot of bad bulls. We were messing with a few bulls back then. He was always wanting to get on. I know I was nervous. I have never seen him really fear. He was 15 or 16 and getting on some real good bucking bulls."
That cowboy mentality will be needed again on Sunday at Bridgestone Arena.
RELATED: Teel gets first 2019 win with daughter in attendance
Teel will have to get on a minimum of four bulls in a span of two hours Sunday if he rides Whiskey (6-2) in Round 1 on Saturday night at Bridgestone Arena.
Fans can watch Round 1 Saturday night live on CBS Sports Network at 8 p.m. ET before tuning in on Sunday to CBS national television for the live conclusion of the event.
Teel has openly said in recent weeks that he understands the need to make up ground in the title race.
He only has to look back to a year ago to know he can do just that.
Teel very quietly went on an impressive run to end the 2018 season – riding 10 of his final 16 bulls, three of them for 90 or more points, to conclude the year ranked No. 3 in the world.
He will likely need that kind of performance over the final two months of 2019 if he hopes to catch the red-hot Lockwood and his 70.27% riding average.
Robbie believes his son has a PBR world title run in his future, potentially even this season.
His son has always found a way to win. Two-state titles in Texas. A college national championship for Sam Houston State in 2011. Then a PRCA title the next year.
"He is so determined," Robbie said. "He is on the rail right there. One thing about him. Me, I get highs and lows. He stays the same. I know what he is thinking right now, what he wants to do. I'm not bragging, but he has been successful from the high school level to college and pro rodeo. He wants to do the same thing here.
"Once again, he has always been a winner at every level. That is what makes me think he will find a way to do it."
Follow Justin Felisko on Twitter @jfelisko