Vieira hopes strong showing in Nashville propels him to ninth PBR World Finals
By : Justin Felisko
August 23, 2019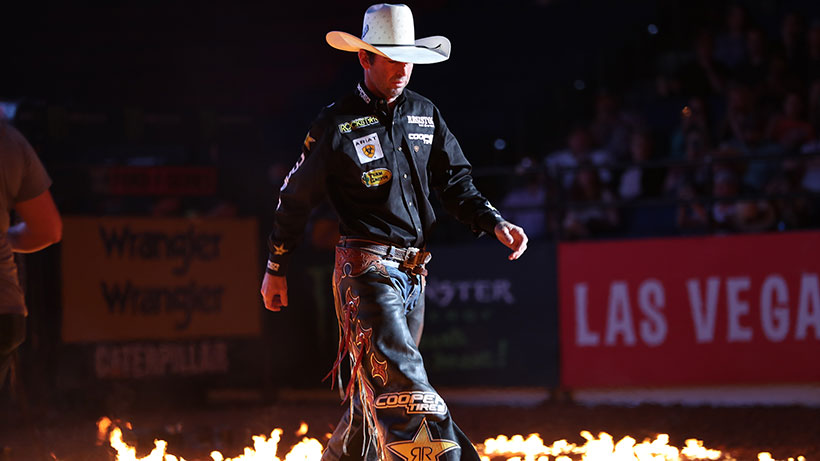 NASHVILLE, Tenn. – Fabiano Vieira's face lights up at the thought of returning to Bridgestone Arena for the seventh time in his career.
Vieira has had some of his best moments at the Music City Knockout, as well as some of his most painful.
In fact, Vieira came extremely close to winning three consecutive Music City Knockout titles from 2015-2017 when Nashville was a bracket-style event.
Vieira advanced to the final round in 2015, but he was unable to ride Sasquatch. A rookie by the name of Kaique Pacheco would ride Percolator for 76.5 points and the inaugural Music City Knockout championship.
A year later, Vieira was going to be set up for a rematch against Pacheco in the final round.
However, Vieira dislocated his left shoulder (riding arm) attempting to ride Hammer It Again in the semifinals. Therefore, Cooper Davis took Vieira's spot in the final round and defeated Pacheco, ultimately going on to win the 2016 World Championship.
Vieira finally got his PBR Major payday inside Bridgestone Arena in 2017. In a memorable performance, he was left bloodied, beaten and exhausted by the time he was holding a $100,000 winner's check on the shark cage.
The Perola, Brazil, native went 2-for-6 in a 24-hour span in Nashville in the former bracket-style event where riders would win head-to-head matchups with either a qualified ride or buckoff time.
Vieira's last bull – Biker Bob – gashed open Vieira's left cheek with his horn, while his second-to-last bull – Seven Dust – nearly dislocated his shoulder.
The grizzled veteran with five o'clock shadow had blood all over his face and a bag of ice taped around his left shoulder inside the locker room after the event.
The win also guaranteed Vieira a spot on the inaugural Team Brazil Global Cup roster in 2017.
So what is it about Nashville that seems to always bring out Vieira's best?
"I love Nashville," Vieira said with a massive grin. "I don't know. Maybe it's because I love to sing. I love Nashville. I was supposed to win it three times in a row."
Vieira is 13-for-23 (56.52%) in Nashville and has never finished lower than 13th overall.
A win this weekend at the final PBR Major of the 2019 season – the Jack Daniel's Music City Knockout, presented by Cooper Tires, would help Vieira – the oldest rider on the premier series – get back inside the Top 35.
One rider can earn up 1,250 points toward the world standings in Nashville and a minimum of $100,000.
Fans can watch Round 1 live on CBS Sports Network Saturday at 8 p.m. ET and the conclusion of the Music City Knockout Sunday live on CBS national television at 4 p.m. ET. RidePass will also have corresponding coverage.
Vieira is working his way back from right shoulder surgery on his free arm that Dr. Tandy Freeman performed in January after Vieira had put off surgery for five years.
"My surgery was easier than I expected, far from what I thought it would be," he said. "I had fear. I regret not having done this surgery a long time ago, but I think now there is no turning back."
Vieira has drawn Night Sweats (14-7, UTB) for Round 1 in Nashville.
The 37-year-old has zero points in the world standings, but he earned his first qualified ride of 2019 season last weekend at the WinStar World Casino and Resort Houston Invitational, presented by Bass Pro Shops, by covering Joker for 85.25 points.
"This is good," Vieira said. "This helps my confidence start to come back, the more I ride good. I don't swing my shoulder too much. For a long time it would always (hurt). Now it is mentally (reminding myself) it won't hurt."
The last qualifier spot for the 2019 PBR World Finals (Nov. 6-10 in Las Vegas) is held by No. 36 Brady Fielder (552.5 points).
Vieira is confident he can make up ground over the next seven regular-season events, and on the Pendleton Whisky Velocity Tour, and qualify for the World Finals.
You don't have to look far for examples of riders that missed the first half of the season to still come back and make the World Finals post shoulder surgery – Chase Outlaw and Matt Triplett being two of them.
"I am putting it in God's hands, and I am starting to ride like before," Vieira said. "I think I will make the World Finals this year. I have a couple of events to make points for me to make the Finals. I will not miss the Finals this year."
Vieira, who has finished inside the Top 15 of the world standings in five straight seasons, also has intentions on qualifying for the 2020 PBR World Finals, which would then be his 10th consecutive Finals. Vieira came to the United States in 2010 and qualified for his first World Finals a year later.
His career is far from over, Vieira says.
"Retirement did not even cross my mind," Vieira said through a translator before Tulsa. "I still think I have a few more years I can handle. I'm riding well."
Follow Justin Felisko on Twitter @jfelisko