LVCVA Road to Vegas: Nance overcomes dislocated hip and is on pace for 11th consecutive trip to Las Vegas
By : Justin Felisko
August 22, 2019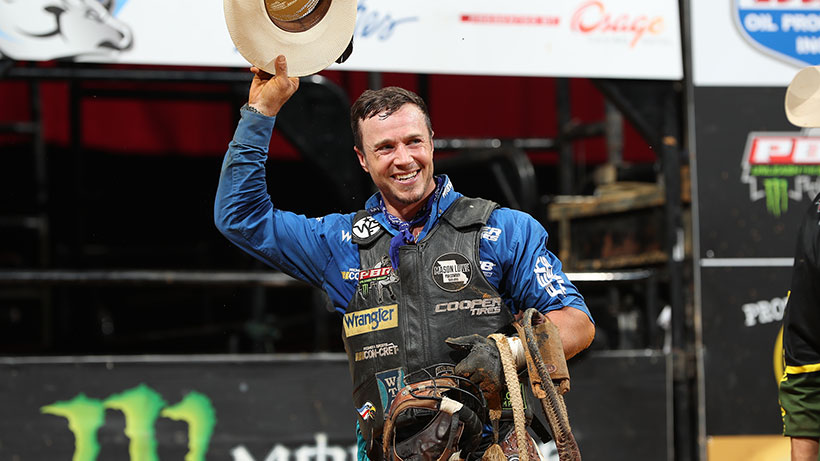 PUEBLO, Colo. – There have been multiple examples these past few weeks that show Cody Nance is back to his old self.
You can point at Nance's recent post-ride dance moves to the viral song "The Git Up" by Blanco Brown as proof that the 31-year-old is feeling great in the arena.
But the more tangible proof is the reason why Nance has been able to get loose, be comfortable and celebrate with his wife, Korie, and other loved ones following the past two Unleash The Beast events.
Nance entered the Express Ranches Classic, presented by Osage Casino, in Tulsa, Oklahoma, clinging to the No. 32 spot in the world standings and riding only 34.09% of his bulls at all levels of competition in his comeback bid from a dislocated left hip sustained on March 23.
Nance, though, bounced back in Tulsa by going 3-for-3, for a season's-best second-place finish and 285 world points.
He jumped 14 spots in the world standings just like that, dousing any talk about being cut from the Unleash The Beast.
"I never felt like things were off track," Nance said. "I know sometimes you ride and sometimes you buck off, and you can't let those buckoffs define you. You have to keep believing in what you are capable of and keep on trying to prove that to yourself until you do.
"No one gives a crap about you if you don't stay on. They don't even remember your name to put it on the check."
Nance built off his Tulsa showing by riding World Champion Bull contender Fearless for 87.75 points last week at the 15/15 Bucking Battle in Houston for another 65 world points.
He is only the second rider in 21 premier series outs to cover the D&H Cattle Company bovine athlete.
The longtime veteran was a last-minute injury replacement for No. 7 Luciano de Castro.
"My wife messaged me and let me know I was the next guy in line," Nance said. "I had already changed back into my street clothes and was getting ready (for Sunday). I had an opportunity to redeem myself. It didn't matter what I had, I was just happy to get on another one and finish the night strong.
"I couldn't tell you what he did. He felt like he was all over the place. At times I was in shape, and at times I was out of shape. At times he was just bucking, and I was just trying to ride him."
Nance heads into this weekend's Jack Daniel's Music City Knockout, presented by Cooper Tires, ranked 19th in the world standings.
He also is on pace to qualify for an 11th consecutive PBR World Finals, which is the second-most among active riders behind two-time World Champion J.B. Mauney. 2019 will be Ryan Dirteater's 11th World Finals overall, but he missed the 2010 Finals after not competing on the premier series that year because of injuries.
"Man, I have been blessed," Nance said. "I am not proud, I am just thankful. I have been able to stay healthy. That is the big part of it. God has given me good health, and I just continue to try and do my part, and I am glad it has worked out.
"I remember being 18 and dreaming about one, and here we are now going on 11."
World No. 2 Chase Outlaw has qualified for seven consecutive World Finals and said it's remarkable for any rider to qualify for the toughest bull riding in the world 10 consecutive years.
"Getting to 10 World Finals is like Ring of Honor (status)," Outlaw said. "You should get the Ring of Honor if you make the PBR World Finals 10 times. You are making it to the toughest bull riding in the world 10 times in a row. That is pretty badass."
Nance said, "He has told me that before. Shoot, for a guy like Chase, to be such a great bull rider and great ambassador for the sport, to say something like that about you is pretty cool and nice stuff."
Nance avoided a scare on the dirt last weekend during Round 2 of the WinStar World Casino and Resort Houston Invitational, presented by Bass Pro Shops.
Hardball bucked Nance off in 7.53 seconds and head-butted him in the process.
He was eventually transported to St. Francis Hospital in Houston for a precautionary CT scan to make sure he had no internal injuries, and he was released later that night after tests came back negative.
According to Dr. Tandy Freeman, Nance has a sprained left sternoclavicular joint.
That is not going to stop Nance from competing at one of his favorite tour stops of the year in his home state.
"I have been doing this a long time, and have been here for a long time," Nance said. "I just have so much left in me. I am just using every moment I have to capitalize on that."
The Paris, Tennessee, native has drawn Lightning Before Thunder (13-7, UTB) for Round 1 at Bridgestone Arena on Saturday night.
Fans can watch Round 1 on CBS Sports Network at 8 p.m. ET and then the finale Sunday LIVE on CBS national television at 4 p.m. ET. RidePass will also have corresponding coverage.
Nance is only 6-for-23 in nine previous appearances in Nashville.
"Nashville is always a good one," Nance said. "I am always looking forward to it. It is close to home. I am two hours away, and most people are coming up there to support me that have been following bull riding and the PBR year round. There are a bunch of people from Tennessee that keep up with how I am doing.
"It always feels good to strap onto some cattle in front of the home crowd."
Follow Justin Felisko on Twitter @jfelisko