Whitehorse and Lockwood advance to Days of '47 Gold Medal Round
By : Ann Bleiker
July 21, 2019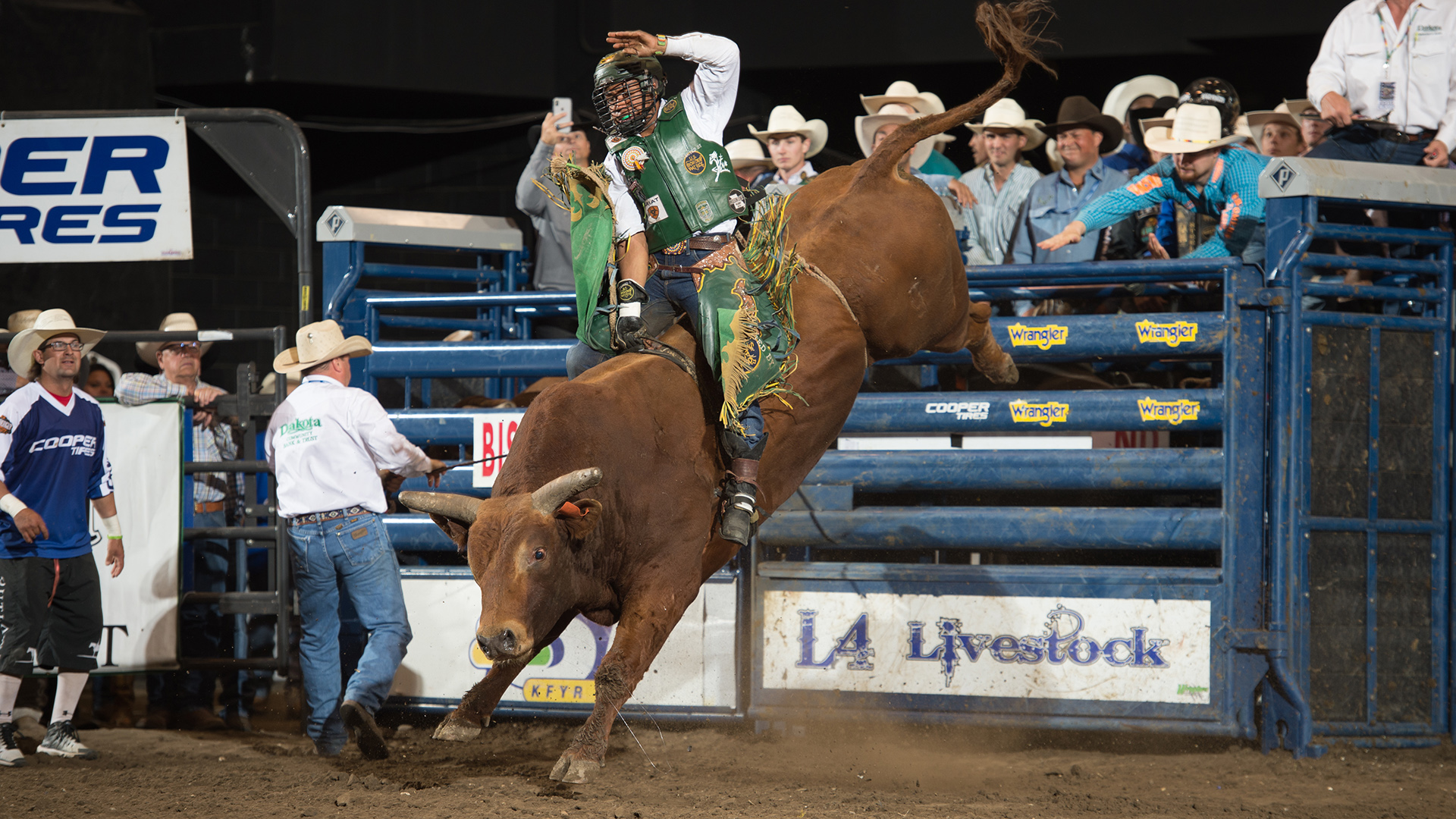 SALT LAKE CITY – The Johnson brothers are determined to defend their title at the Komatsu Equipment Days of '47 Cowboy Games and Rodeo presented by Zions Bank in Salt Lake City.
A year ago fresh off a College National Finals Rodeo Championship Kellan Johnson teamed with his brother Carson to win $50,000 each and a Gold Medal each. On Saturday night, July 20 the brothers from Casper, Wyo., easily advanced to another Gold Medal Round with a time of 7.79 seconds. In fact, the son's of PRCA World Champion Jhett Johnson were the only team with a clean run on the night. The team joining them on July 24 will be Manny Egusquiza of Marianna, Fla., and Dillon Wingeried of Stephenville, Texas, who stopped the clock in 10.53 seconds after incurring a five second penalty for only one hindleg catch. This will be that team's first appearance in the Gold Medal Round.
"There was a lot of pressure involved in that type of run as so many variables can happen," said header Kellan Johnson, about just having to make a smooth run. "I would rather have to be faster than 5.1 to rope one smooth in versus 10 seconds."
Although their world champion dad was not in the house on Saturday night the brother's said he would be on Wednesday like he was a year ago.
"It is special to have him here with us," said Carson. "He has some big footsteps to fill."
A total of 288 competitors will take their shot at a share of the over $1 million in prize money and a Gold, Silver or Bronze medal that will be awarded on Wednesday, July 24. There will be 32 competitors in each of the following events: bareback riding, steer wrestling, team roping, saddle bronc riding, tie-down roping, women's breakaway roping, barrel racing and bull riding.
Lucky for bareback rider Hunter Carter his ride was better than his get-off on Saturday night. Carter, of Malakoff, Texas, took the performance win with a score of 82 points on Bar T Rodeo's Echo Bay. He commented after the ride he was losing his handhold the whole ride, which explains his get-off right into the fence at the whistle. However, he didn't miss a step and walked back to the chutes with a smile on his face. Clint Laye of Cadogan, Alberta, took second with an 81.5 on Bar T Rodeo's War Widow to advance to the Gold Medal Round on Wednesday, July 24. Three- time world champion Will Lowe of Canyon, Texas, came up a bit short during the second performance finishing with an 80.25.
We went north of the border for the steer wrestling win on night two with Tim Kemp atop the leaderboard. Kemp of Kincardine, Ontario stopped the clock in 4.37 seconds to edge Jace Melvin of Bluffdale, Texas, with a 4.46 on the night. Both will advance for their shot at a gold medal on Utah's Pioneer Days.
Saddle bronc rider Travis Gardner will be back Wednesday after tallying 83 points aboard Bar T Rodeo's Pinto Pass to take the win tonight. Gardner of Mount Vernon, Ark., will be joined by the ever charismatic Cort Scheer of Elsmere, Neb., who finished with an 81 on Bar T Rodeo's Heart of Gold.
An avid LSU football fan Shane Hanchey will be back to try and capture a gold medal after stopping the clock in a time of 7.27 seconds. Hanchey of Sulphur, La., will be joined by Trenton Smith of Bigfoot, Texas, who took second on the night with a 10.22. The only other cowboy to record a time was Chance Thiessen of Elk City, Okla., with an 11.46. Although he does not automatically advance to the next round he did pocket $1,600 on the night.
It was a bit of a rough night for the new event of women's breakaway roping on Saturday night with only three qualified runs. Jenna Lee Hays of Weatherford, Okla., took the victory lap with a 3.78 second run followed by Winter Williams of Copan, Okla., with a 5.19. The only other qualified time was Makayla Boisjoli with a 12.73 after breaking the barrier. Hays and Williams will advance for a shot at $50,000.
Barrel racers Maggie Poloncic of Gillette, Wyo., and Sabra O'Quinn of Ocala, Fla., made their trip to Salt Lake City count in a big way as they both advanced to the Gold Medal Round. Poloncic was the top barrel racer on the night with a time of 17.179, while O'Quinn took second with a 17.416 second run.
The bull riding didn't disappoint as night two came to a close. Keyshawn Whitehorse of McCracken Springs, Utah, rode Matt Scharping's Deaconator for 90.75 points to edge the youngest PBR World Champion Jess Lockwood for the win. Lockwood of Volborg, Mont, teamed with Matt Scharping's Hoo's Counting to finish with 89 points. Both cowboys will advance for a shot at their first ever gold medal.
The full field of 32 competitors in each event will be divided into four groups of eight each and will compete in one of the first four performances (July 19-20, 22-23). The top two from each performance, along with two via the Wild Card category will advance to the Gold Medal Round on July 24. The 10 competitors in each event in the Gold Medal Round will compete in a sudden-death format with the winner collecting a Gold Medal and $50,000 cash.
The Komatsu Equipment Days of '47 Cowboy Games & Rodeo presented by Zions Bank, July 19-20 and 22-24, will take place at the $17.5 million state-of-the-art Days of '47 Arena at the Utah State Fairpark, custom designed and built for rodeo. The venue—an outdoor arena located in the heart of Salt Lake City—features over 10,000 stadium-style seats.
For only the fifth time in the history of rodeo, riders will have an opportunity to compete for Gold, Silver or Bronze Medals. The first two times were in conjunction with the Olympic Winter Games in Calgary (1988) and Salt Lake City (2002), when rodeo was part of the Cultural Olympiad and the other two times being the Days of '47 Cowboy Games and Rodeo in 2017 and 2018. This will be the first time for breakaway ropers as they were not part of the aforementioned events. The medals that will be awarded at the Days of '47 Cowboy Games & Rodeo will be produced by OC Tanner, the same company that made the Olympic medals for the champions of the 2002 Olympic Winter Games.
Tickets are still available at smithstix.com. For more information on the event visit www.daysof47cowboygames.com.
For those unable to attend in person the Komatsu Equipment Days of '47 Cowboy Games & Rodeo will broadcast live nightly at 8 p.m. MT exclusively on RidePass via RidePass.com or the RidePass mobile app. RideTV will air each round, excluding the finals, nightly at 8 p.m. MT. CBS Sports Network will air a recap of each performance on tape delay with the second performance on July 21 at 9 a.m. MT, the third performance on July 23 at 9:30 a.m. MT, the fourth on July 24 at 9:30 am., and fifth performance at 10:30 am MT. CBS will air a highlight show of the Days of '47 Cowboy Games and Rodeo on July 28 at 10 a.m. MT.
Action at the Day of '47 Cowboy Games & Rodeo takes a day off on Sunday and will return to action on Monday, July 22 at 8 p.m. MT.

# # #


Results: - Performance 2 – July 19, 2019
Bareback riding: 1. Hunter Carter, Malakoff, Texas, 82 points on Bar T Rodeo's Echo Bay, $3,200; 2. Clint Laye, Cadogan, Alberta, 81.5, $2,400; 3. Will Lowe, Canyon, Texas, 80.25, $1,600; 4. Evan Betony, Tonalea, Ariz., 78.25, $800 each.
Automatically advances to Gold Medal Round: Hunter Carter and Clint Laye

Steer wrestling: 1. Tim Kemp, Kincardine, Ontario, 4.37 seconds, $3,200; 2. Jace Melvin, Bluffdale, Texas, 4.46, $2,400; 3. Richard Coats, Hastings, Neb., 4.59, $1,600; 4. Don Payne, Stephenville, Texas, 5.83, $800.
Automatically advances to Gold Medal Round: Tim Kemp and Jace Melvin

Team roping: 1. Kellan Johnson, Casper, Wyo./Carson Johnson, Casper, Wyo., 7.79 seconds, $3,200 each; 2. Manny Egusquiza, Marianna, Fla./Dillon Wingeried, Stephenville, Texas, 10.53, $2,400; 3. Colby Lovell, Madisonville, Texas/Ty Arnold, Midway, Texas, 11.13, $1,600; 4. Garrett Chick, Salado, Texas/Ross Ashford, Lott, Texas, 11.61, $800.
Automatically advances to Gold Medal Round: Kellan Johnson/Carson Johnson and Manny Egusquiza/Dillon Wingeried

Saddle bronc riding: 1. Travis Gardner, Mount Vernon, Ark., 83 points on Bar T Rodeo's Pinto Pass, $3,200; 2. Cort Scheer, Elsmere, Neb., 81, $2,400; 3. Riggin Smith, Winterset, Iowa, 79.5, $1,600; 4. Brady Nicholes, Hoytsville, Utah, 77, $800.
Automatically advances to Gold Medal Round: Travis Gardner and Cort Scheer

Tie-down roping: 1. Shane Hanchey, Sulpher, La., 7.27 seconds, $3,200; 2. Trenton Smith, Bigfoot, Texas, 10.22, $2,400; 3. Chance Thiessen, Elk City, Okla., 11.46; no other qualified times
Automatically advances to Gold Medal Round: Shane Hanchey and Trenton Smith

Breakaway roping: 1. Jenna Lee Hays, Weatherford, Okla., 3.78 seconds, $3,200; 2. Winter Williams, Copan, Okla., 5.19, $2,400; 3. Makayla Boisjoli, Stephenville, Texas, 12.73, $1,600; no other qualified times
Automatically advances to Gold Medal Round: Jenna Lee Hays and Winter Williams

Barrel racing: 1. Maggie Poloncic, Gillette, Wyo, 17.179, $3,200; 2. Sabra O'Quinn, Ocala, Fla., 17.416, $2,400; 3. Chani Graves, Sulpher Springs, Texas, 17.679, $1,600; 4. Tasha Welsh, Dublin, Texas, 17.892, $800
Automatically advances to Gold Medal Round: Maggie Poloncic and Sabra O'Quinn

Bull riding: 1. Keyshawn Whitehorse, McCracken Springs, Utah, 90.75 points on Matt Scharping's Deaconator, $3,200; 2. Jess Lockwood, Volborg, Mont., 89, $2,400; 3. Cody Teel, Bryan, Texas, 87.25, $1,600; 4. Stetson Lawrence, Williston, N.D., 81.75, $800.
Automatically advances to Gold Medal Round: Keyshawn Whitehorse and Jess Lockwood