Year in review: how Outlaw went from catastrophic injury to world title contender
By : Darci Miller
July 21, 2019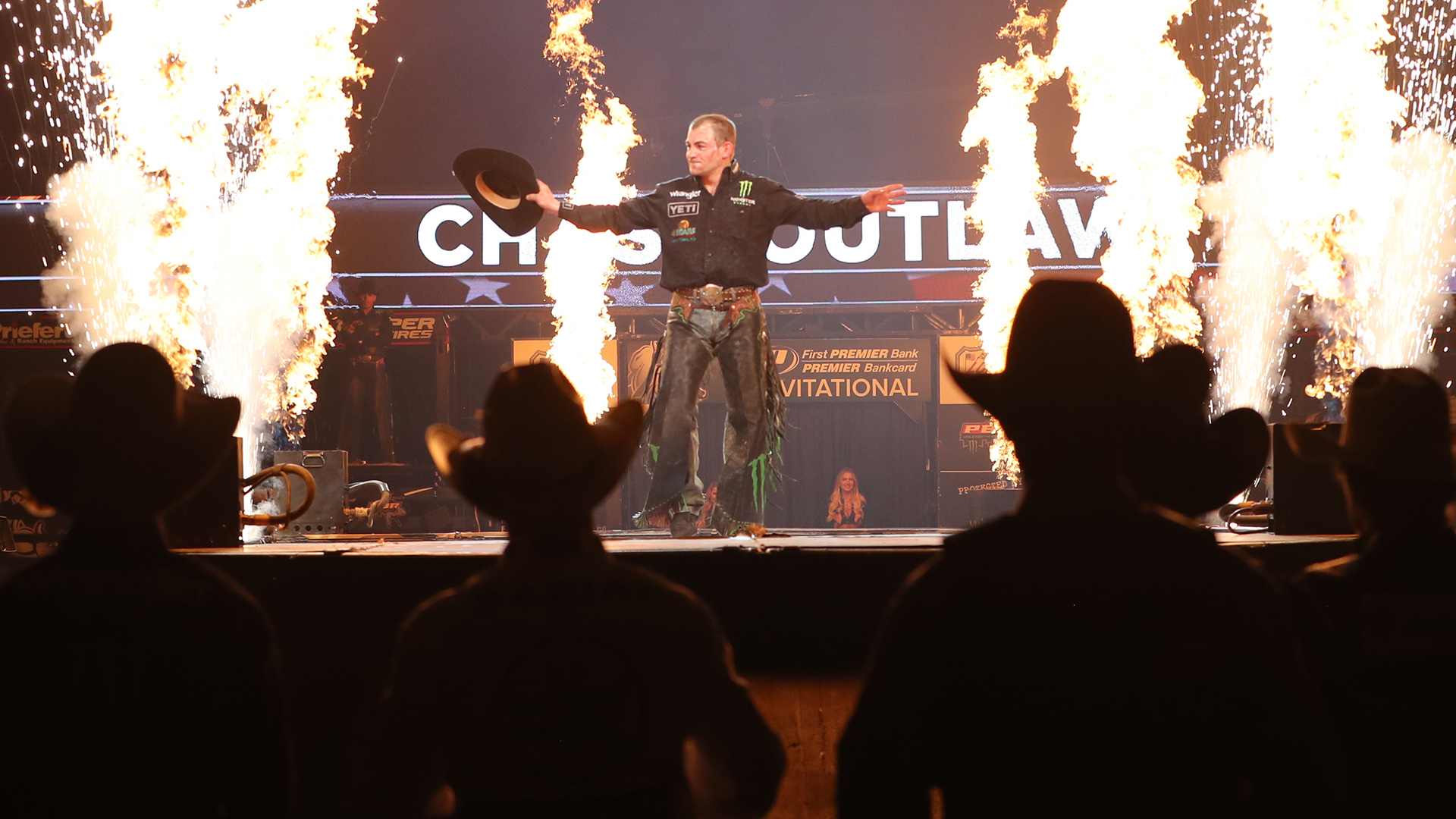 Last year at Cheyenne Frontier Days, the PBR world was rocked when Chase Outlaw was severely injured attempting to ride War Cloud. Outlaw required emergency facial reconstructive surgery, and the jury was out on both when he would return to bull riding and if he'd ever be the same when he did.
As the PBR returns to Cheyenne for Last Cowboy Standing on July 22-23, the answer is clear: Outlaw isn't just the same as he was before. He's better.
Take a look back on Outlaw's journey from the hospital to the top of the world standings, and tune in to Last Cowboy Standing live on CBS Sports Network beginning at 9:30 p.m. ET.
JULY 2018
7/24/18: Outlaw recovering following reconstructive surgery
After getting injured at Cheyenne Frontier Days when his head collided with War Cloud, Outlaw underwent 12 hours of facial reconstructive surgery.
AUGUST 2018
8/10/18: Outlaw still has plans on making World Finals; says thank you to his fans
Several weeks after the wreck, Outlaw had 68 screws, 11 plates and four pieces of surgical mesh in his face but was recovering well and still hoped to compete at the PBR World Finals.
OCTOBER 2018
10/1/18: Outlaw determined to make World Finals in return from broken face
Just 75 days after he was laid up in the hospital in Cheyenne, Outlaw was ready to make his return to the Unleash The Beast in Milwaukee, ranked No. 76 in the world standings.
10/13/18: Outlaw remains composed inside the chute
Outlaw finished third in Round 1 of the Greensboro Invitational despite struggling with Black Cat in the bucking chute, a moment that was reminiscent of what happened in Cheyenne.
"The mind is a powerful machine," he said. "You can either let it power you, or you can let it overpower you. My task on it is I am going to power myself through it and stay positive."
10/20/18: Outlaw escapes flight woes and converts in Nampa
After almost being unable to make it to Nampa in time for the DEWALT Guaranteed Tough Invitational, Outlaw shook it off and finished fourth in Round 1.
10/21/18: Outlaw refuses to let out a sigh of relief
Outlaw began the weekend in Nampa ranked No. 61 in the world standings, but after a 3-for-3 performance – and earning 530 world points in three weeks – he'd cracked the Top 35.
10/27/18: Outlaw extends ride streak to six; picks up 15 world points
Outlaw had another undefeated weekend immediately following, this time at the Velocity Tour event in Colorado Springs, Colorado. He went 3-for-3, improving to 8-for-12 since returning to competition on October 6.
NOVEMBER 2018
11/2/18: Outlaw continues historic comeback with Round 1 win at PBR's 2018 Velocity Tour Finals
Outlaw's seventh consecutive qualified ride earned him the Round 1 win at the Velocity Tour Finals, earning him 80 world points.
11/2/18: Outlaw to bring firepower, energy and heart to Team USA
Team USA Eagles coach Justin McBride selected Outlaw to his squad for the 2019 Global Cup USA, citing not only his riding abilities, but the intangibles he would bring to the team.
11/3/18: Chase Outlaw and Alisson Souza are the RVT Finals and season champions
Outlaw rode his eighth consecutive bull, going 2-for-3 overall at the Velocity Tour Finals to take the event win. It earned him 320 world points, moved him to No. 22 in the world standings and qualified him for the PBR World Finals.
11/3/18: Outlaw: 'It took that devastating injury to put things into perspective'
After his Velocity Finals win, Outlaw said he'd been taking his career for granted and that his injury had made him see things in a whole new light.
"I feel like I am riding just as good, if not better, than I have in my whole life," Outlaw said. "Just keep having faith in myself and keep doing my job. This is awesome."
11/10/18: Eguchi and Outlaw perfect heading into World Finals finale
Outlaw began the World Finals a flawless 4-for-4 and entered the final round of competition just 11.75 points behind first place for the event aggregate lead.
"I'm feeling something special," Outlaw said. "I've been here at these World Finals for seven years now. I've seen a lot of things, and I've experienced a lot of things. I have been on a lot of bulls at these World Finals, and I'm enjoying myself."
JANUARY 2019
1/5/19: Outlaw: Improvise, adapt and overcome
After another surgery on his face, Outlaw worked to overcome vision problems as the 2019 season kicked off in New York City.
1/5/19: Outlaw keeps on rolling, would cherish a New York win
Outlaw went 2-for-2 to start the Monster Energy Buck Off at the Garden, sitting in second place. He'd ridden 21 of his 28 bulls since returning from injury.
1/14/19: Outlaw: 'You have to have gravel in your guts'
Outlaw went a perfect 3-for-3 in Chicago to move to No. 2 in the world standings.
1/31/19: No broken neck for Outlaw
Ranked No. 4 in the world standings, Outlaw got good news when X-rays showed no fractures following a buckoff by Lifting Lives in Sacramento, California.
FEBRUARY 2019
2/2/19: Outlaw fights through potential broken ribs to tie for Round 2 win
Despite being injured by Night Sweats and in severe pain, Outlaw tied Cody Teel for the Round 2 win in Oklahoma City.
2/11/19: Kimzey and Outlaw enjoy first taste of Global Cup
Outlaw made his Global Cup debut in Arlington, Texas, where the Team USA Eagles came up just short of defeating Team Brazil for the title.
"This is freaking awesome," Outlaw said. "Shoot, we have our backs against the wall and we had to come out swinging. This is a fistfight and you can count we are going to be right in the middle of it."
2/16/19: Outlaw wins PBR event in St. Louis, dedicates victory to friend Mason Lowe
Outlaw earned his first event win of 2019 at the Mason Lowe Memorial in St. Louis, held in memory of his friend who passed away a month prior. Outlaw dedicated the win to Lowe.
"This might be the first buckle that I might not wear," he said. "Winning this buckle tonight just felt like it was meant to be."
2/18/19: Abbey Lowe: "I wanted Chase to bring it home, and he did"
When Outlaw won the Mason Lowe Memorial, he had Lowe's wife Abbey cheering him on.
"Where do I begin?" Abbey said after the event. "I am so happy to know one of his closest PBR friends won his event. Where do I begin? He loved the sport and there is no tougher cowboy than Chase. There are no words."
MARCH 2019
3/24/19: Chase Outlaw surges to world No. 1 with win in Kansas City
The lone rider to go a perfect 3-for-3, Outlaw won in Kansas City, earning two event wins in a season for the first time in his career.
3/26/19: Outlaw understands there is more to life than being the world No. 1
After his life-altering injury and the death of close friend Mason Lowe, Outlaw has focused more on friends, family and enjoying the ride.
"It didn't break me down," he said. "It is something that fueled the fire. The job ain't done yet. What brought me this far. To give up now? I can't give up."
APRIL 2019
4/26/19: Outlaw wins Clovis to cut Leme's world lead to 79.16 points
Getting back to his winning ways, Outlaw went 2-for-2 to win the Touring Pro Division event in Clovis, California, and inch closer to the world No. 1 ranking.
MAY 2019
5/17/19: Outlaw and Lockwood split Round 1 win in Albuquerque
In a renewed battle at the top of the world standings, Outlaw and Lockwood each rode their respective bulls for 89.5 points to tie for the Round 1 win at the Ty Murray Invitational.
5/19/19: Outlaw, with added motivation, leading Ty Murray Invitational with Eguchi
The pair that duked it out at the 2018 PBR World Finals did so again in Albuquerque, tying for the event lead after two rounds by going 2-for-2. The event came shortly after Outlaw's close friend Stormy Wing announced his retirement due to injuries.
"It is extra motivation because it's not really a choice he wanted to make," Outlaw said. "He seemed in good spirits (when I talked to him), but I know he wishes he could tie back onto one. But that's the decision that had to be made. Like back after my accident (last July in Cheyenne, Wyoming), you can't take it for granted.
"We've got to lay it out there each and every time, and you'd better believe we're going to be laying the iron to 'em."
5/19/19: Outlaw: 'I ain't worried about it'
Locked in an intense battle at the top of the world standings, Outlaw was unconcerned about his competitors and knew that the season still had a long way to go.
5/31/19: Outlaw takes care of business with Green Bay Packers cheering him on
Outlaw made the whistle in Round 1 in Green Bay while he had a number of Green Bay Packers on the chutes to witness it.
"I'm just getting them down there in live action to show him some of the raw power of it," Outlaw said. "I just want them to see right there and be like, 'Damn.' Them some big bad sumbitches."
JUNE 2019
6/16/19: Heroics in Bismarck: Outlaw leads Team Cooper Tires to victory on memorable night of eight 90-point rides
At Chad Berger's $125,000 team challenge, presented by Marquis Metal Works, in Bismarck, North Dakota, Outlaw rode Smooth Wreck for a huge 94.75 points and led Team Cooper Tires to victory on a night that saw eight 90-point rides.
"Tonight was the best bull riding I've ever seen," 2016 World Champion Cooper Davis said, shaking his head in disbelief. "I thought Chase could've been two more points. I mean, it's literally the greatest bull riding I've ever been a part of."
6/24/19: Outlaw continues to show championship pedigree for World Finals with Vinita win
After a mini cold streak, Outlaw won the Henson Manufacturing Touring Pro Division event in Vinita, Oklahoma, going 2-for-2 and earning 60 world points.
JULY 2019
7/2/19: Outlaw jumps to No. 3 in world title race with victory in Cluny
Competing in Canada for the third time this season, Outlaw went 2-for-2 for his sixth win at all levels this season to again rise to No. 3 in the world standings.
7/23/19: Outlaw wins Last Cowboy Standing in Cheyenne
One year to the day after suffering a gruesome injury in the very same arena, Outlaw won Last Cowboy Standing at Cheyenne Frontier Days.
7/23/19: Outlaw: 'This has been harder for my family than it is for me'
Outlaw never doubted his own ability to recover from such a serious injury as a broken face, but his family struggled watching him hurt.
"It was harder for them than it was for me because I knew how strong of a mindset I had and I knew how strong I was," Outlaw said. "For them to sit back and see somebody they love, and know that they really couldn't do nothing about it, I know it was hard on them. It goes back to I wouldn't be here today if it wasn't for my family getting me down the road as a kid. To have my dad here, my wife, my sister and all of my kids here means the world.
"For me to come over and push myself over the top and come back and do this. This is paying my gratitude back to them, everyone that stood beside me through the thick and thin."