Davis wins first Semi-Final, advances to Days of '47 Gold Medal Round
By : Ann Bleiker
July 20, 2019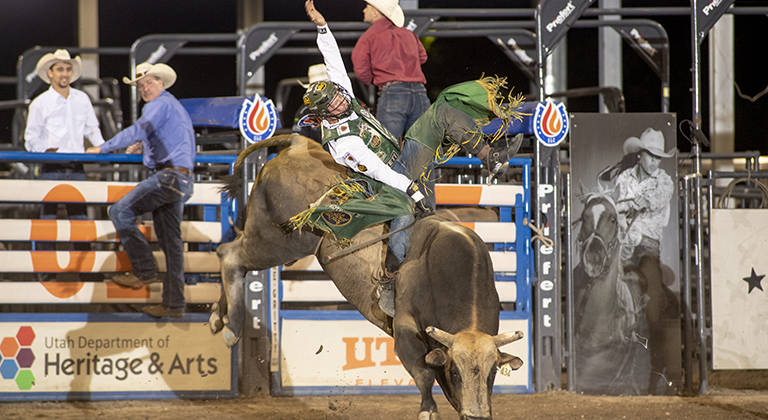 SALT LAKE CITY – The Komatsu Equipment Days of '47 Cowboy Games and Rodeo presented by Zions Bank in Salt Lake City kicked off in fine fashion on Friday night, July 19.
Canadian turned Nebraskan Orin Larsen finished atop the leaderboard with an 86.25 point ride aboard Powder River Rodeo's Blue Collar. Larsen, who now makes his home in Gering will be back on Wednesday night, July 24 to try and win his first ever gold medal awarded to each event champion. He will be joined by four-time world champion Kaycee Feild of Genola, Utah, who finished in a tie for second with Garrett Shadbolt of Merriman, Neb., with 83.5 point rides. The tiebreaker went to the higher spur ride and Feild had an 89 while Shadbolt received an 88. Feild has never been able to win a gold medal at the Days of '47 Arena that has a statue of his late father Lewis Feild marking the entrance. The statue recognizes Feild's legacy and honors all the Utah world champions.
Feild has only been riding for about a month after being sidelined with a head injury sustained at Rodeo Austin in March. Tonight's ride was his 16th ride since he returned to competition in Mandan, N.D.
"I am so happy," said Feild after learning he would advance due to the tiebreaker rules. "I have had tough luck here in the past. To advance to the Gold Medal Round at an arena where my dad's statue is on display and his legacy lives on is special. To be able to compete for a gold medal is icing on the cake and looking forward to Wednesday."
A total of 288 competitors will take their shot at a share of the over $1 million in prize money and a Gold, Silver or Bronze medal that will be awarded on Wednesday, July 24. There will be 32 competitors in each of the following events: bareback riding, steer wrestling, team roping, saddle bronc riding, tie-down roping, ladies breakaway roping, barrel racing and bull riding.
Tyler West was the top steer wrestler on the night with a time of 4.48 seconds. West of Mertzon, Texas, advances to the Gold Medal Round and will face 2018 Calgary Stampede Champion Matt Reeves who took second on the night with a run of 4.69. Both will be looking for their first medal.
It was a rough night in the team roping with only three qualified times. Garrett Tonozzi and Joe Mattern have been on a roll at all the 2019 World Champions Rodeo Alliance (WCRA) events having won Chicago and Green Bay, earlier this year to advance to the Days of '47 Rodeo. They turned in the fastest and cleanest run by far stopping the clock in 5.41 seconds. Their closest competitors were Coleman Proctor and Ryan Motes with a 15.76-second run. Proctor and Motes have also had good luck at big paying events in 2019 winning RFD-TVs The American in Arlington, Texas, at the end of February. Both teams will be back on Wednesday to try to add to their bank accounts.
Two up and comers in the saddle bronc riding rode like veterans on Friday night in front of the Utah crowd. Lefty Holman and Jake Finlay took 1-2 on the night to advance to Wednesday. Holman of Visalia, Calif., was the first saddle bronc rider out tonight aboard Northcott-Macza's Big Surprise. It was no surprise after his ride that he had set the bar high on opening night with a score of 84.25 points. Finlay originally from Australia but now calling Goodwell, Okla., home was second out and would come the closest to Holman with an 83-point ride on Northcott-Macza's Bansheee. Both guys would love to add $50,000 to their bank account and a gold medal to their collection.
Current PRCA World Champion Tie-Down Roper Caleb Smidt would like to add more gold to his collection and he will now have a chance winning night 1 with a time of 7.58 seconds. Smidt, of Bellville, Texas, was the last roper out on Friday night and definitely saved the best for last. Haven Meged of Miles City, Mont., will join Smidt in the Gold Medal Round after stopping the clock in 7.99 seconds.
This is the first year for the Salt Lake City fans to see ladies breakaway roping at the Days of '47 Cowboy Games & Rodeo. It is by far the fastest event of the rodeo and Jordi Edens of Gatesville, Texas, took the victory lap on Friday night with a 2.45-second run. Edens, a current member of the National High School Rodeo Association and daughter of PRCA roper Tommy Edens showed the crowd how it is done being the first competitor out. Cadee Williams of Weatherford, Texas, will join her fellow Texan in trying to win the inaugural Gold Medal in the breakaway roping. Williams finished in a time of 2.78 seconds.
The A's had it in the barrel racing tonight. Annaliese Allshouse of Cody, Wyo., topped the field in a time of 16.960 with Alishea Broussard of Estherwood, La., hot on her heels at 17.138. Both will return on July 24 with hopes of keeping the momentum going.
PBR World Champion Bull Rider Cooper Davis brought the first night to a close with a bang scoring 88.25 points on Bar T Rodeo's Exit Strategy to easily advance to the Gold Medal Round. Joining Davis as the two to advance from tonight in the bull riding was four-time National Finals Rodeo qualifier Brennon Eldred with an 82.75.
The full field of 32 competitors in each event will be divided into four groups of eight each and will compete in one of the first four performances (July 19-20, 22-23). The top two from each performance, along with two via the Wild Card category will advance to the Gold Medal Round on July 24. The 10 competitors in each event in the Gold Medal Round will compete in a sudden-death format with the winner collecting a Gold Medal and $50,000 cash.
The Komatsu Equipment Days of '47 Cowboy Games & Rodeo presented by Zions Bank, July 19-20 and 22-24, will take place at the $17.5 million state-of-the-art Days of '47 Arena at the Utah State Fairpark, custom designed and built for rodeo. The venue—an outdoor arena located in the heart of Salt Lake City—features over 10,000 stadium-style seats.
For only the fifth time in the history of rodeo, riders will have an opportunity to compete for Gold, Silver or Bronze Medals. The first two times were in conjunction with the Olympic Winter Games in Calgary (1988) and Salt Lake City (2002), when rodeo was part of the Cultural Olympiad and the other two times being the Days of '47 Cowboy Games and Rodeo in 2017 and 2018. This will be the first time for breakaway ropers as they were not part of the aforementioned events. The medals that will be awarded at the Days of '47 Cowboy Games & Rodeo will be produced by OC Tanner, the same company that made the Olympic medals for the champions of the 2002 Olympic Winter Games.
Tickets are still available at smithstix.com. For more information on the event visit www.daysof47cowboygames.com.
For those unable to attend in person the Komatsu Equipment Days of '47 Cowboy Games & Rodeo will broadcast live nightly at 8 p.m. MT exclusively on PBR's RidePass via RidePass.com or the RidePass mobile app. RideTV will air each round, excluding the finals, nightly at 8 p.m. MT. CBS Sports Network will air a recap of each performance on tape delay with the first performance airing July 20 at 12:30 p.m. MT, the second performance on July 21 at 9 a.m. MT, the third performance on July 23 at 9:30 a.m. MT, the fourth and fifth performances on July 24 and 25, respectively at 10:30 pm. MT. CBS will air a highlight show of the Days of '47 Cowboy Games and Rodeo on July 28 at 10 a.m. MT.
# # #
Results: - Performance 1 – July 19, 2019
Bareback riding: 1. Orin Larsen, Gering, Neb., 86.25 points on Powder River Rodeo's Blue Collar, $,3200; 2. (tie) Kaycee Feild, Genola, Utah, and Garrett Shadbolt, Merriman, Neb., 83.5, $2,000 each; 4. Jake Stemo, Bashaw, Alberta, 82.25, $800.
Automatically advances to Gold Medal Round: Orin Larsen and Kaycee Field
*Kaycee Feild advances due to a higher spur ride as the tiebreaker
Steer wrestling: 1. Tyler West, Mertzon, Texas, 4.48 seconds, $3,200; 2. Matt Reeves, Cross Plains, Texas, 4.69, $2,400; 3. Termaine Debose, Anderson, Texas, 4.95, $1,600; 4. J.D. Struxness, Alva, Okla., 5.65, $800
Automatically advances to Gold Medal Round: Tyler West and Matt Reeves
Team roping: 1. Garrett Tonozzi, Lampasas, Texas/Joe Mattern, Plantersville, Texas, 5.41 seconds, $3,200 each; 2. Coleman Proctor, Pryor, Okla./Ryan Motes, Weatherford, Texas, 15.76, $2,400 each; 3. Dallas Owen, Temecula, Calif./Blaine Vick, Dublin, Texas, 16.67, $1,600 each; no other qualified times
Automatically advances to Gold Medal Round: Garrett Tonozzi/Joe Mattern and Coleman Proctor/Ryan Motes
Saddle bronc riding: 1. Lefty Holman, Visalia, Calif., 84.25 points on Northcott-Macza Rodeo's Big Surprise, $3,200; 2. Jake Finlay, Goodwell, Okla., 83 points, $2,400; 3. Logan Cook, Alto, Texas, 81.75, $1,600; 4. Zeke Thurston, 81.25, $800.
Automatically advances to Gold Medal Round: Lefty Holman and Jake Finlay
Tie-down roping: 1. Caleb Smidt, Bellville, Texas, 7.58 seconds, $3,200; 2. Haven Meged, Miles City, Mont., 7.99, $2,400; 3. Cimarron Boardman, Stephenville, Texas, 8.02, $1,600; 4. Lane Livingston, Seymour, Texas, 9.07, $800.
Automatically advances to Gold Medal Round: Caleb Smidt and Haven Meged
Breakaway roping: 1. Jordi Edens, Gatesville, Texas, 2.45 seconds, $3,200; 2. Cadee Williams, Weatherford, Texas, 2.78, $2,400; 3. Abigayle Hampton, Commerce, Texas, 3.40, $1,600; 4. Josie Connor, 3.57, $800.
Automatically advances to Gold Medal Round: Jordi Edens and Cadee Williams
Barrel racing: 1. Annaliese Allshouse, Cody, Wyo., 16.960, $3,200; 2. Alishea Broussard, Estherwood, La., 17.138, $2,400; 3. Marne Loosenort, Hazel, Ky., 17.186, $1,600; 4. Dona Kay Rule, Minco, Okla., 17.202, $800.
Automatically advances to Gold Medal Round: Annaliese Allshouse and Alishea Broussard
Bull riding: 1. Cooper Davis, Buna, Texas, 88.25 points on Bar T Rodeo's Exit Strategy, $3,200; 2. Brennon Eldred, Roff, Okla., 82.75, $2,400; 3. Claudio Montanha Jr., Pacembu, Sao Paulo, Brazil, 80, $1,600.
Automatically advances to Gold Medal Round: Cooper Davis and Brennon Eldred