Family legacy looms large for Frost in Cheyenne
By : Darci Miller
July 20, 2019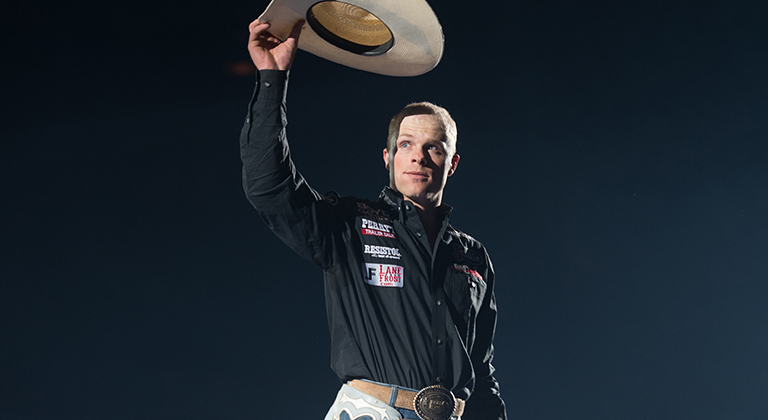 PUEBLO, Colo. – The name Frost and Cheyenne Frontier Days are inextricably linked.
It was at Frontier Park in 1989 that the legendary Lane Frost, 1987 PRCA bull riding World Champion, lost his life after being struck by Takin' Care of Business.
The tragedy led to the film based on Frost's life, 8 Seconds, which became a cultural phenomenon and inspired countless young cowboys to become bull riders.
Thirty years later, Joe Frost heads to Cheyenne for Last Cowboy Standing Monday and Tuesday with a bittersweet taste in his mouth.
It is no secret that his family legacy looming large.
"It's kind of the shits. Lane died there," Joe said before laughing. "But no, Cheyenne's a big rodeo. It's a great rodeo, and one I'd dang sure like to win."
Lane was Joe's second cousin, though the two never met. Joe wasn't born until 1992, but he's spent his whole life learning about the legacy Lane left and is comfortable following in his footsteps.
"It's just something I'm used to," he said. "I mean, I don't know any different. It'd be one thing if I woke up when I was 24 years old and they told me all of a sudden that you're related to a World Champion bull rider. I don't know anything different."
The Frost family has been entrenched in the rodeo world since far before Lane. Clyde Frost, Joe's uncle and Lane's father, was at the first National Finals Rodeo ever in 1959, and Joe's father and grandfather both rodeoed as well. Being a cowboy was never a question for Joe, and discussions about – and comparisons to – his famous second cousin were inevitable.
"It's just part of it," Frost said. "It'd be one thing if Lane wasn't such a great role model and someone that we all look up to and wanted to be like in one way or another. So to be compared or even mentioned in the same sentence, it's more of an honor that I'm good enough that anyone even wants to talk to me about it."
The 26-year-old is certainly good enough to draw those comparisons.
After rodeoing full-time from 2012-2018, Frost made his PBR debut in 2019 and is already a regular on the Unleash The Beast. In his first-ever PBR event, Frost won the Oakland Classic stop of the Pendleton Whisky Velocity Tour to earn a place on the premier series.
While it took some time, Frost climbed high enough in the world standings that he's now a tour regular.
"For me, one of the adjustments was, there for about three weeks I was on a three-week buckoff streak," Frost said. "I'd only bucked off of three bulls which, rodeoing, that's just three days most of the time. And you've got three more after that. So I kind of started getting a little down on myself, and then I got to thinking about it and realized, 'Well shoot, I've only bucked off of three bulls, and I just had three weeks of down time in between.' So that's been a bit of an adjustment. And since it's warmed up, I've been getting on some practice bulls during the week and feeling pretty good when I can on weekends."
Ranked No. 21 in the world standings, Frost is also ranked No. 7 in the Rookie of the Year race.
"There's a lot of really good bull riders, and these young guys in there, they ride tough and it's going to be a fun race," he said. "That'd definitely be one of my goals, to win Rookie of the Year. And make the PBR Finals. And honestly, it ain't too late to win a world title, really, with what the points system is. But I'd like to finish in the Top 5 this year."
A win in Cheyenne would go a long way towards that end, with one rider able to win up to 1,250 points.
Fans can watch both nights of Last Cowboy Standing live on CBS Sports Network beginning at 9:30 p.m. ET and on RidePass at 9:45 p.m. ET.
Frost has drawn Uncle Gangster (9-4, UTB) in Round 1.
While the PBR schedule is slower than what Frost was used to on the rodeo trail – he made the switch so he could spend more time at home and only be gone on weekends instead of for months at a time – he has no plans of backing off any time soon.
The cowboy lifestyle is in his blood.
"I never knew anything else," he said. "I thought when you grew up you're supposed to ride bulls. I wasn't a kid that wanted to be a football player one day, or a basketball player, or president, or a firefighter, whatever. I wanted to be a bull rider and a cowboy, like my family. My brothers are the same way. It's all we've ever known or wanted anything to do with."
With such an auspicious family history in Western sports, Frost has had plenty of practice separating Lane's memory from the threat of bodily harm in the bull riding arena.
Being in Cheyenne makes the task a bit harder, but when he sets foot on the rodeo grounds, his focus will be on making the 8 seconds.
"It happened before I was born, and bull riding's something that we all could die any time doing, so it's part of it," Frost said of Lane's death. "That's just something that we try to put completely out of our mind. Whatever you're thinking about is what you're likely to have happen, so I don't think about that very much, really."
While he tends to avoid thinking about the risks, he certainly doesn't avoid thinking about Lane.
"I think about Lane a lot," Frost said. "He's one of my heroes. My grandad and Lane are two of the biggest role models in my life and I never met either of them, but I was lucky to get to know them through my uncle Clyde and my dad. So I had them as role models too.
"But I think about Lane all the time."