Davis: 'You never want to fail in front of your heroes'
By : Justin Felisko
July 03, 2019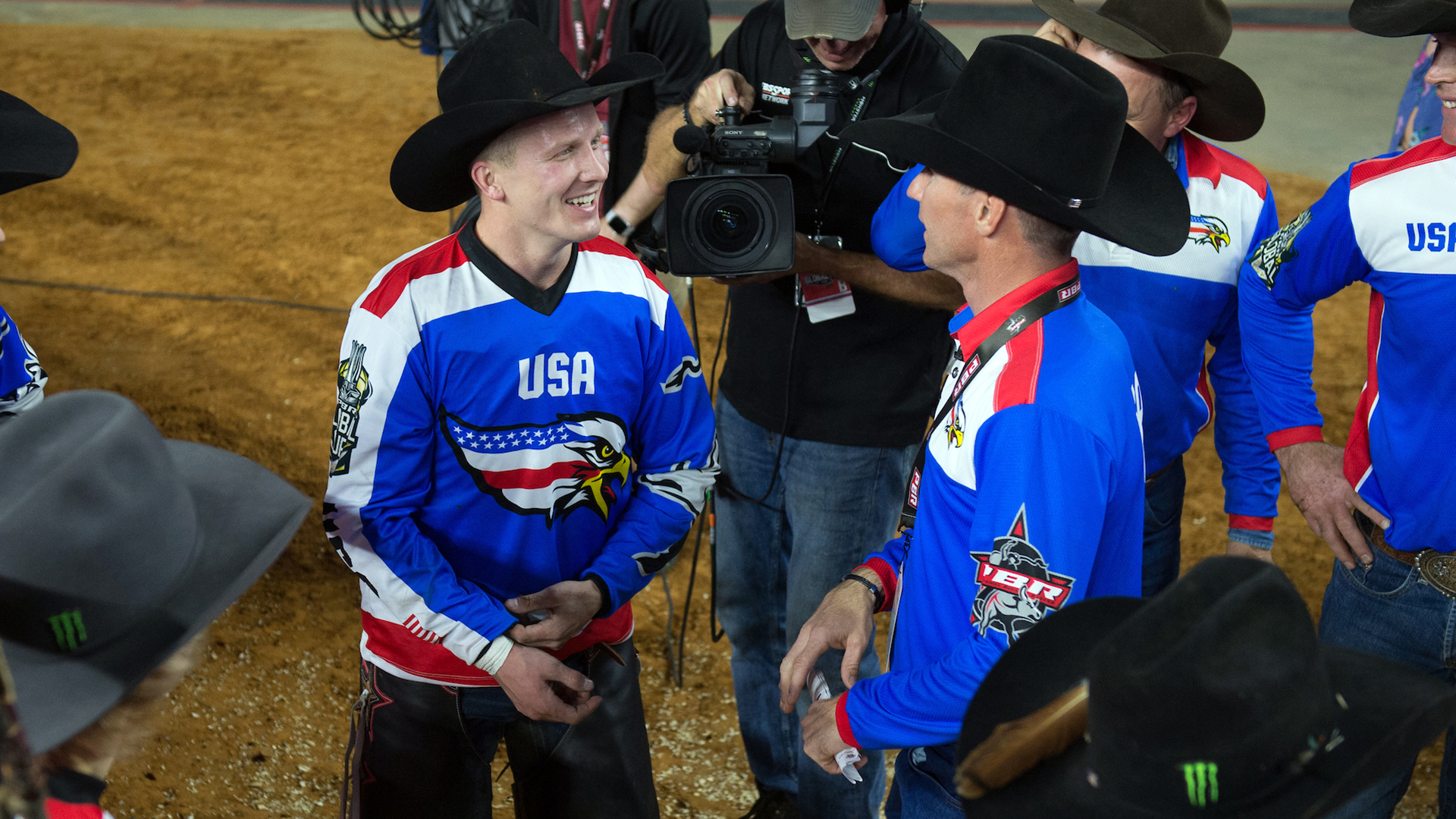 PUEBLO, Colo. – Cooper Davis is as synonymous with Team USA as are hamburgers and hot dogs on the Fourth of July.
While nothing is official yet for the 2020 WinStar World Casino & Resort Global Cup USA, presented by Monster Energy, it is a safe bet to expect the captain of the Team USA Eagles to return in 2020 if head coach Justin McBride so indeed chooses.
The PBR announced last week that McBride will be returning to the helm for Team USA for the fourth consecutive Global Cup, and McBride already has Davis pegged as a rider he expects to make his squad – barring an injury, of course.
"As of now, Cooper and Chase are on (the team)," McBride said last week. "Those are kind of the jobs that aren't for grabs."
Things can certainly change between now and Feb. 15-16, but Davis has been at the forefront of Team USA since the inaugural Global Cup in Edmonton, Alberta, two years ago.
Davis built off a 2016 World Championship and became an even greater household name in the Western sports world when he went 2-for-3 to help lead an undermanned and injury riddled Team USA squad to a 2017 victory over Canada and the favored Brazilian squad.
It was in Edmonton where McBride first labeled Davis as a team captain, and the relationship between the coach and rider has continued to grow during the Global Cup's soon-to-be, four-year run.
RELATED: Captain America Davis rides Catfish John to win Edmonton Global Cup
All that Davis has done is live up to McBride's expectations.
Davis has only bucked off three times in 11 career Global Cup outs, and his eight qualified rides are the most in Global Cup history.
The support that McBride has for him has not gone unnoticed by Davis either.
In fact, that admiration has added extra salt in the wound when it comes to Team USA's past two losses at the Global Cup, Davis explained this spring.
Not only did he feel like he let his country and teammates down, but also a childhood idol.
"He puts that weight on my shoulders (with me being a captain), and I feel like when he does that it is because he believes in me and I don't want to be the one that lets him down," Davis said. "Everybody on that team looks up McBride. You have a sense of wanting to ride for your team, and you don't want to fail in front of your heroes.
"That is tough, especially to lose being so close."
All Team USA needed in Sydney last summer or in Arlington this past February was one more qualified ride to be victorious.
In Davis' eyes, those two rides could have come from him, regardless of what McBride may say or any shortcomings by anyone else on Team USA.
POA Palooka downed him in 5.04 seconds in Sydney in the final Bonus Round, while Bad Beagle (4.63 seconds) took him down in the Bonus Round on the last night of the 2019 Global Cup in Arlington, Texas.
"Cooper gave it everything he had," McBride said. "They don't like to lose, and I am glad they don't like to lose, but when you give it everything you got and Bad Beagle bucks you off, that is bull riding."
Sixteen more seconds would have resulted in an American bull riding dynasty at the Global Cup.
Instead, it will be Team Brazil looking for an unprecedented third consecutive Global Cup victory when the top bull riders in the world descend upon AT&T Stadium in Arlington, Texas.
The United States lack of team success is what sours Davis' own personal success in the global team competition.
Davis won the individual aggregate title this past February for the first time in his career, but it was one that ultimately means little to him seeing as the Eagles lost for a second consecutive time.
Arlington was actually one of Davis' most impressive performances in 2019 – a year that had started slowly for Davis but has slowly evolved into a potential World Championship season.
Davis recently helped lead Team Cooper Tires to victory at Chad Berger's $125,000 Team Challenge, presented by Marquis Metal Works, in Bismarck, North Dakota, last month, while also finishing second in the Touring Pro Division Major event.
The No. 6 ranked bull rider in the world standings is resting now until the Unleash The Beast resumes in three weeks with Last Cowboy Standing at Cheyenne Frontier Days on July 22-23.
The PBR announced earlier this year that the format for the 2020 Global Cup USA will change slightly.
Instead of a team featuring seven riders and an alternate, the 2020 Global Cup USA will feature six riders and an alternate. The team with the highest-combined score on its 10 best rides will be the 2020 Global Cup champions. Last year, a team could take its 12 best rides.
Under the new format, the Eagles would have won the 2019 Global Cup.
However, Davis knows the Eagles must be more consistent in 2020 if they are to be successful.
Being flashy does not guarantee victory.
"We are the flashiest," Davis said. "We get more points than everybody else, but the Brazilians always stay on to make it count. We rode 11 bulls. They rode 12. That was the kicker. We may have might of only ended up 60 points behind, but consistency with us as Americans was lacking at the last two Global Cups."
Follow Justin Felisko on Twitter @jfelisko