Looking back: Team Brazil's Top 6 rides from the Sydney Global Cup
By : Darci Miller
June 19, 2019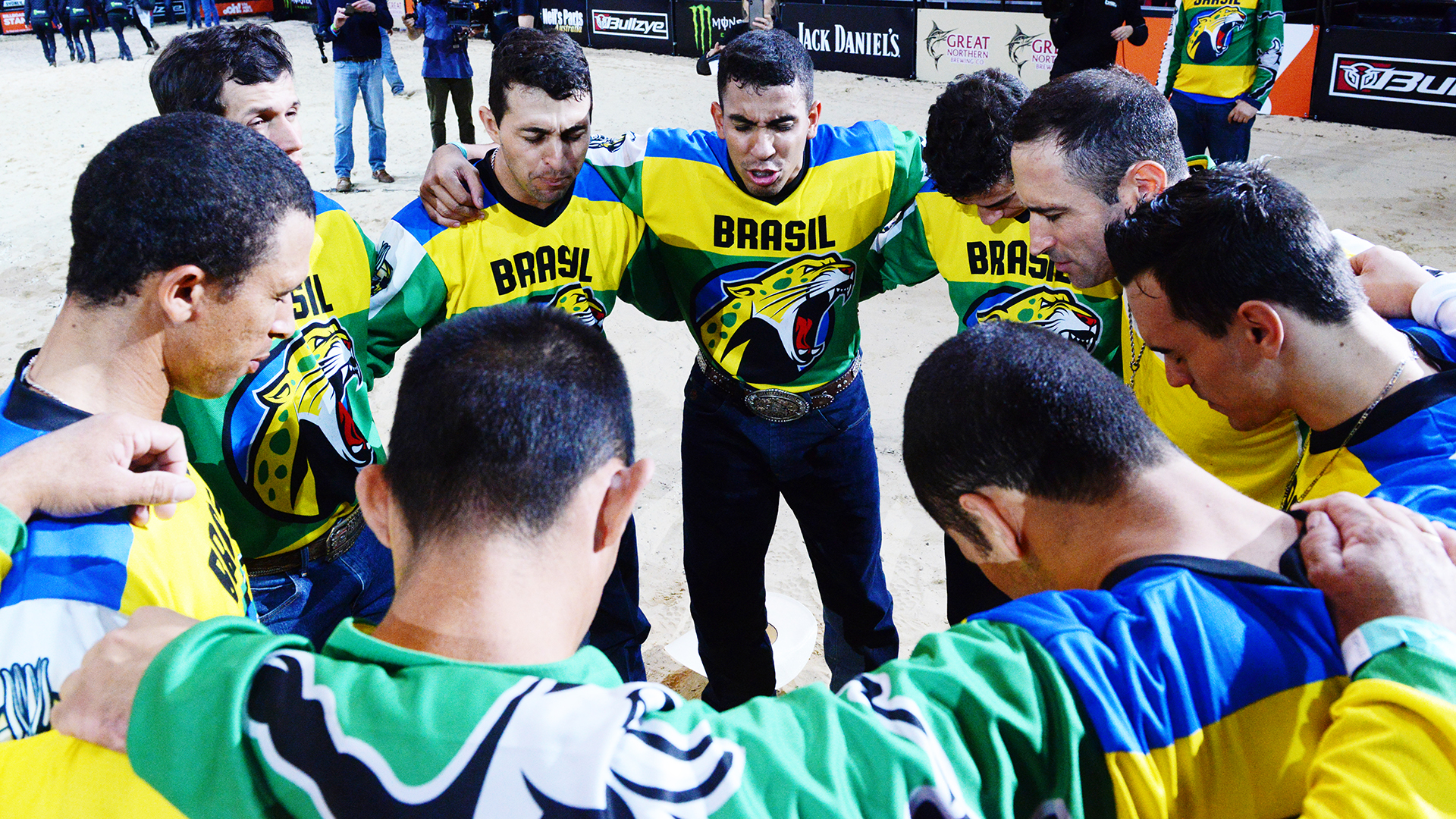 PUEBLO, Colo. – In June of 2018, teams of bull riders from five countries – Australia, Brazil, Canada, Mexico and the United States – made the trek Down Under to Sydney, Australia, for the second edition of the PBR Global Cup. After two days of competition that came down to the very last ride, Team Brazil held off Team Australia by 0.75 points to claim its first Global Cup title.
Even in its winning effort, Team Brazil's top ride score was not among the highest-scoring rides of the event. But the squad went a dominating 15-for-18 and its 12 best scores topped the same cumulative result of Australia and Canada. It speaks to the Brazilians' strategy: consistency is key.
Team Brazil would go on to win another Global Cup title in 2019, and will look to win a third when the Global Cup returns to Arlington, Texas, in 2020.
Relive the action from Sydney with Team Brazil's highest-scoring rides of the event.
1) Claudio Montanha Jr. – 85.5 on Bee Sting
Team Brazil's highest-scoring ride was 85.5 points by Montanha on Bee Sting, good to finish fourth in Round 3. Then ranked No. 2 in the world standings, Montana chipped in two qualified rides to Brazil's effort.
"I am very proud to be here and ride for Team Brazil," Montana told PBR.com at the time. "We draw good bulls today and the scores were very close between all the teams. We tried hard all the time. We had teamwork and I am very happy."
RELATED: Nunes: 'This was the hardest to win'
2) Kaique Pacheco – 85 on Rodeo Blues
The eventual 2018 World Champion, Pacheco kicked off the summer with a flawless 4-for-4 performance in Sydney to win the individual aggregate, beating out Canada's Tanner Byrne by 2.5 points. His best ride came with everything on the line in the championship round, where he rode Rodeo Blues for 85 points.
"I am very happy to ride a great bull," Pacheco said at the time. "I see he bucked last night with Lachlan (Richardson), and he bucked really good. When the team see the bull in the bonus, he was one of the first ones we wanted to pick for me. I am very happy to ride."
RELATED: Pacheco wins $69,494.86 and event average title at Sydney Global Cup
3) Kaique Pacheco – 84.75 on SweetPro's Chemical Weapon
Of Pacheco's four rides in Sydney, three of them counted towards Team Brazil's Top 12 rides. He rode SweetPro's Chemical Weapon in Round 3, earning 84.75 points.
"He rode so good," head coach Renato Nunes said. "The Bonus Bull in the short round. Oh damn. That bull was hard. He just ride like he was on the couch."
4) Eduardo Aparecido – 84.25 on Stir Crazy
Aparecido contributed two rides to Team Brazil's win, going a perfect 2-for-2 including 84.25 points aboard Stir Crazy in Round 3.
RELATED: Team Brazil wins Sydney leg of PBR Global Cup
5 & 6) Jose Vitor Leme – 84 on Earth Bound
The current world No. 1 bull rider went 2-for-3 in Sydney. Both rides earned the same score – 84 points – and both were on the same bull – Earth Bound. Leme's first ride on Earth Bound came as a re-ride in Round 1, while the second came in Round 3.
RELATED: Next generation of Brazilian talent proving themselves in Sydney