Gay to make season debut in Deadwood, but no decision on Last Cowboy Standing just yet
By : Justin Felisko
June 07, 2019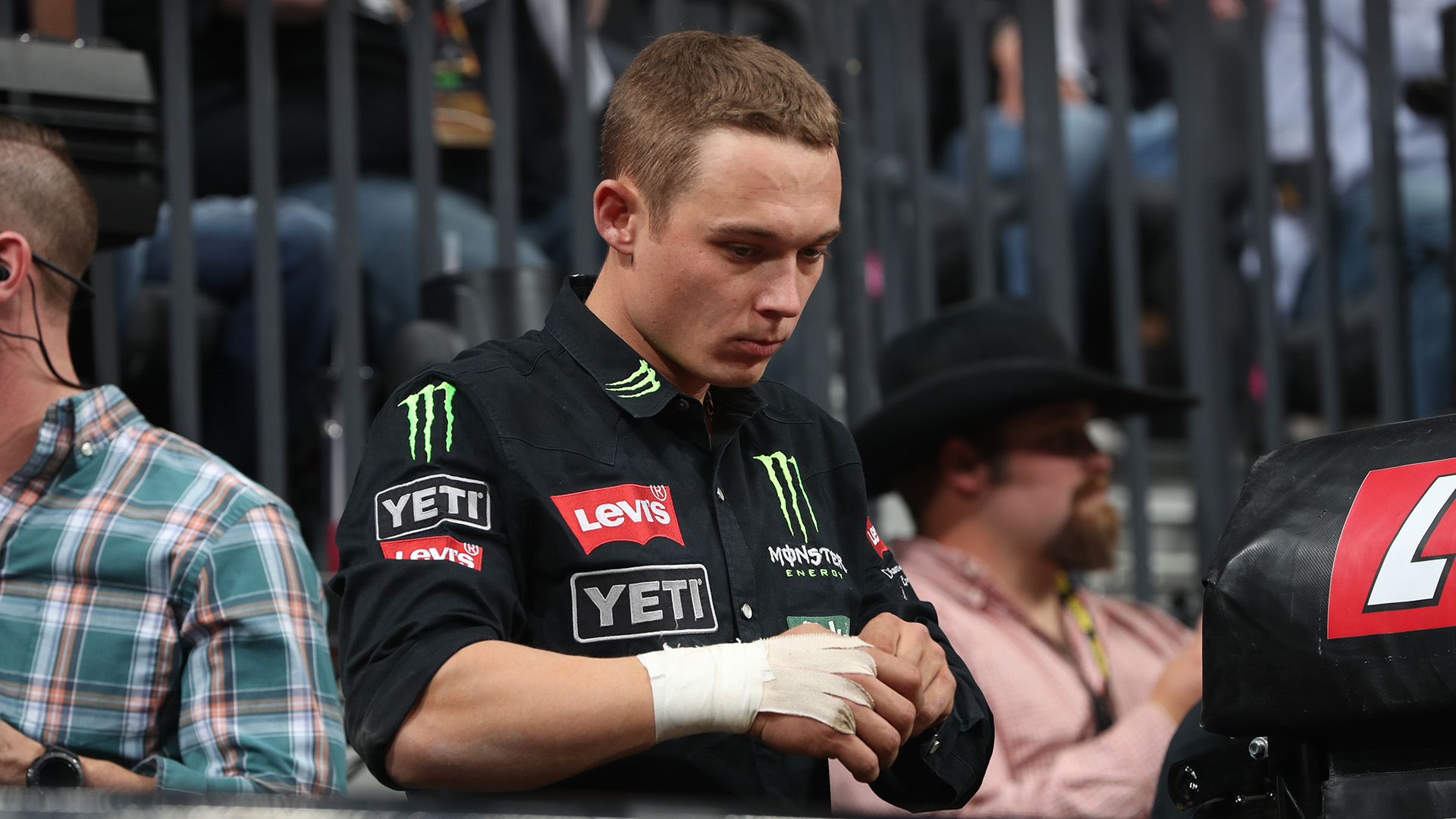 PUEBLO, Colo. – Gage Gay has not been this happy to pay a more than $250 entry fee to a bull riding in quite some time, nor was he going to complain about a three-hour layover at the Minneapolis-St. Paul International Airport on Thursday night.
Gay is finally set to make his 2019 season debut at a PBR-sanctioned event this weekend at the Deadwood Touring Pro Division event, presented by Go Deadwood, following a tumultuous 2018 season that saw him end up needing two reconstructive surgeries on his left knee.
"Damn right I am excited," Gay told PBR.com. "Yup, second round of the PBR World Finals was the last PBR bull I have been on. The toughest part was last time I had surgery and sat out, I didn't watch the bull ridings on the weekend because I never sat out like that. I never wanted to think about what it was like to be out so I didn't watch it.
"This time I have been watching and I can actually say I am craving it. I want to ride some damn bulls and be first in the world."
Gay tore ligaments in his left knee twice in an eight-month span in 2018.
The first instance came on January 13, 2018, when the then-No. 1 bull rider in the world disembarked Pit Bull at the Chicago Invitational and his knee gave out on the landing.
The Staley, North Carolina, bull rider underwent knee surgery in his home state. He returned to action six months later only to tear the surgically repaired ligaments again in the practice pen a little more than two months after going back on tour.
Despite two major knee injuries, Gay still managed to qualify for the 2018 World Finals and finished the year ranked 36th in the world standings.
"My knee has kept me out longer than ever," Gay said. "The first weekend of last year was about all I had to think about for the whole year last year. When I came back, I didn't ride worth a shit and I barely made the World Finals. I barely finished in the Top 35. It was a bad deal all around."
Dr. Tandy Freeman performed Gay's latest surgery on Jan. 9 to repair his ACL, MCL and meniscus, and Gay has already said he can tell a world of a difference compared to the previous procedure a different surgeon performed.
Gay began 2018 with what could have been a career-changing victory at the season-opening Monster Energy Buck Off at the Garden in New York.
The PBR Major victory netted him $109,000, but most of that money has since gone to a new truck and a series of medical bills.
"Luckily, thanks to my sponsors, once my bank account ran out they sent me a check for the first five televised events I haven't been to yet (this year)," Gay said. "That has been the only thing keeping me going."
It is time to make new career highlights vs. living in past accolades, Gay said.
"It was cool to win, but that is all in the past now," Gay said. "That $100,000 is gone and I am not getting it back. New York don't mean anything to me anymore. Now it is time to prove myself some more."
That journey to new memorable moments will begin Friday night in Deadwood.
Joining Gay in Deadwood is 2017 World Champion Jess Lockwood, No. 3 Chase Outlaw, No. 12 Matt Triplett, No. 13 Mason Taylor, No. 14 Stetson Lawrence, No. 32 Cody Nance, No. 32 Scottie Knapp and No. 35 Michael Lane.
It is the first step to what Gay hopes is a sixth career World Finals qualification.
The five-time World Finals qualifier has never missed the PBR's season culminating event, and he still has five months to try to make a run at riding on Nov. 6-10 in Las Vegas at T-Mobile Arena.
Gay has five injury exemptions from last season, along with the entire summer run to make up ground in the standings.
"I am entered up as much as I can be," Gay said. "I am entered in Deadwood, Bismarck, Williston, Sheridan and Binford. I've never been out of the country before and this summer I am going to head to Canada and try to get a bunch of points up there."
The No. 35 rider in the world standings – Michael Lane – has 490 points.
Gay will not be heading into Deadwood cold turkey either.
This past Tuesday, he competed at a local bull riding in Benson, North Carolina, finishing in third place.
"It was just a good bull," Gay said. "I rode him before when I was a lot younger. He was old and slow now. It was kind of nice be able to have one that is slow like that and not have to think about shit before I did it (this weekend in Deadwood).
Gay admits he is still not in the best of shape for his return despite his physical therapy and gym sessions. His vision on the back of the bull is still quite foggy.
The 24-year-old expects to quickly round back into form after a few events at the PBR level, though.
"I don't feel rusty, but I just feel fat to be honest," Gay said. "Nothing is like it is when you first come back after that long. I just have to get used to it being sore again because it has been so long.
"It was kind of blurry these past couple of rides, the three I have been on. It is not as clear as it always has been, but I know that will just take a few bulls to get back."
Gay could use one of his injury exemptions to make his Unleash The Beast return next month at Last Cowboy Standing at Cheyenne Frontier Days on July 22-23.
However, Gay may decide to skip Cheyenne if he feels he is not riding at the level necessary to win a PBR Major.
He wants to be extremely careful with burning his exemptions.
"My plan is, I am going to try and lay out of the two Majors – Cheyenne and Nashville – because points are so limited at those events unless you win it," Gay said. "It all depends on how I am riding. If I am riding good, I will go to both of them. But if I am not on top of my game, I will wait and try and get those points at the regular events where they are more critical.
"It all depends on really how I am riding and how I feel."
Follow Justin Felisko on Twitter @jfelisko