Vieira moves to No. 2 in world standings, turns his focus to Last Cowboy Standing
By : Justin Felisko
June 02, 2019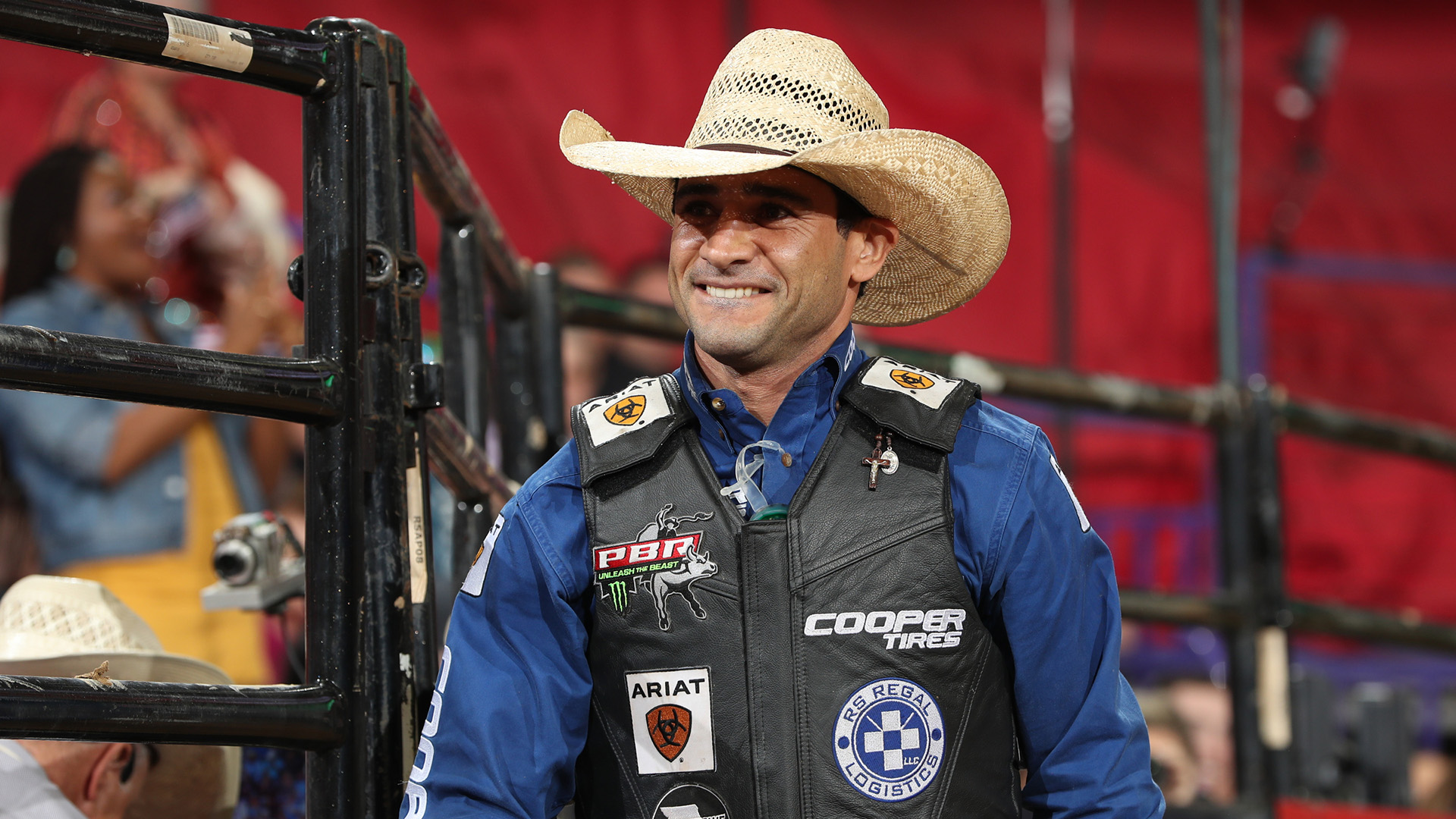 GREEN BAY, Wis. – Joao Ricardo Vieira already had $74,777.75 worth of reasons to be happy this week as he heads back home to Itatiba, Brazil, on Monday.
However, Vieira didn't take his foot off the gas pedal following his monumental victory at the WCRA Title Town Stampede Saturday night.
Vieira capped off his successful weekend in Green Bay by riding his final two bulls of the Green Bay Invitational, presented by Oneida Casino and North Star Mohican Resort and Casino, to finish the final Unleash The Beast regular-season first-half event in third place.
The 34-year-old won $17,275 at the Unleash The Beast event, pushing his weekend earnings to $92,052.75 for 32 seconds of work (four rides).
Vieira picked up 335 world points at the Unleash The Beast event and another 195 at the WCRA rodeo to move to No. 2 in the world standings.
Vieira, who has won more than $826,000 this season in PBR and rodeo competition, now trails world leader Jose Vitor Leme by 336.66 points in the PBR world standings.
The 2013 Rookie of the Year won the championship round Sunday by riding Shownuff for 89.75 points after finishing Round 2 in second place with 88.5 points aboard Slingin Tears.
Vieira, who bucked off Bottoms Up in Round 1 on Friday, was happy to get revenge against Shownuff after the bull previously bucked him off in Duluth, Georgia, in 1.96 seconds earlier this season.
"Last time I was so angry he bucked me off because he is not a more tough bull, but he can buck, buck, buck," Vieira said. "Last time I bucked off too fast at the start. Today, I learned more and stayed in the middle and did not lean to the front. It was good."
Two-time World Champion Justin McBride said it was impressive to see Vieira step up on a weekend where the heavy hitters such as Leme and Chase Outlaw stumbled.
"He is not a guy I typically think of as being that guy in this field, but if he keeps getting the job done at the right times, he very well could be," McBride said.
Vieira will head back home to Brazil on Monday before returning to the United States for Last Cowboy Standing at Cheyenne Frontier Days on July 22-23. Get your tickets here.
He may compete in a handful of PBR Brazil events, but Vieira primarily plans on resting and training.
"This is so great," Vieira said. "I am happy now to go to Brazil and see my family. Stay there for 30 days and I will be back here with renewed energy."
Vieira also knows there is a huge event coming up on the PBR schedule when he does return.
The next Unleash The Beast event is Last Cowboy Standing at Cheyenne Frontier Days.
One rider can earn potentially 1,250 points toward the world standings at the PBR Major event.
The last three World Champions – Cooper Davis (Nashville), Jess Lockwood (New York) and Kaique Pacheco (Last Cowboy Standing) – all won a PBR Major on their path to the gold buckle.
Vieira won the 2015 Last Cowboy Standing event before Pacheco's current streak of three consecutive LCS victories.
He also won this past February's PBR Major Iron Cowboy, which also is a similar format to Last Cowboy Standing.
Vieira said he has always wanted to ride at the historic rodeo grounds in Cheyenne, Wyoming.
He remembers learning about the legendary Lane Frost, who died in 1989 at Cheyenne Frontier Days, as a kid and is looking forward to now seeing the venue in person.
"It is a dream for all the cowboys to come and win the Last Cowboy," Vieira said. "I am so excited to be at Cheyenne. I have always wanted to ride there. I have never visited, but I love Cheyenne's history and the story of Lane (Frost)."
Follow Justin Felisko on Twitter @jfelisko