Lockwood comes up short in Green Bay, but still gains 400 points in world title race
By : Justin Felisko
June 02, 2019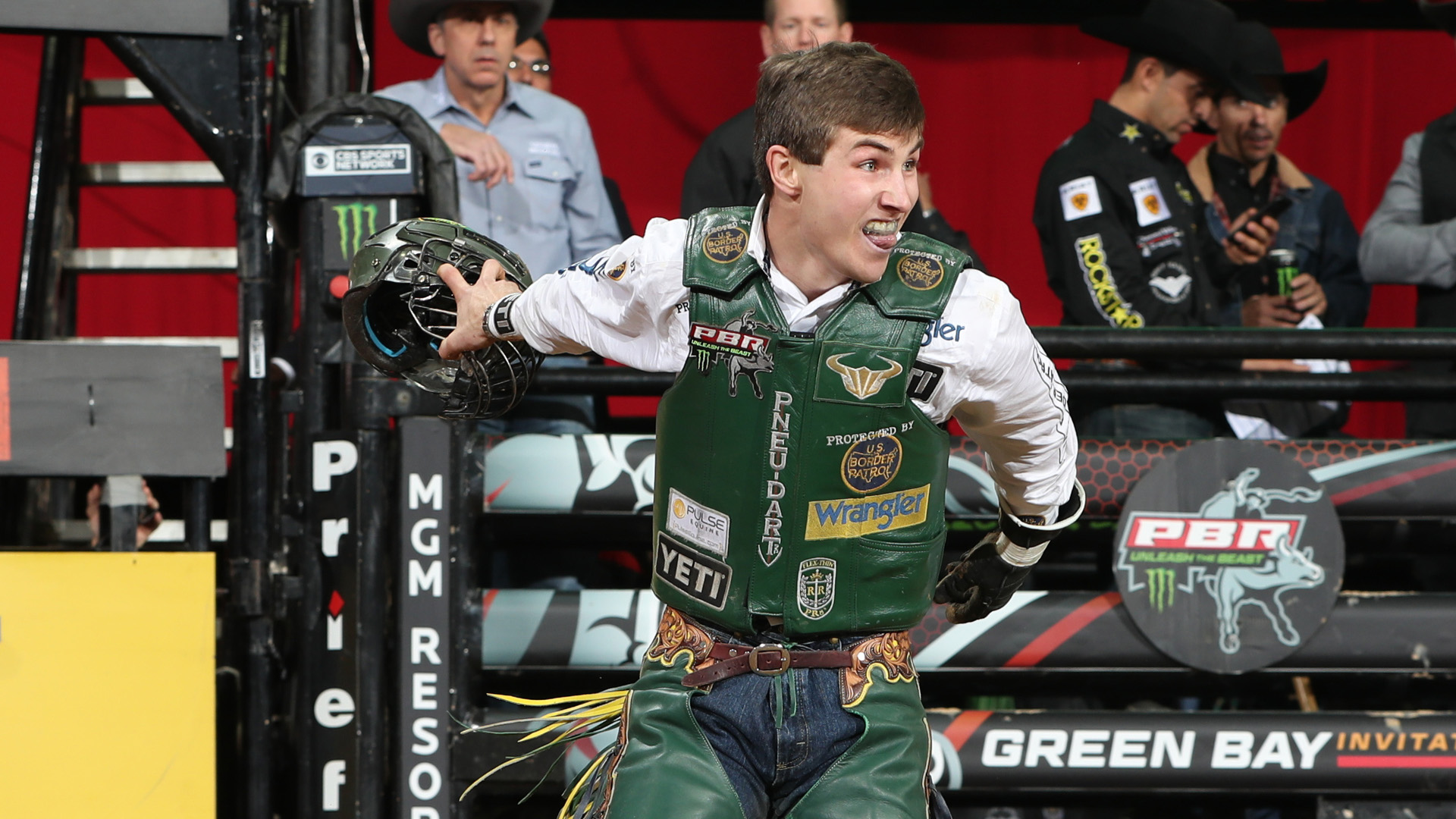 GREEN BAY, Wis. – 2016 World Champion Cooper Davis was pretty sure he was going to watch 2017 World Champion Jess Lockwood walk away with the victory Sunday at the Green Bay Invitational, presented by Oneida Casino and North Star Mohican Resort and Casino.
Lockwood selected Big Black with the first pick of the championship round draft, and the consensus was that the 21-year-old would go to town aboard the K-Bar-C Bucking Bull like so many other riders and pick up his third event win of 2019.
However, Sunday was another reminder that there are no such things as home runs or easy scores in the toughest sport on dirt.
Big Black brought his A game, and he was able to dislodge Lockwood in 5.38 seconds to cost Lockwood a significant victory in the 2019 World Championship race.
"Sometimes you get the bad ones and sometimes you get the good ones, but either way we've got to do our job," Lockwood said on RidePass prior to the championship round, which was a coincidental foreshadow.
Davis admittedly was surprised to see Lockwood get taken down.
"Honestly, I thought Jess was going to be a bunch of points," Davis said. "Heck, I would have lost the house on that deal. I never would have dreamed he would fall off."
Big Black was marked 45.25 points for the buckoff. The 5-year-old bull has bucked off Lockwood, Derek Kolbaba and Cody Jesus consecutively after being ridden for 90.25 points or higher in his first five outs in 2019.
"He just got beat out of there a little bit," two-time World Champion Justin McBride said. "The bull kind hipped himself and rocked him back. He was just behind before that bull got going there."
Green Bay was far from a failure for Lockwood, though.
Lockwood won his seventh round of the season earlier in the day at the Resch Center when he rode South Texas Gangster for 89.75 points to win Round 2 and pick up 100 of the 400 world points he earned.
"I didn't think that bull would go left at all so I was ready for him to go right, but he went left and it was fun," Lockwood said. "When I was younger, I think it would have been about the same. I struggled a little more when I was younger away from my hand. I don't think it would have been any different though. He bucks a little harder, so that may have been something when I was younger I would have struggled with."
The No. 4-ranked bull rider in the world standings finished the weekend second overall after beginning the event with 88.75 points on Stunt Man Ray.
RELATED: Lockwood tours historic Lambeau Field
Lockwood leads the PBR with a 63% riding average (17-for-27) in seven events and his 87.73-point average ride score at all levels is best in the league.
World leader Jose Vitor Leme (10) is the only rider with more round wins in 2019 than Lockwood, who missed three months because of a broken left collarbone.
"Jess is going to be tough to deal with," McBride said. "But he is going to be in this (world title race) until the end."
Lockwood trails Leme by 674.16 points heading into the Unleash The Beast summer break, but both riders expect to compete at various non-UTB events this summer to keep picking up points toward the world standings.
The next Unleash The Beast event is Last Cowboy Standing at Cheyenne Frontier Days.
One rider can earn potentially 1,250 points toward the world standings at the PBR Major event.
The last three World Champions – Davis (Nashville), Lockwood (New York) and Kaique Pacheco (Last Cowboy Standing) – all won a PBR Major on their path to the gold buckle.
The Volborg, Montana, native will try to keep his momentum going next weekend at the Deadwood PBR, presented by Do Deadwood, Touring Pro Division event in Deadwood, South Dakota.
"I have no plans on slowing down," Lockwood said.
Follow Justin Felisko on Twitter @jfelisko