Leme says he will be OK following thigh/groin strain
By : Justin Felisko
June 02, 2019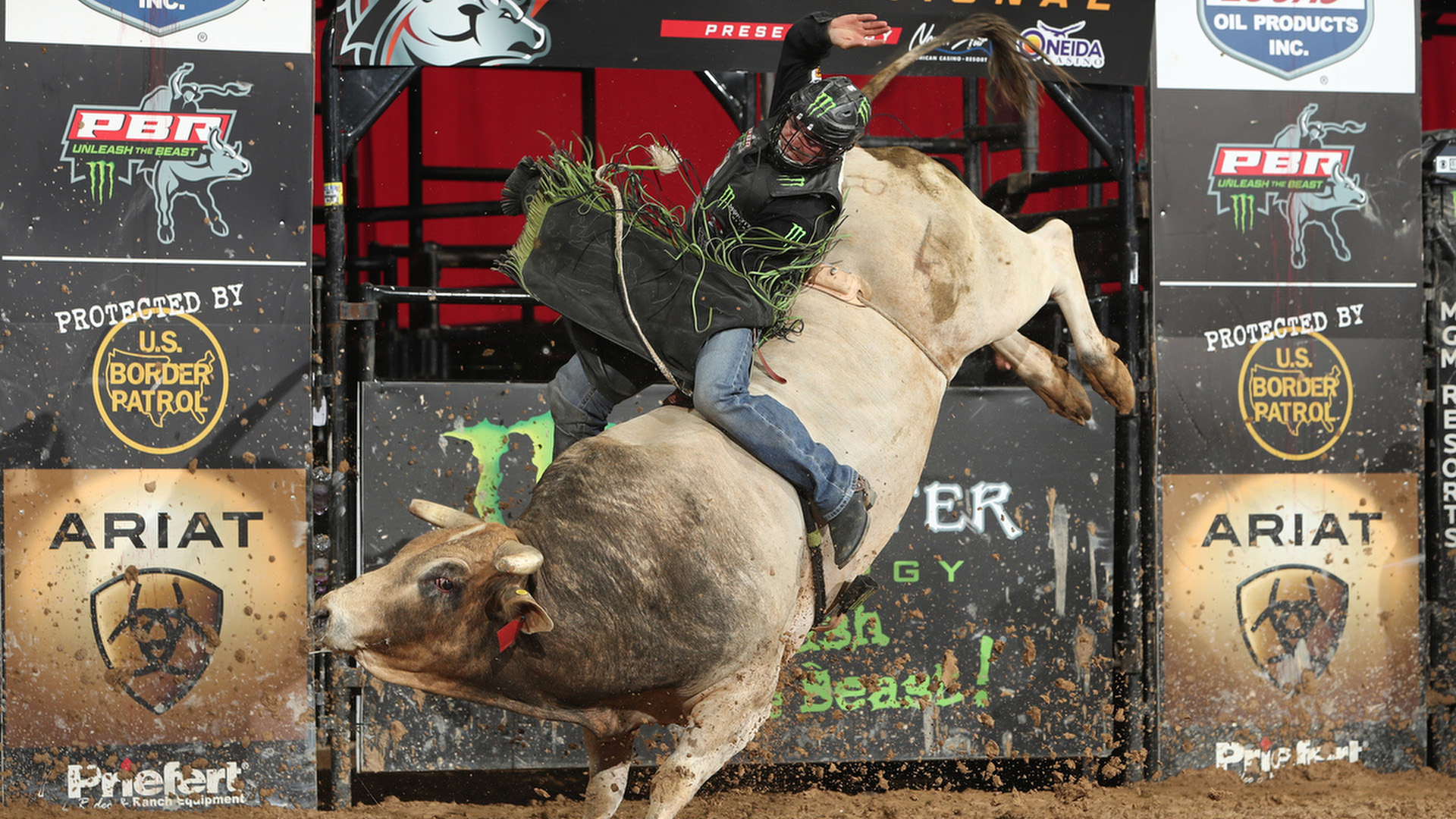 GREEN BAY, Wis. – World leader Jose Vitor Leme had a slight limp in his step following the WCRA Title Town Stampede on Saturday night at the Resch Center, and that limp only worsened after Round 2 of the Green Bay Invitational on Sunday when Mason's Missouri Golden bucked him off in 3.42 seconds.
Leme wound up not competing in the championship round after Dr. Tandy Freeman diagnosed with an aggravated right thigh/groin (adductor brevis) strain.
"I talked to Tandy and he said it's a groin muscle, just bruised bad and kind of swelled up," Leme said with the help of Paulo Crimber translating. "You can see it's real big. I need to take some time off, the whole week off this week, and hope it gets better. He told me not to get on until it's completely 100 percent."
The 22-year-old reassured that the injury is no big deal and that he will be OK moving forward.
"It is hurting a little bit, but not too bad," Leme said. "It is really swelled up. I chose to not get on today and treat myself and stay healthy and be back when it is 100 percent. (I did not) just (want) to get on today and make it really serious and be worse.
"I will be back when it is 100 percent."
Leme leads the PBR with 10 round wins and could have tried to gain some extra world points in the championship round, especially with Joao Ricardo Vieira and Jess Lockwood in contention for the event victory.
Instead, Leme decided to play things safe and not risk further injury.
"I really want to get on, but I prefer to just kind of maintain my health and just lose today and be healthy and just be waiting for the next one to come," Leme said.
2016 World Champion Cooper Davis went on to win the event Sunday, but Lockwood (second place, 400 world points) and Vieira (third place, 335 world points) took a significant chunk out of Leme's world lead.
Leme heads into the Unleash The Beast summer break with a 336.66-point lead on No. 2 Vieira.
Lockwood is the No. 4 rider in the world standings and is 674.16 points behind Leme.
RELATED: Latest PBR World Standings
Leme also explained on Sunday that he did not want to risk further injury with Chad Berger's $125,000 Team Challenge, presented by Marquis Metal Works, taking place in two weeks in Bismarck, North Dakota, on June 14-15.
The 2017 PBR World Finals event winner is the captain of Team Diamond Willow Construction, highlighting a squad featuring Luciano de Castro, 2018 World Finals event winner Marco Eguchi and top 2019 Brazilian rookie Lucas Divino (alternate).
"I will be OK for Bismarck," Leme said.
The next Unleash The Beast event is Last Cowboy Standing at Cheyenne Frontier Days on July 22-23. Get your tickets here.
BARBOSA MISSES GREEN BAY INVITATIONAL WITH ELBOW INFECTION
2016 PBR Brazil champion Dener Barbosa attended Green Bay this weekend, but he was unable to compete because of a right elbow (free arm) infection.
Barbosa explained Sunday that he hit his elbow on the back of the bucking chutes two weeks ago in Albuquerque, New Mexico, and that a small cut became infected.
"It got infected and I got put on antibiotics on Friday night at the hospital," Barbosa explained with the help of Paulo Crimber. "Today I am feeling better. Friday I was really sick with a 103 fever. Now we going to go home tonight and when we land in Dallas we will go straight to the hospital. Tomorrow they will cut a little incision to clean inside it."
Barbosa was supposed to compete at the Caveman Invitational Touring Pro Division event in Odessa, Texas, next Saturday, but he will wait to see how his procedure goes this week.
Follow Justin Felisko on Twitter @jfelisko