Outlaw takes care of business with Green Bay Packers cheering him on
By : Justin Felisko
May 31, 2019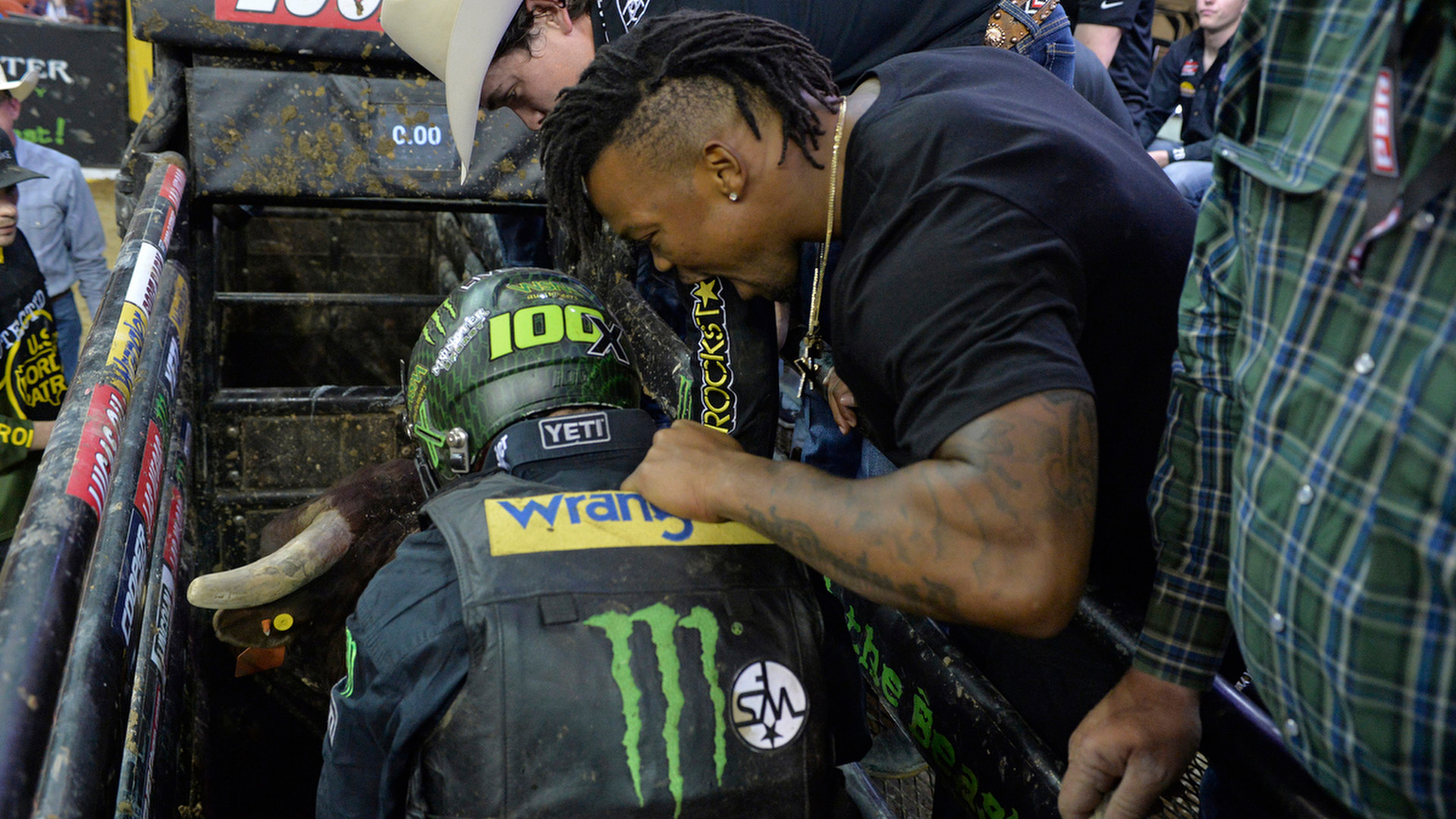 GREEN BAY, Wis. – Green Bay Packers running back Kapri Bibbs put his hand on Chase Outlaw's neck and yelled some words of encouragement into the 2019 World Champion contender's ear Friday night inside the Resch Center.
Bibbs was one of a group of Green Bay Packers in attendance for Round 1 of the Green Bay Invitational, presented by Oneida Casino and North Star Mohican Casino & Resort.
The 26-year-old running back was invited by Outlaw during a pre-event, behind-the-scenes tour to come pull his bull rope on the back of the bucking chutes later in the competition.
Bibbs, who was attending his first PBR event, quickly accepted.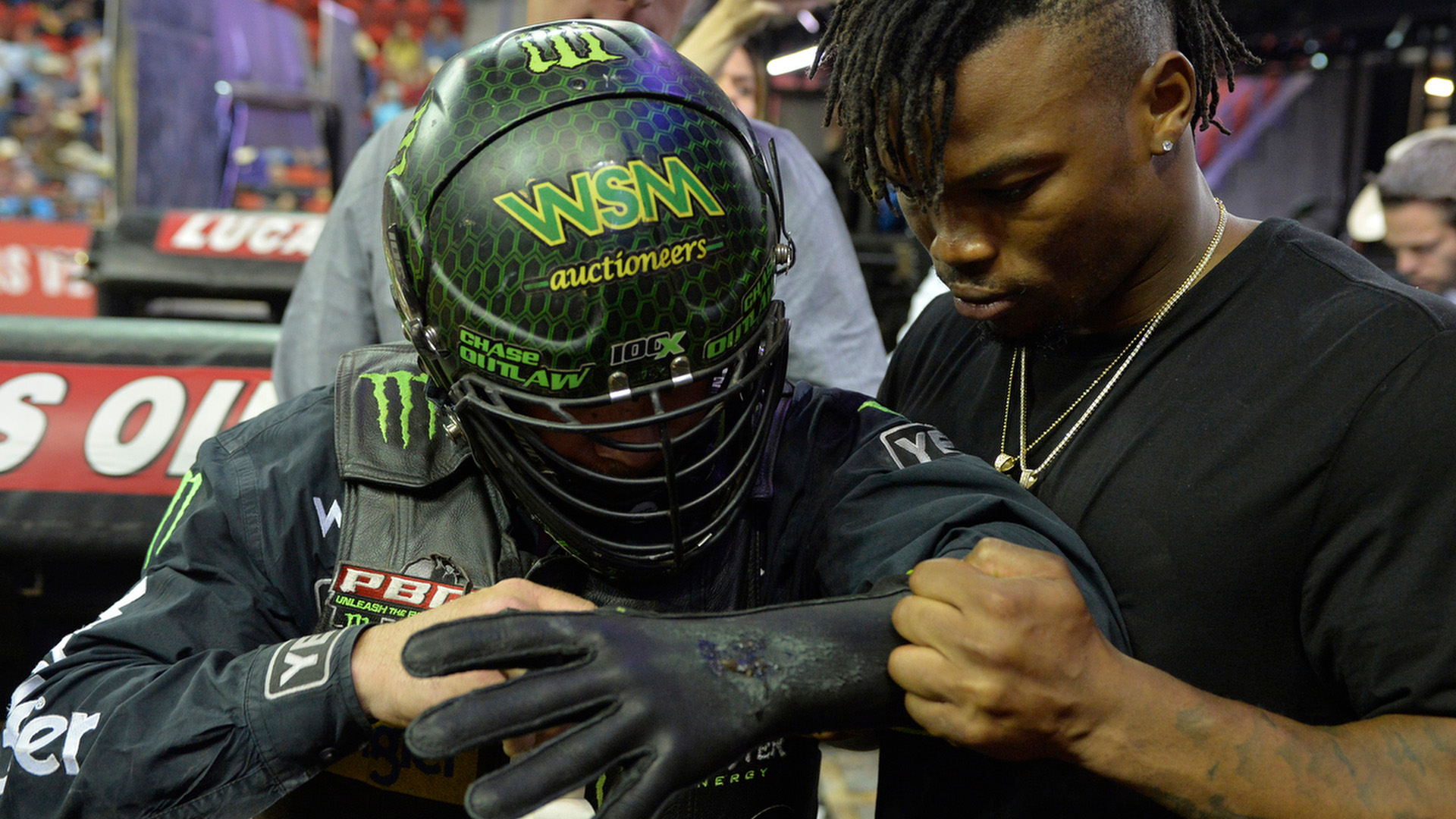 "I watch a lot of this stuff on TV when it comes across," Bibbs said. "I just think it's such a crazy sport. These guys literally put their lives on the line. I say in football, we put our life on the line, our bodies on the line. These guys are putting their life on the line with this sport.
"It's crazy and my hat's off to them."
Outlaw went on to ride Ol' Boy for 84.25 points to finish Round 1 in 16th place with Bibbs and some teammates on the chutes cheering him on in elation.
The No. 2-ranked bull rider in the world was congratulated by the Packers as he walked off the dirt, and Outlaw grinned at the group.
The Hamburg, Arkansas, then said with his southern drawl, "This shit is real, isn't it?"
"My heart rate is about 150 miles per hour right now," Bibbs had said earlier. "Out here with some of these gigantic bulls and some professional riders, all hats off to them. These guys, they've got some heart for sure."
Other Packers that attended the first night of competition included Evan Baylis, Eric Cotton, Gerhard de Beer, Preston Smith, Cole Madison, Tray Matthews, Za'Darius Smith, Kenny Clark, Reggie Gilbert, Kendall Donnerson and Lucas Patrick.
Outlaw explained before Round 1 that he wanted to give the Packers a taste of bull riding from up close and personal.
It was one thing to do a pre-event tour and learn about bull ropes and rosin and see the bulls standing around. It is another element entirely when one stands on the back of the bucking chutes and feels the steel rocking back and forth as 1,500 to 2,000-pound animals erupt into the arena with a 150-pound cowboy.
"I'm just getting them down there in live action to show him some of the raw power of it," Outlaw said. "I just want them to see right there and be like, 'Damn.' Them some big bad sumbitches."
Outlaw is amidst a remarkable comeback season. The 26-year-old is in the hunt for a World Championship after having 68 screws, 11 plates and four pieces of surgical mesh inserted into his face following a serious wreck at Cheyenne Frontier Days last July.
RELATED: Outlaw understands there is more to life than being the world No. 1
Seeing other professional athletes walk away amazed by the greatest bull riders in the world is always inspiring, Outlaw added.
"Yeah, especially from the guys that are on that level," Outlaw said. "When it wows them, it shows that we ain't here for a fluke. We are some badasses."
One of those players was linebacker Preston Smith.
Smith – a stout 6-foot-5, 265 pounds – may have towered over Outlaw and the other 34 bull riders competing inside the Resch Center, but that did not stop the 26-year-old tackling machine from being amazed.
"It is really cool to meet people who are in another profession, especially such a sport that is more dangerous than football," Smith said. "We had the opportunity to come witness this firsthand and meet some of the riders and stay for the show. I am just happy to be here and to be invited to this event."
Smith spent a portion of the evening picking the brains of riders such as Stetson Lawrence and Matt Triplett, who both helped educate the Packers on some of the ins and outs of bull riding.
"Seeing how they get ready for the thing was (interesting)," Smith said. "Knowing in competitions like this they still have a routine they go through and a ritual to get ready for the bull riding competition."
So any chance that Smith or Bibbs will give bull riding a try some day?
"No, no, no," Smith said. "I am good. I can't ride no bull. I think Kendall Donnerson would be the best. He is a country boy. He is strong. He is full of muscle. I think he could."
Bibbs was open to the idea of attempting to ride a bull, but that would be long after his playing days.
"I'd definitely like to try my luck, but for the sake of my career, I'm going to sit back for right now," Bibbs said with a laugh. "I've got to do these for one of my dying wishes or something like that.
"After retirement and stuff like that, and a couple years spent with my kids, I'd probably try one then."
Follow Justin Felisko on Twitter @jfelisko