Jesse to get shoulder surgery, but hopeful he can return for World Finals
By : Justin Felisko
May 30, 2019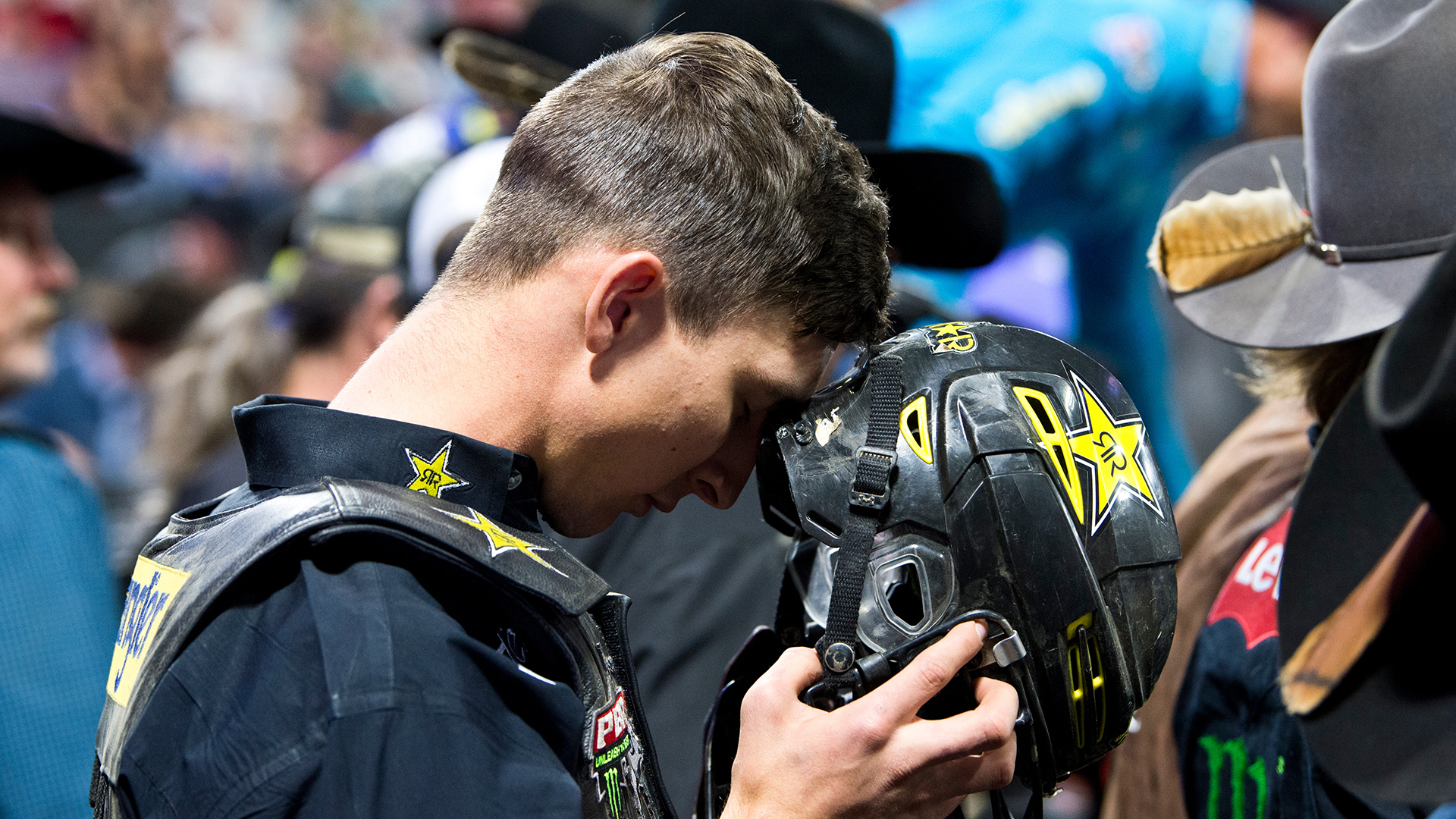 GREEN BAY, Wis. – When Dr. Tandy Freeman walked into his office in Dallas last week carrying a model of the human shoulder and MRI results, Colten Jesse knew something was wrong.
Jesse had dislocated his right shoulder two weeks prior during his 88.25-point ride on Total Feed's Bushwacked in Albuquerque, New Mexico, at the Ty Murray Invitational.
While he'd been confident that all he needed was some time off to let the swelling go down, to be safe, he followed Freeman and the PBR Sports Medicine Team's recommendation to undergo an MRI.
"I really didn't feel like there was much wrong," Jesse said. "Given it was the first time I dislocated a shoulder or anything. I figured I would sit out a month and kind of let everything heal up. Let the swelling go down and then be ready to rock & roll.
"Then he brought the model of the shoulder in with the joint and everything."
Freeman informed Jesse that he had torn some ligaments in his shoulder and that the best option for his career would be to undergo reconstructive surgery.
Jesse agreed with Freeman's advice and has scheduled his surgery for June 12 in Dallas with Freeman.
The No. 24-ranked bull rider in the world may be out for six months, which is the standard recovery time from shoulder surgery, but Jesse is hopeful he can push the envelope during his recovery period to try and make it back in time for the 2019 PBR World Finals on Nov. 6-10. Don't miss out -- get your tickets here.
"Tandy said six months, which, he is the doctor and he knows best," Jesse said. "I am thinking if I am healing quicker than anticipated, I would be able to come back in time to make the World Finals."
Jesse is realistic too, though, and understands there's a little less than five months until the Finals get underway at T-Mobile Arena.
He also only sits 224.16 points ahead of No. 36 Junio Quaresima ahead of this weekend's Green Bay Invitational, presented by Oneida Casino and North Star Mohican Casino Resort.
"That is pushing it," Jesse admitted. "I definitely am not going to come back if things ain't right, but I am going to work my ass off with physical therapy and whatnot to get it right. If things go smoothly like I think they will, I think I can be back."
Jesse's decision is to guarantee himself a healthy shoulder going forward in his career, and it will also allow him to start the 2020 season healthy and be available for consideration for the Team USA Wolves at the 2020 WinStar World Casino & Resort Global Cup USA, presented by Monster Energy on February 15-16 in Arlington, Texas.
"Basically, if I didn't have surgery I was going to have to deal with it coming in and out for the rest of my life," Jesse said. "Then it would be demolished at some point. If I had surgery, there is like a 10 percent chance it would ever come out again.
"I was just trying to look at it for the betterment of my career instead of the time being."
Jesse is 14-for-42 (33.33%) with six Top-10 finishes in 15 Unleash The Beast events.
No. 8 RYAN DIRTEATER TO REPLACE JESSE IN BISMARCK
One of the first people Jesse called when he learned he would have to undergo surgery was Team Four Bears Casino & Lodge captain Stetson Lawrence.
Lawrence had selected Jesse to his team for the upcoming Chad Berger's $125,000 PBR Bull Rider Team World Championship, presented by Marquis Metal Works, on June 14-15.
Lawrence is required to field a team of all Native Americans, and he was able to convince Ryan Dirteater to make the trek north in two weeks. Dirteater originally informed Lawrence that he did not want to ride this summer at the Touring Pro Division event earlier this year.
Fans can watch all the action from Bismarck exclusively on RidePass.
"Stetson Lawrence was one of the first people I told because of the team deal in Bismarck," Jesse said "I told him, 'Shit man, I am sorry but I have to get this fixed.'
"I much rather do everything right and be ready for Global Cup, next year and the rest of my career."
Follow Justin Felisko on Twitter @jfelisko