#InCaseYouMissedIt: Leme vs. Outlaw reaches fever pitch, ABQ doesn't disappoint and more
By : Darci Miller
May 20, 2019
Chase Outlaw went 90… and Jose Vitor Leme went 92, Jess Lockwood returned to the premier series with thunder and The Pit rocked everyone's socks. Miss a moment of the action this weekend? Here's what happened around the PBR.
On the Unleash The Beast…
Stop us if you've heard this before: Jose Vitor Leme did some incredible things and is still ranked No. 1 in the world.
However, Chase Outlaw gave Leme quite a scare as the two battled it out in the championship round in Albuquerque.
Outlaw didn't go home empty-handed, as he split the Round 1 win with Jess Lockwood…
…who also happened to win the 15/15 Bucking Battle in his first Unleash The Beast action since February.
Matt Triplett won Round 2 after escaping The Pit for some quiet time on the golf course earlier in the day.
Outlaw said he was riding with a little extra motivation following the recent retirement of close friend Stormy Wing.
Before Leme could earn the win, he was simply trying to keep pace with his challengers in Round 1. (Spoiler alert: he did.)
Also looking to keep pace? Joao Ricardo Vieira.
The Ty Murray Invitational is held in an arena called The Pit, which the rookies were eager to experience for the first time.
New Mexico's own Scottie Knapp was competing so close to home that he got to sleep in his own bed. Lucky guy.
With the ardently pro-Native crowd on his side, Stetson Lawrence rode to a fifth-place finish overall. More importantly: he met some wolves.
Apparently the 33rd time's the charm, as Heartbreak Kid extended his buckoff streak.
J.B. Mauney attempted to ride through rib injuries, but ultimately was forced to withdraw.
Taylor Toves had a scary wreck when he was hung up in the championship round, walking away with a concussion.
Through the lens with Andy Watson and BullStockMedia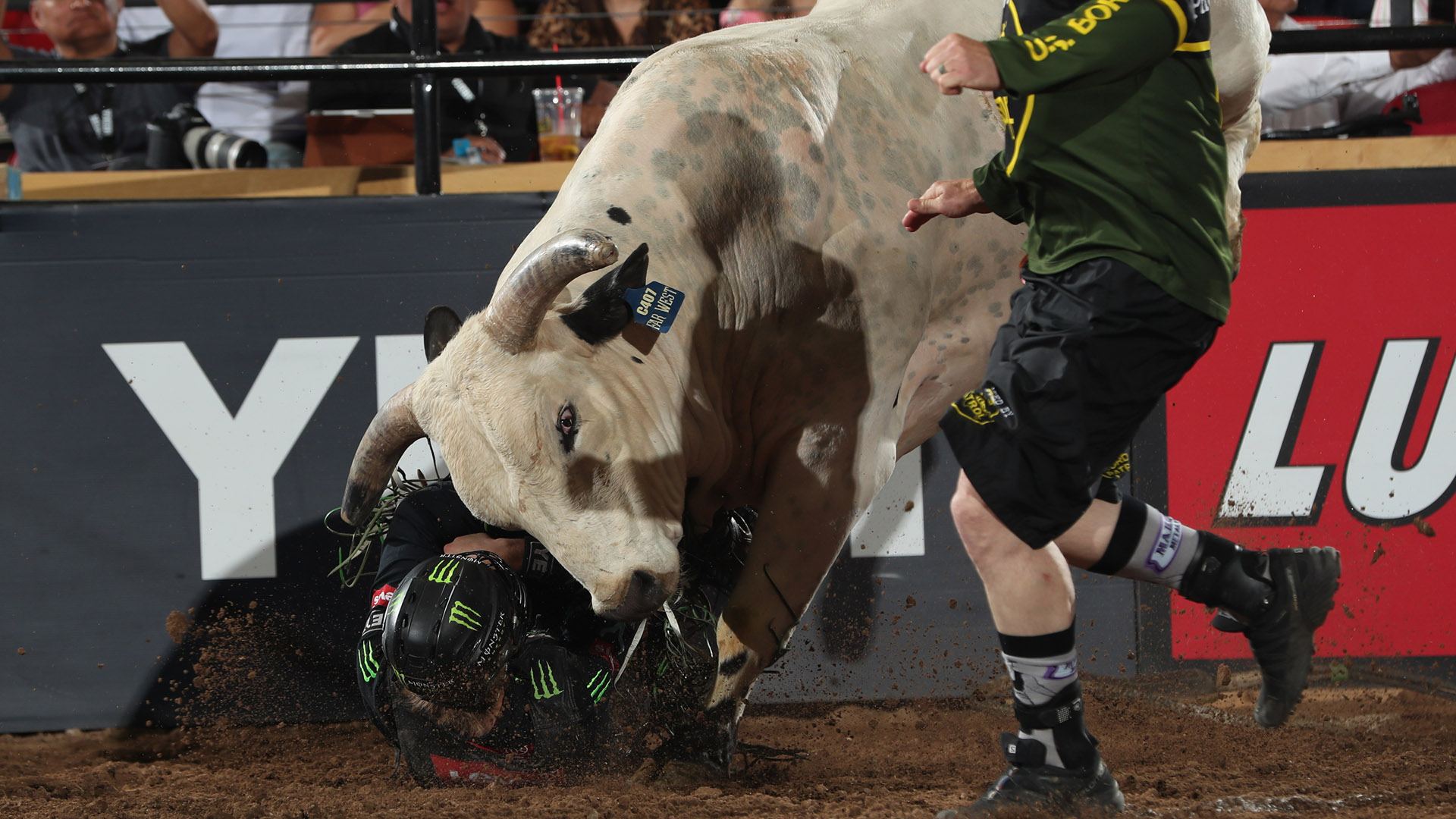 Check out the best photos from day one, day two and day three in Albuquerque.
Social spotlight
Does Cody Nance have the cutest cheering section y/n
Wolf, meet wolves.
Tough knows tough.
Looking ahead
The PBR Memorial Day Weekend Bull Fest keeps things rolling on May 24-25 in Shipshewana, Indiana.
PBR Canada's Monster Energy Tour continues in Moncton, New Brunswick, with the Moncton Classic on May 25. (RidePass on May 25 at 7 p.m. ET.)
Following a one-week break, the Unleash The Beast heads to Green Bay, Wisconsin, for the Green Bay Invitational, presented by Oneida Casino and North Star Mohican Casino Resort, and the WCRA Titletown Stampede. (RidePass on May 31 at 6:30 p.m. MT, and June 2 at 1:45 p.m. MT; CBS Sports Network on June 2 at 2 p.m. MT.)
On June 1, the Touring Pro Division hits up Great Falls, Montana with the Dusty Gilko Bull Riding Challenge.