Albuquerque injuries: Toves sustains concussion during championship round
By : Justin Felisko
May 19, 2019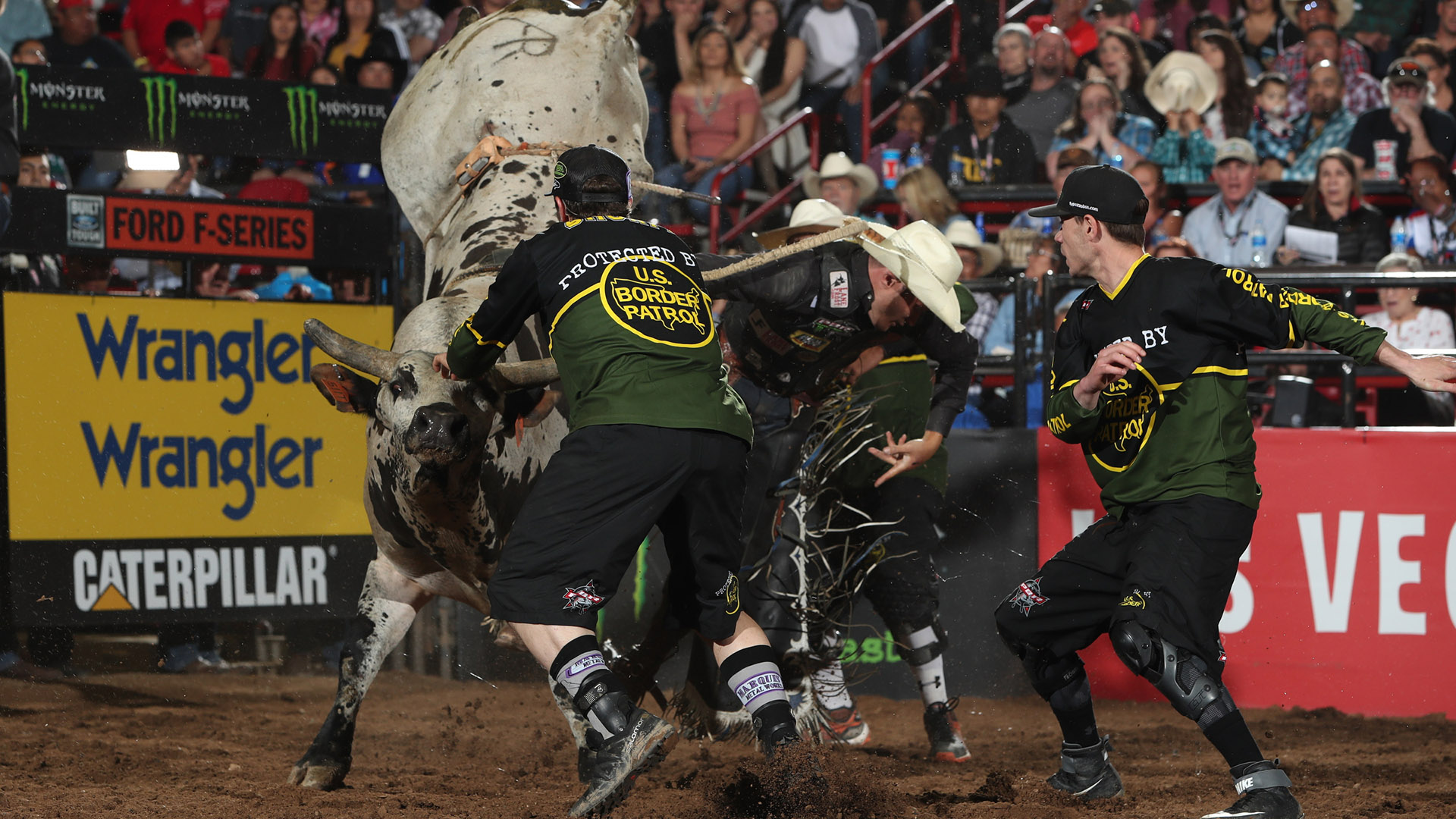 ALBUQUERQUE, N.M. – Taylor Toves walked out of the PBR Sports Medicine room with a bag of ice on his swollen right cheek and started to rub his left eye, which was beginning to turn black and blue.
Toves was immediately greeted by fellow riders asking if he was alright following a rough wreck during the championship round of the Ty Murray Invitational, presented by Isleta Resort & Casino.
"That is everything," Toves said of his friends checking in on him. "Everybody here is tight and we are all really good friends. When something like that happens, it always is good to have any of them guys behind you.
"We all know that being here, everybody has your back to make sure you are alright."
According to Dr. Tandy Freeman, Toves sustained a concussion when he was hung up and thrashed about by Stretch after he bucked off in 3.23 seconds inside The Pit.
Toves is questionable for the Green Bay Invitational, presented by Oneida Casino and North Star Mohican Casino Resort.
"He hit me hard," Toves said. "I am starting to feel a lot better. I am feeling alright now. I have a headache, but shoot, I am alright."
It was a sour ending following what was turning into a strong showing for the 26-year-old.
Toves had bounced back from a 3.88-second Round 1 buckoff against Medicine Man on Friday night, riding Gangster's Paradise for 80.75 points in Round 2 on Saturday and then South Texas Gangster for 87.5 points in Round 3 Sunday.
"I have been on that bull a handful of times, and I got on him when he was a calf growing up before he got to go to all of these things," Toves said of South Texas Gangster. "I always had a hard time riding him. He was always going left with me. I had seen that bull go right a million times with everybody else. I got by him today and I felt like he was bucking. I am proud of myself to finally get him rode."
Toves entered the championship round sitting in eighth place and wound up finishing the event 10th overall (55 world points).
He leaves Albuquerque ranked 27th in the world standings.
"Up until that buckoff, this weekend finished on a good note," Toves concluded. "It is better than nothing."
ADDITIONAL INJURY UPDATES
Toves was not the only rider injured in the championship round.
Colten Jesse dislocated his right shoulder during his 88.25-point ride on Total Feed's Bushwacked.
Jesse had his shoulder reduced at the arena, and he is questionable for Green Bay.
Junio Quaresima sustained a possible fracture of his left (free) hand when he was bucked off by Nailed (2.62 seconds) in Round 3. According to Freeman, Quaresima is probable for Green Bay.
Marco Eguchi was sitting in fifth place in the championship round, but Midnight Rain bucked him off in 6.31 seconds. He had aggravated an old injury to his riding hand attempting to ride Lester Gillis (1.56 seconds) in Round 3.
Ezekiel Mitchell had strained his right groin during Saturday night's 15/15 Bucking Battle attempting to ride Canadian Mist (3.33 seconds), and was bucked off by Skitso (2.84 seconds) in Round 3.
Mason Taylor was bucked off by Cut The Cord (2.89 seconds) and Zorro (4.14 seconds) as he attempted to ride with a left leg contusion.
Four riders were unable to compete Sunday because of injuries – two-time World Champion J.B. Mauney (ribs), No. 8 Ryan Dirteater (old right elbow injury), No. 21 Rubens Barbosa (sore right shoulder) and No. 29 Danilo Carlos Sobrinho (sore neck).
Mauney and Barbosa are questionable for Green Bay, while Freeman has listed Dirteater and Sobrinho as probable.
Follow Justin Felisko on Twitter @jfelisko