Outlaw, with added motivation, leading Ty Murray Invitational with Eguchi
By : Justin Felisko
May 19, 2019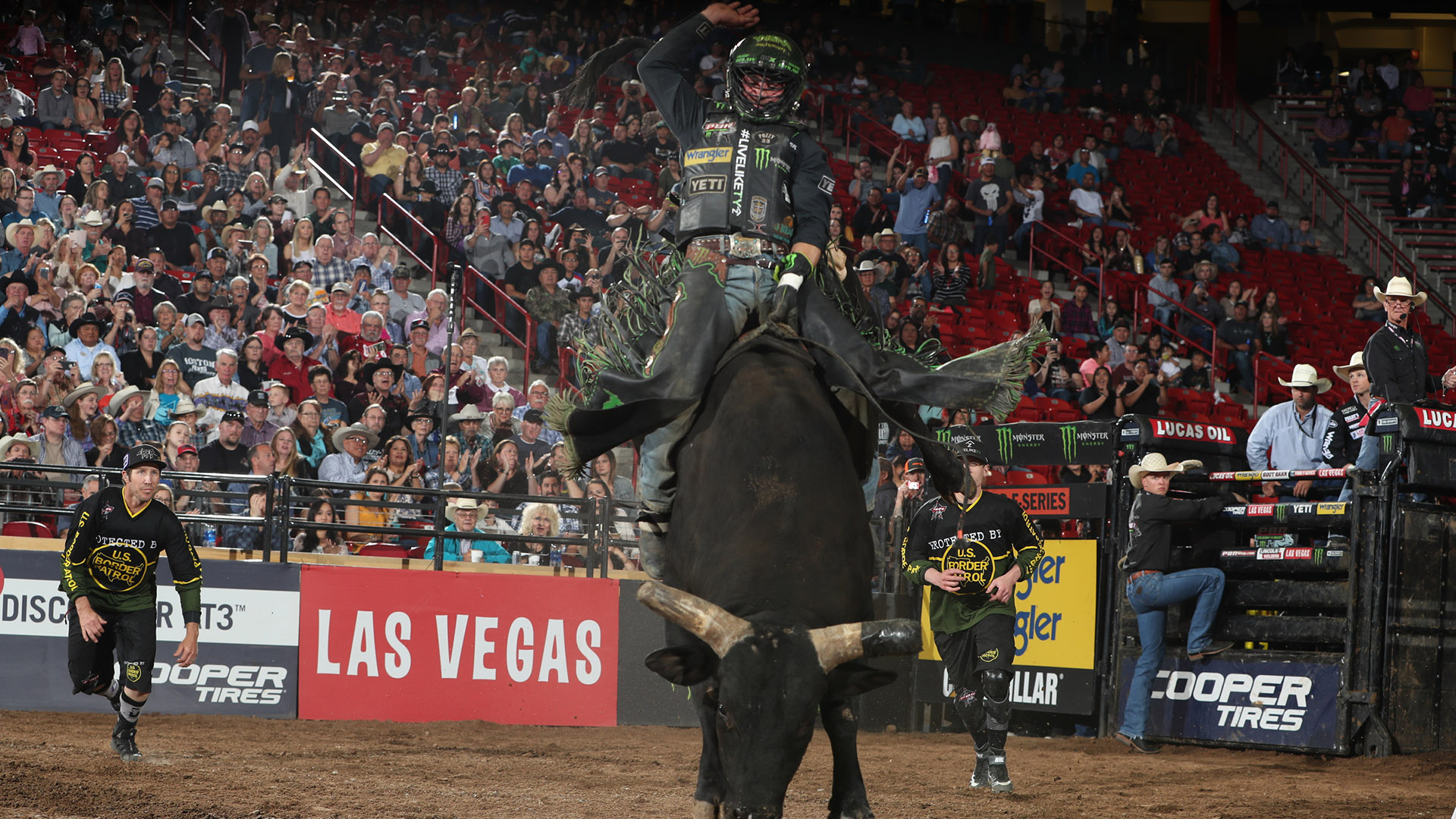 ALBUQUERQUE, N.M. – Chase Outlaw knows he cannot take anything for granted this season, or ever in the sport of professional bull riding for that matter.
The No. 2 rider in the world standings is on the doorstep of regaining the world No. 1 ranking on Championship Sunday at the Ty Murray Invitational, presented by Isleta Resort & Casino, and he will step foot inside The Pit with extra motivation.
Outlaw is tied with Marco Eguchi atop the event aggregate standings with 174.5 points as both riders have begun the event a perfect 2-for-2.
He is now looking to put his name alongside his friend Stormy Wing's inside the Albuquerque record books as one of 20 riders to have ever won the Ty Murray Invitational in 23 years.
Wing won the event in 2017 with a memorable 95.25-point ride aboard three-time World Champion SweetPro's Bruiser and announced this week that he was retiring from the sport of professional bull riding following a series of head injuries.
Outlaw was one of a series of riders that posted on social media in support of Wing's decision.
The two friends spent plenty of days and long nights hitting the bull riding trail together, and Wing's retirement is another reminder to Outlaw to never take things for granted.
"It is extra motivation because it's not really a choice he wanted to make," Outlaw said Saturday night. "He seemed in good spirits (when I talked to him), but I know he wishes he could tie back onto one. But that's the decision that had to be made. Like back after my accident (last July in Cheyenne, Wyoming), you can't take it for granted.
"We've got to lay it out there each and every time, and you'd better believe we're going to be laying the iron to 'em."
Outlaw rode Gettin Crazy for 85 points in Round 2 to finish the second night of competition tied with Eguchi – the 2014 winner in Albuquerque – atop the leaderboard."
"Shoot, I was thinking he about had me in a couple spots," Outlaw said. "He about had me set down and then about had me tipped out over the front, but I just had to keep fighting the whole time. He is a good bull of Riley Sanford's. Shoot, I wouldn't mind him again."
Outlaw finished Round 2 in sixth place for 15 world points to cut world leader Jose Vitor Leme's lead atop the standings to 129.16 points.
However, Leme is also 2-for-2 in Albuquerque and sitting in fifth place following his 76.5-point ride on Daily Grind. He turned down a re-ride option because he did not like the re-ride bull Big Black Cat, who bucked him off last year in Albuquerque, and so he could focus on the 15/15 Bucking Battle.
Leme was bucked off by Lil 2 Train later in the 15/15 Bucking Battle after Outlaw failed to reach the 8 on Sky Harbor.
Outlaw, Eguchi and Leme are three of six riders a perfect 2-for-2. Reigning World Champion Kaique Pacheco, five-time NFR qualifier Joe Frost and Eduardo Aparecido have also ridden both their bulls.
Fans can watch the conclusion of the Ty Murray Invitational Sunday at 4 p.m. ET on CBS Sports Network and 3:45 p.m. ET on RidePass.
Outlaw is slated to take on Monkey (1-0, UTB) while Leme has drawn Taco Cat (5-1, UTB) and Eguchi has Lester Gillis (43-5, UTB).
An event win on Sunday would be Outlaw's third of the Unleash The Beast season after earning his first at the Mason Lowe Memorial in St. Louis and second in Kansas City.
Outlaw has been handling the emotional rollercoaster of this season as best he can and admirably.
"Anything in life, if it don't break you, it'll build you," he concluded. "I hate that this is the circumstances it's having to be, but that's the hand that was dealt so we've got to deal with it."
Follow Justin Felisko on Twitter @jfelisko