Triplett hits hole in one with Round 2 win in Albuquerque
By : Darci Miller
May 19, 2019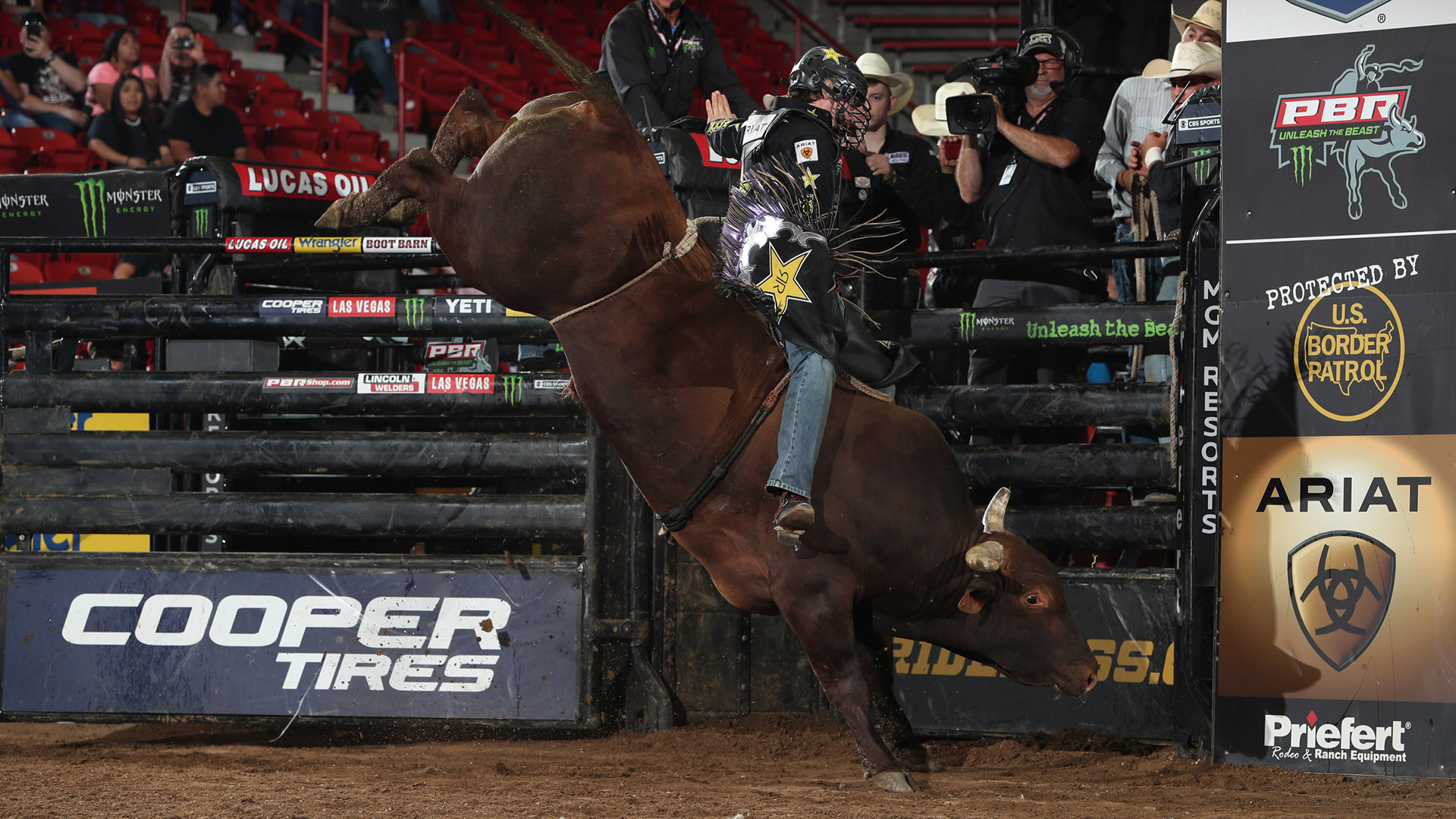 ALBUQUERQUE, N.M. – Each year, the Ty Murray Invitational in Albuquerque, New Mexico, is hosted in The Pit. Intimate and below-ground, its reputation amongst bull riders is that it's the loudest venue on the Unleash The Beast. The fans are passionate and it's an atmosphere unlike any other.
For Matt Triplett, though, what helped him to the Round 2 victory on Saturday was some quiet time on a golf course.
Earlier in the afternoon, Dirteater, Chase Outlaw, Brennon Eldred and Colten Jesse swapped their boots for spikes at the Isleta Resort & Casino golf course.
"It was Outlaw's (idea)," Triplett said. "We just get tired of sitting around the room or really not having much to do, so we thought we'd go have fun today. And heck, it paid off."
After bucking off Pan Am in 5.55 seconds in Round 1, Triplett rebounded with an 88-point ride on Crazy Times to take the Round 2 win. He earned 100 world points for his efforts and is ranked No. 13 in the world standings.
"It was just a good bull of J.W. Hart's," Triplett said. "The bull actually really made me work. He faked around to the left and almost pulled me over the front, and then came back to the right, so I had to work for every second."
A regular golfer, Triplett won't brag about his scores – he says 7 over par is the best he's ever done – but appreciates the calm atmosphere for the contrast is presents to a PBR event.
"It's quiet. It's so nice," he said. "Every weekend we're here with loud, crazy fans, so sometimes it's nice to just be able to cool down and relax."
While nobody could ever accuse Chase Outlaw of being cooled down and relaxed, he too was able to make the 8 seconds in Round 2 following their afternoon on the greens, earning 85 points on Gettin Crazy.
Triplett may like the serenity golf provides, but the atmosphere of The Pit is as much of a draw for him as it is for anyone else.
"Every year it's loud. It's like riding at the World Finals," he said. "That pumps us up, when you've got an atmosphere like that."
Golf isn't Triplett's only outlet for a dose of calm, as he's practiced hot yoga for the last seven or eight years.
"I've been doing it a long time. I love it," he said. "Mentally, physically, helps with my breathing a lot. Just tons of benefits from it."
Recently, he's been using yoga in tandem with physical therapy to assist him in rehabbing a wrist injury. An added bonus of a round win was simply testing his wrist – successfully – to see if it'll hold up.
"I'm just happy to know that my wrist can take a good ride like that, and I'm healthy and able to keep on going," he said.
To get over any mental block that comes with riding with an injury, Triplett only had to look to J.B. Mauney as inspiration.
RELATED: Mauney attempts to ride with rib injuries; Taylor misses 15/15 Bucking Battle with knee injury
"It definitely makes you think about things that you shouldn't be thinking about," Triplett said of coming back from injury. "I just think J.B. does it the best. You've got to look at guys who have played that role and done it great, and J.B. does it great by not thinking about it. And that's what you've got to do, try not to think about it even though it's hard."
Triplett has four Top-10 finishes on the Unleash The Beast thus far in 2019, his best being third place in Tacoma, Washington, in March, and is within striking distance of his first win of the season in Albuquerque.
He will take on Sniper (4-0, UTB) in Round 3. Sniper bucked off Keyshawn Whitehorse in 3.06 seconds in Round 1.
Fans can watch the conclusion of the Ty Murray Invitational live on CBS Sports Network at 4 p.m. ET and on RidePass at 3:45 p.m. ET.
After finishing eighth in 2018, it would be an event win Triplett would treasure.
"I mean, it's the Ty Murray Invitational," he said. "If you didn't look up to Ty Murray when you were a young kid, then you ain't a real cowboy. One of the best guys to ever put his hand in a bull rope. It's kind of an honor to be able to go to an event with his name under it and be able to try and win it. Love it."