Mauney attempts to ride with rib injuries; Taylor misses 15/15 Bucking Battle with knee injury
By : Justin Felisko
May 19, 2019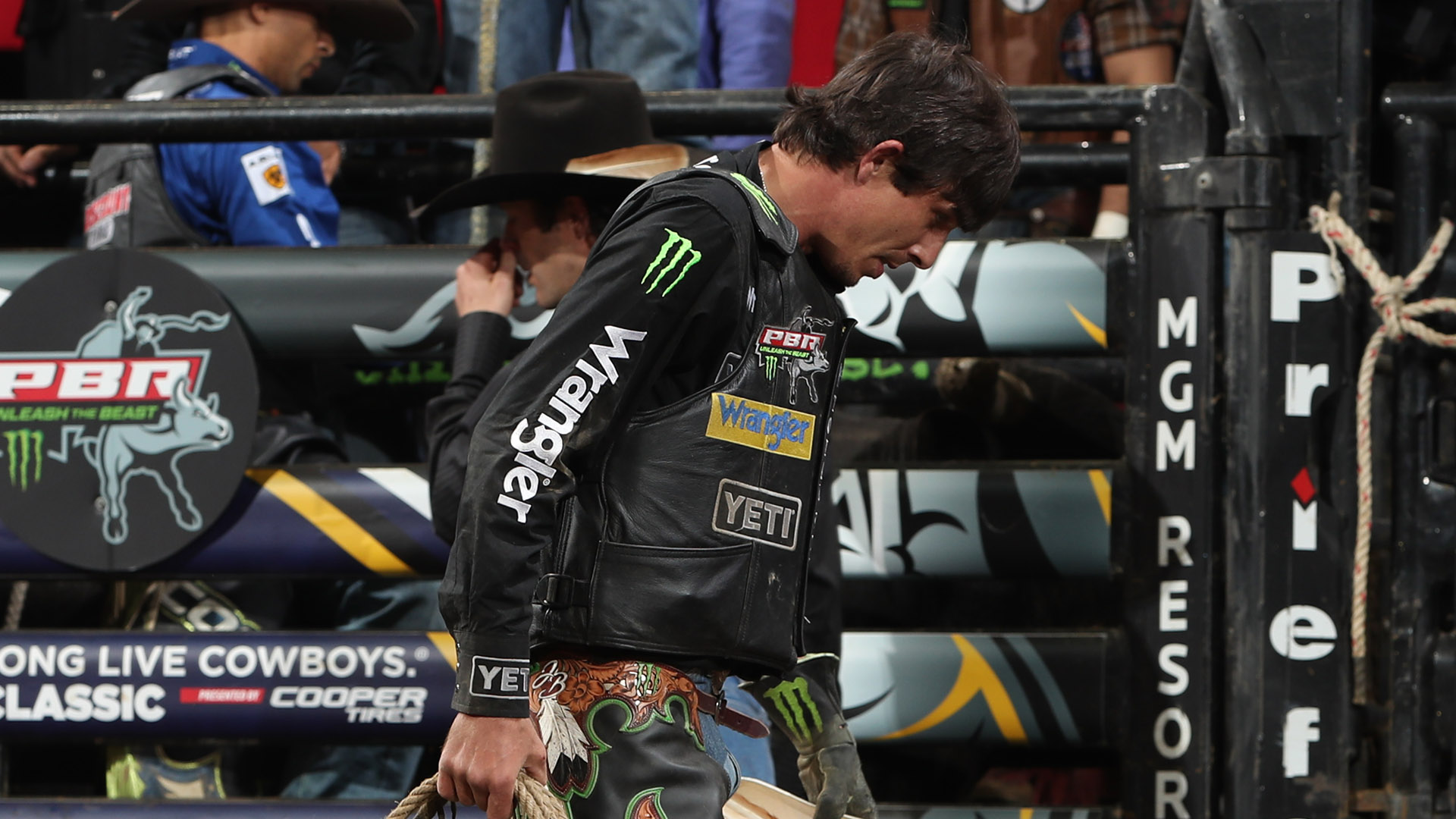 ALBUQUERQUE, N.M. – Two-time World Champion J.B. Mauney bent over to pick up his bull rope prior to the start of Round 2 of the Ty Murray Invitational, presented by Isleta Resort & Casino, and grimaced.
Mauney was determined to ride on Saturday night despite separating a few of his left ribs and potentially breaking one on Friday night when he was bucked off by Monkey in Round 1.
The 32-year-old, though, was in a good amount of pain when he arrived to The Pit on Saturday afternoon and immediately went in for treatment from the PBR Sports Medicine team.
Mauney iced his ribs and then had them wrapped and taped in preparation to ride.
"I cracked a rib and I pulled some apart," Mauney said. "Ah, I will be alright. I got it all taped and wrapped. All of the above."
Mauney – the toughest bull rider in the locker room – is normally a good bet to fight through an injury nine times out of 10, and he was going to live up to that reputation again this weekend.
Cool Customer, however, had other plans.
Mauney was in the process of taking his wrap when Cool Customer yanked him forward inside the bucking chute, aggravating his rib injury once again.
The future Ring of Honor inductee crawled out of the chute and was unable to continue.
2019 has been an endless saga of injuries for Mauney.
His list of injuries continues to grow seemingly weekly as his groins, knee ligaments, ankle, wrist, forearm and ribs have been broken, torn or simply beaten.
Regardless, Mauney did not want to make any excuses.
"It sucks," he said before the event. "This doesn't make it pretty easy to breathe. I am just a little sore."
Mauney was helped to the PBR Sports Medicine room Saturday night and his status for Championship Sunday remains in question.
The 14-year veteran did not seem confident he would be able to ride Sunday, but he did not want to rule himself out just yet.
"Maybe," Mauney, who also broke a rib in Kansas City in March and attempted to ride the next day, replied when asked of his status.
Fans can watch the conclusion of the Ty Murray Invitational live on CBS Sports Network at 4 p.m. ET and on RidePass at 3:45 p.m. ET.
Meanwhile, rookie Mason Taylor was unable to compete in the 15/15 Bucking Battle after Ol' Boy bucked him off in 5 seconds in Round 2 and ran him into the chutes.
Taylor is listed by Dr. Tandy Freeman as doubtful for Round 3.
The 18-year-old said he will see how he feels Sunday morning, but he already plans on having a follow-up appointment with Freeman in Dallas on Thursday.
Stetson Lawrence replaced Taylor in the 15/15 Bucking Battle and was bucked off by Wild Goose in 5.03 seconds.
Lawrence was the first alternate seeing as Rubens Barbosa was unable to compete because of a sore right shoulder. Barbosa is listed as questionable for Round 3 by Freeman.
Follow Justin Felisko on Twitter @jfelisko