Outlaw and Lockwood split Round 1 win in Albuquerque
By : Mandi McCary
May 18, 2019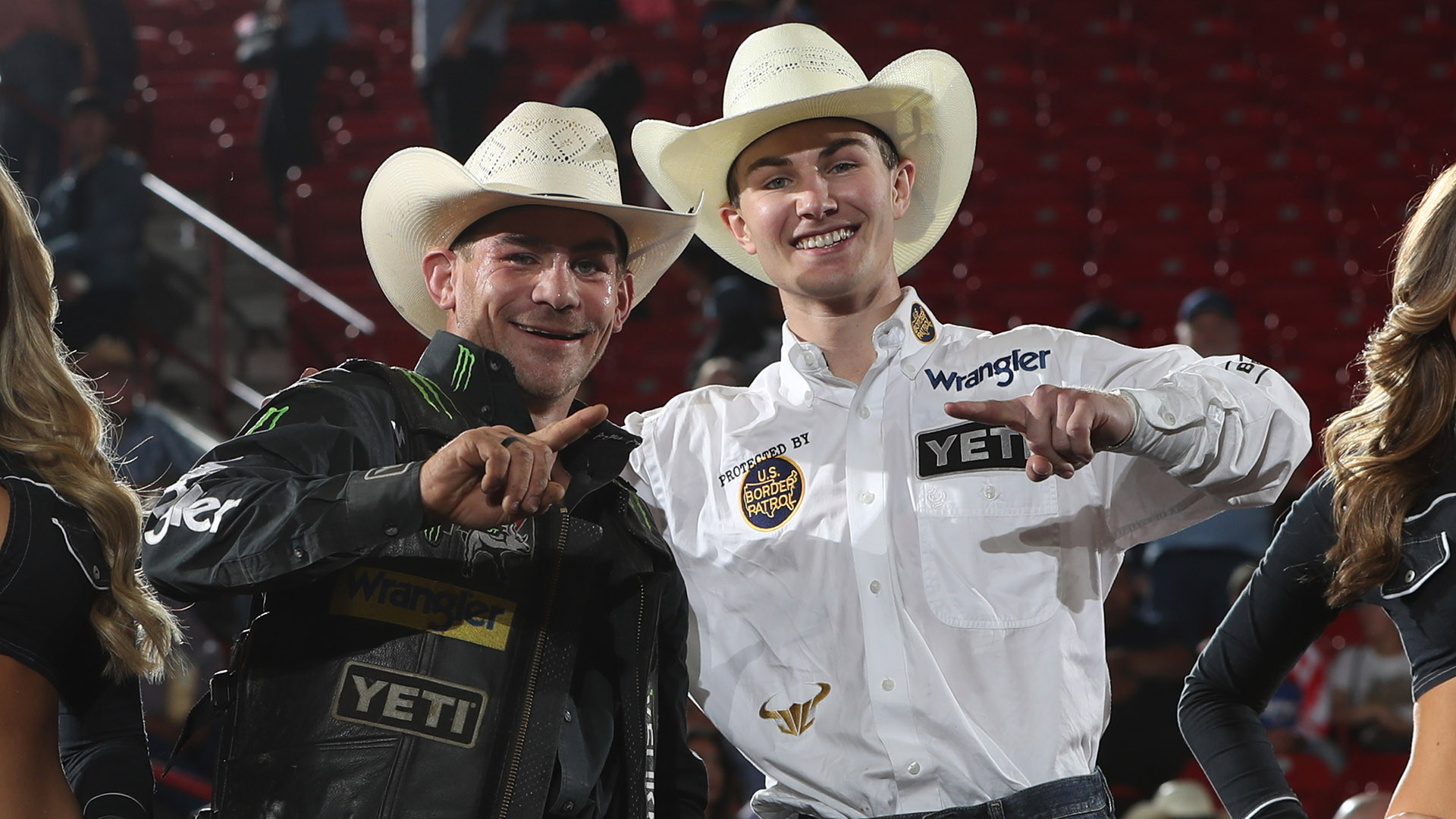 ALBUQUERQUE, N.M. – 2017 PBR World Champion Jess Lockwood (Volborg, Montana) and Chase Outlaw (Hamburg, Arkansas) tied for the Round 1 win on the opening night of the PBR Unleash The Beast, Ty Murray Invitational at Dreamstyle Arena in Albuquerque on Friday night.
In an impressive return after being out of competition for three months due to a broken collarbone, Lockwood conquered the previously unrideable Legit (Dakota Rodeo/Chad Berger/Julie Rosen/Clay Struve/Leffew) for 89.5 points. The round win held his position at No. 4 in the world standings and echoed his 2018 Round 1 win in Albuquerque. His bovine counterpart had previously bucked off all 12 of his opponents at all levels of competition until the showdown with Lockwood.
Outlaw, on a quest for his first world championship, rocketed from the chutes aboard Stunt Man Ray (Broken Arrow Bucking Bulls) for 89.5 points. The Arkansas cowboy narrowed the gap between himself and world No. 1 Jose Vitor Leme (Ribas do Rio Pardo, Brazil) to 144.16 points.
Each rider took home 80 world points and $3,165.
Mason Taylor (Maypearl, Texas) delivered an 88.5-point ride aboard Mr. Clean (Cottonwood Bucking Bulls, LLC) in the opening round for a third-place finish. The young gun fired from the chutes determined to close the gap between himself and Rookie of the Year leader Cody Jesus (Window Rock, Arizona). For his effort, Taylor gained 50 world points and pocketed $2,000.
With an 87.75-point ride, Leme finished in fourth place atop Nailed (Broken Arrow Bucking Bulls). As the last rider of the night, the world No. 1 ranked rider gained 40 world points and a $1,300 paycheck.
Rounding out the Top 5 Saturday night, was Brazilian Joao Ricardo Vieira (Itatinga, Sao Paulo, Brazil) who turned in an 87.5-point trip aboard Cut The Cord (Broken Arrow Bucking Bulls). For his effort, Vieira earned 30 world points and $850.
The best bull riders in the world will return to DreamStyle Arena on Saturday, May 18 for Round 2 of the Ty Murray Invitational.
Fans will also be able to watch the action in its entirety on RidePass.com or via the RidePass mobile app. Action from Round 1 will be viewable starting at 8 a.m. ET on Saturday, May 18.
PBR Unleash The Beast
Ty Murray Invitational
Dreamstyle Arena - Albuquerque, New Mexico
Event Leaders (Round 1-Round 2-Round 3-Round 4-Event Aggregate-Event Points)
1. Chase Outlaw, 89.5-0-0-0-89.50-80 Points.
(tie). Jess Lockwood, 89.5-0-0-0-89.50-80 Points.
3. Mason Taylor, 88.5-0-0-0-88.50-50 Points.
4. Jose Vitor Leme, 87.75-0-0-0-87.75-40 Points.
5. Joao Ricardo Vieira, 87.5-0-0-0-87.50-30 Points.
6. Marco Antonio Eguchi, 86.75-0-0-0-86.75-15 Points.
7. Eduardo Aparecido, 86.25-0-0-0-86.25-5 Points.
8. Colten Jesse, 85.5-0-0-0-85.50
9. Kaique Pacheco, 85.25-0-0-0-85.25
10. Joe Frost, 84.25-0-0-0-84.25
11. Ezekiel Mitchell, 82.75-0-0-0-82.75
Cody Teel, 0-0-0-0-0.00
Luciano De Castro, 0-0-0-0-0.00
Derek Kolbaba, 0-0-0-0-0.00
Ryan Dirteater, 0-0-0-0-0.00
Claudio Montanha Jr., 0-0-0-0-0.00
Cody Jesus, 0-0-0-0-0.00
Cannon Cravens, 0-0-0-0-0.00
Matt Triplett, 0-0-0-0-0.00
Alisson De Souza, 0-0-0-0-0.00
Rubens Barbosa, 0-0-0-0-0.00
Stetson Lawrence, 0-0-0-0-0.00
J.B. Mauney, 0-0-0-0-0.00
Silvano Alves, 0-0-0-0-0.00
Daylon Swearingen, 0-0-0-0-0.00
Danilo Carlos Sobrinho, 0-0-0-0-0.00
Taylor Toves, 0-0-0-0-0.00
Brennon Eldred, 0-0-0-0-0.00
Keyshawn Whitehorse, 0-0-0-0-0.00
Cody Nance, 0-0-0-0-0.00
Scottie Knapp, 0-0-0-0-0.00
Junio Quaresima, 0-0-0-0-0.00
Dylan Smith, 0-0-0-0-0.00
Emilio Resende, 0-0-0-0-0.00
Edgar Durazo, 0-0-0-0-0.00
Dener Barbosa, 0-0-0-0-0.00
Latrell Long, 0-0-0-0-0.00